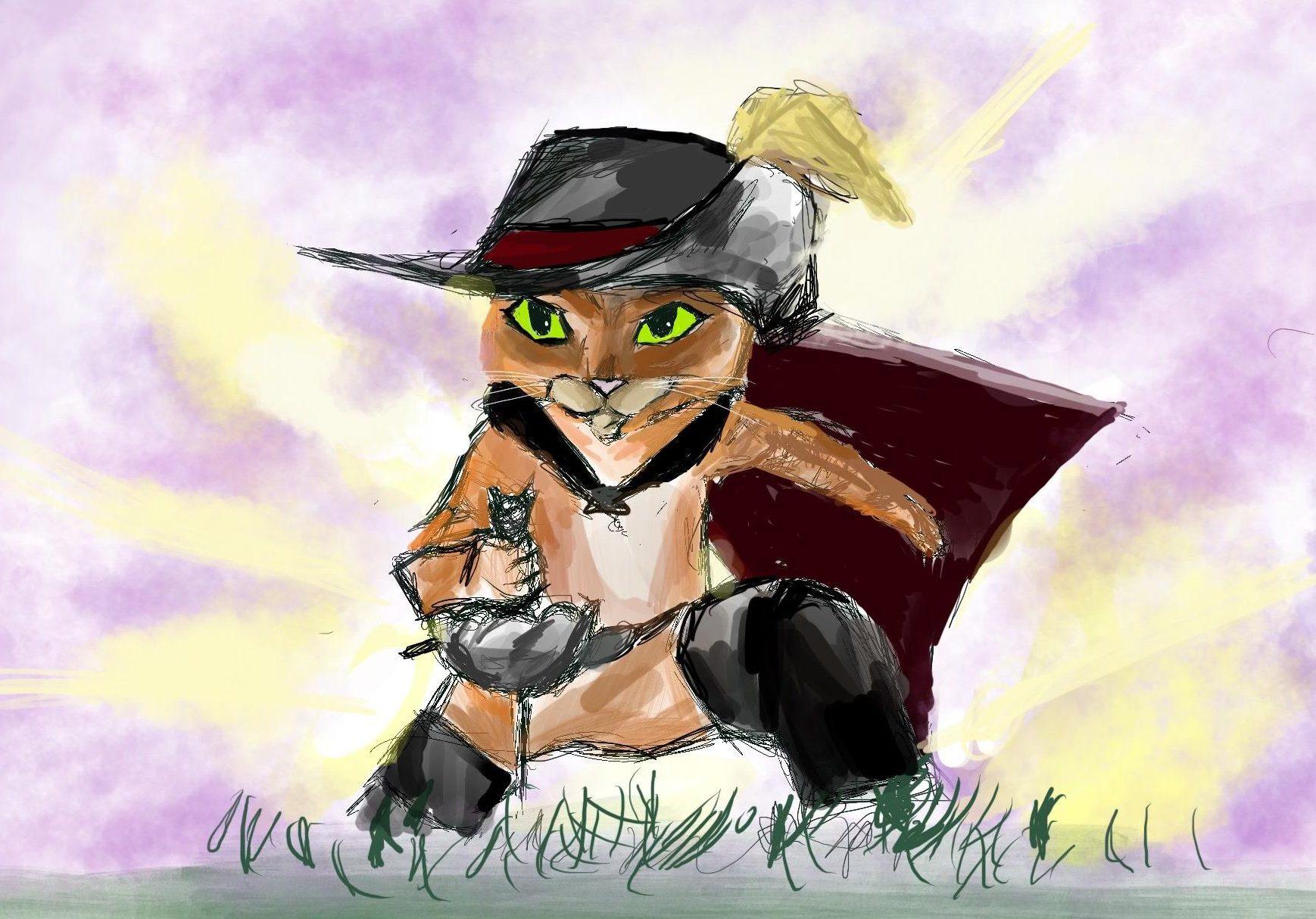 Art by Jackie Lopez
Our favorite fearless feline hero has rung victorious in the box office with the release of "Puss in Boots: The Last Wish."
With a Rotten Tomatoes score of 95% and a box office gross of over $300 million, "Puss in Boots: The Last Wish" has received overwhelmingly positive attention since its release Dec. 22. Students share their opinions on the film and describe what made the sequel such a success.
"I had no expectations about the movie, I did not know what I was walking into," junior Phillip Young said. "But I was really genuinely surprised by how good it was. And I've seen it since then and it held up. It was just as good on the rewatch as it was the first time."
In 2001, the "Shrek" franchise launched and thus began DreamWorks' most successful movie franchise, according to Collider. At the time of its initial release, the "Shrek" franchise diverged from the typical fairy tale film by interweaving icons from multiple fables and stories all together into one world. Prominent characters such as Puss in Boots, voiced by Antonio Banderas, quickly became fan-favorites, and thus brought the opportunity for a spin-off film series. Puss in Boots got his first solo adventure movie in 2011.
"It's part of the 'Shrek' franchise, but I feel like it's its own thing now," said Harvey Guillien, voice actor for the character Perrito, in an interview with Entertainment Weekly. "I just want everyone to see where we're at now and walk away with their hearts filled with a really cool message."
The sequel follows the story of Puss in Boots, who is now down to his ninth and last life. Desperate to keep on living his carefree life of danger and adventure, he seeks out "the last wish" that can grant him more lives. On his journey, Puss reunites with old characters and meets new ones.
"Puss in Boots being on his last life, it feels like a fairy tale," Director Joel Crawford said in an interview with BTL News. "But then, it's really about realizing you get one go at this, you get one life, and thinking we could put this absurdity with the reality and make this a special message, which is about appreciating life."
On Puss' new adventure, the creators touched on heavier themes including death, redemption and emotional vulnerability. An especially memorable scene shows Puss having a panic attack — experiencing shortness of breath, tunnel vision and a loud heartbeat. The 40-second long scene received praise on Twitter for its accurate depiction of panic attacks.
If you want to see a panic attack handled well and done with sincerity, go watch Puss in Boots The Last Wish
Also PLEASE never kiss someone when they're having a panic attack https://t.co/dFI4hpAUEY pic.twitter.com/bkkfH0ElEX

— VALENTINES YCH OPEN (1/5) (@_cosmicbrownee_) January 19, 2023
Tweet from Jan. 18 discussing the sincerity of Puss' panic attack scene. The tweet compared the scene to a panic attack scene depicted in the new "Velma" series. Photo courtesy of Twitter
As someone who has experienced them before, sophomore Nicolette Garcia said she appreciated the scene.
"It showed that even this character that you see as this great hero who's invincible and a fighter, even he is vulnerable and that he can have times when he feels weak," Garcia said. "And that should even inspire us."
Unafraid to dive into heavier topics, the movie resonated with both younger and older audiences. Crawford said the balance between grim storytelling and heart allowed for an elevated narrative that all age groups could appreciate, according to an interview with Discussing Film.
"It's about death and about loneliness and about finding your place in the world that puts it in a package that kids will understand," Young said. "But also it's a really well made movie, so that adults can go and get enjoyment out of it."
The animation itself maximized the strengths of the artistic medium by mixing 2D and 3D animation. The advancements made in animation over the years inspired Crawford as a filmmaker to utilize various tools for cinematic storytelling, according to Discussing Film.
"'Puss in Boots: The Last Wish' switches back and forth between the two styles a lot, which I think is a really unique concept that hasn't really been seen in animation in a long time," Young said. "And so I think that might be something that becomes an industry standard in the future."
Of the two movies released in December that sequeled their predecessors from over a decade earlier, audiences were surprised that Puss in Boots got higher audience ratings than the long awaited "Avatar" sequel, according to PopCulture.
The success of the film demands for a deeper look into the implications for the animation industry as a whole. In Hollywood, there is a lack of respect for animation as cinema, as shown during the 2022 Oscar award ceremony in which several comments belittled the artform, according to the Central Recorder.
"There's this stigma with animation that it's for kids, and of course it's appropriate for kids, but it's not just for them," Crawford said in the Discussing Film interview. "Like you're saying, there's stuff that goes over kid's heads that the parents are laughing at."
Filmmaker Guillermo del Toro spoke on the issue during his acceptance speech at the 2023 Golden Globes ceremony and addressed the misinformation surrounding the definition of animation.
"Animation is cinema," del Toro said in his speech at the Golden Globes. "Animation is not a genre for kids, it's a medium."
Animation studios are trying to break outside stereotypes that have been assigned to them for years, according to ScreenRant. With "Puss in Boots: The Last Wish," DreamWorks challenges the boundaries of this stigma and acts as a prime example of how animation is a versatile medium and universal language to tell stories for audiences of all ages.
"Puss in Boots: The Last Wish" is playing in theaters including Regency Agoura Hills Stadium, Cinepolis Luxury Cinemas and AMC Dine-In Topanga 12. As for at home viewing, the movie will be available for streaming on Peacock and Netflix later this year.
"I would definitely recommend it to a friend even if you don't want to pay the thirteen dollars to go see the movie in theaters, wait till it comes out on streaming services and watch it at home," Young said.
______________________
Follow the Graphic on Twitter: @PeppGraphic
Contact Jackie Lopez via email: jacqueline.lopez@pepperdine.edu