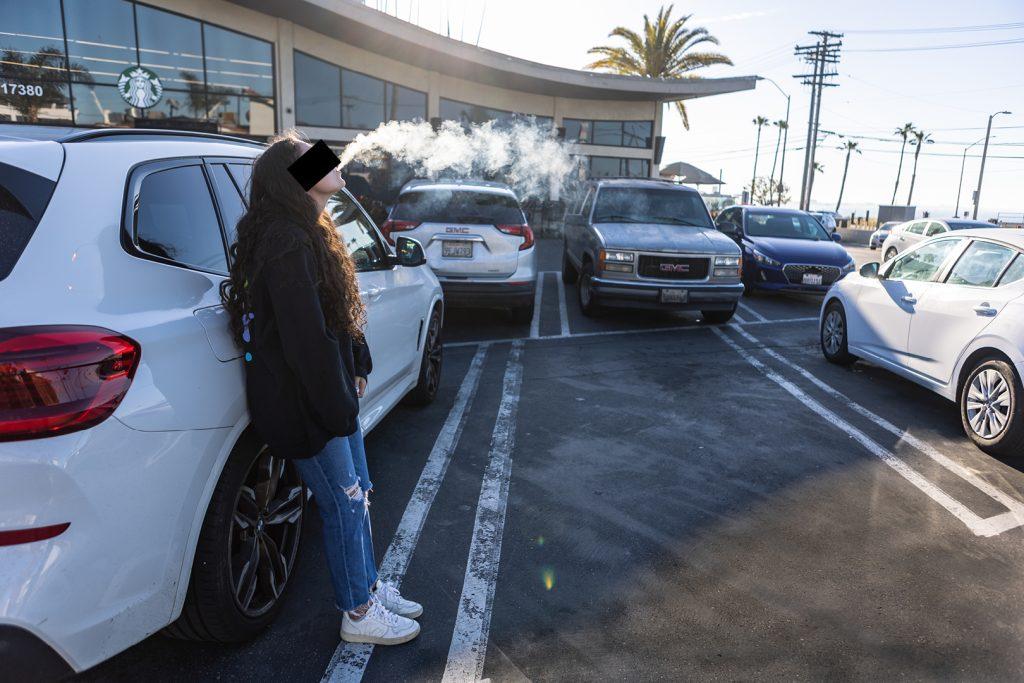 A student vapes in a parking lot outside of Vons grocery store. Almost 20% of 18 to 29-year-old Americans vape, according to a Gallup poll. Photos by Lucian Himes
The E-cigarette industry made $22.8 billion globally in 2022, an amount that industry experts expect to increase by 3.44% annually, according to Statista.
Young people largely drive this profit, as a Gallup poll found that almost 20% of Americans aged 18 to 29 use E-cigarettes, compared to the next highest percentage of 7% for 30 to 49-year-olds.
Vaping can harm the health of those who do it, negatively impact their social environments and cause financial problems. Through marketing tactics and social normalization, the E-cigarette industry has managed to steadily increase in popularity and profit despite these major negative effects of vaping.
"If it's something that's popular or if it's something you see on social media or that you see celebrities doing or that you see in a music video, it just becomes normalized, and vaping got very popular, very quickly," said Megan Jacobs, vice president of product and innovations at Truth Initiative, a nonprofit dedicated to ending tobacco use and nicotine addiction.
History and health effects of vaping
The first generation of E-cigarettes resembled traditional cigarettes and delivered nicotine ineffectively, becoming unpopular with both smokers and nonsmokers, Jacobs said. The industry aimed the following generation of products at tobacco users. These E-cigarettes were big and clunky, lacking broad appeal.
Jacobs said vaping didn't become appealing to the general public until the release of a new E-cigarette in 2015: JUUL.
"JUUL started the third generation of E-cigarettes, which used a novel type of nicotine called nicotine salts that delivered nicotine extremely efficiently, very, very quickly, and in huge amounts, flooding the brain with nicotine," Jacobs said.
JUUL quickly rose to popularity, becoming the best-selling vape on the market by November 2017, according to Business Insider. Steven Cravotta, a Pepperdine alumnus ('20) and founder of Puff Count, an app designed to help users quit vaping, said he witnessed the rapid emergence of vaping firsthand.
"I go abroad, I come back for junior year and everyone has a JUUL in their hands," Cravotta said. "So almost overnight, everyone's addicted to vaping, everyone's addicted to nicotine."
By 2018, Jacobs said the rate of young people smoking traditional cigarettes was at an all-time low, a "real success story" in the public health community. After JUUL came out, though, she said the surgeon general declared vaping an epidemic due to the sudden high rates of young people using tobacco products.
One of the main health concerns associated with young people vaping is the intake of high amounts of nicotine. Jacobs said one JUUL pod has the same amount of nicotine as a pack of traditional cigarettes.
"Even when youth cigarette smoking was a big problem, we weren't typically seeing pack-a-day smokers in high school," Jacobs said. "With vaping, we are seeing a lot of young people who are vaping the equivalent of a pack a day or more worth of nicotine."
Both Jacobs and Cravotta said there is not enough research yet to know the long-term health effects of vaping, but the impact of nicotine is well-documented.
"Nicotine is very, very damaging to young brains," Jacobs said. "It primes the brain for addiction to alcohol, to nicotine, to other drugs. It has impacts on memory and cognition."
While many people may assume vaping is healthier overall than smoking cigarettes, Cravotta said they often disregard the wide range of effects nicotine has on the body, including a dependence on the "insanely addictive" substance.
"That's the thing people fail to understand," Cravotta said. "Even if vaping was completely healthy for you in the smoke sense of it, you're still getting so much nicotine, an unhealthy amount of nicotine."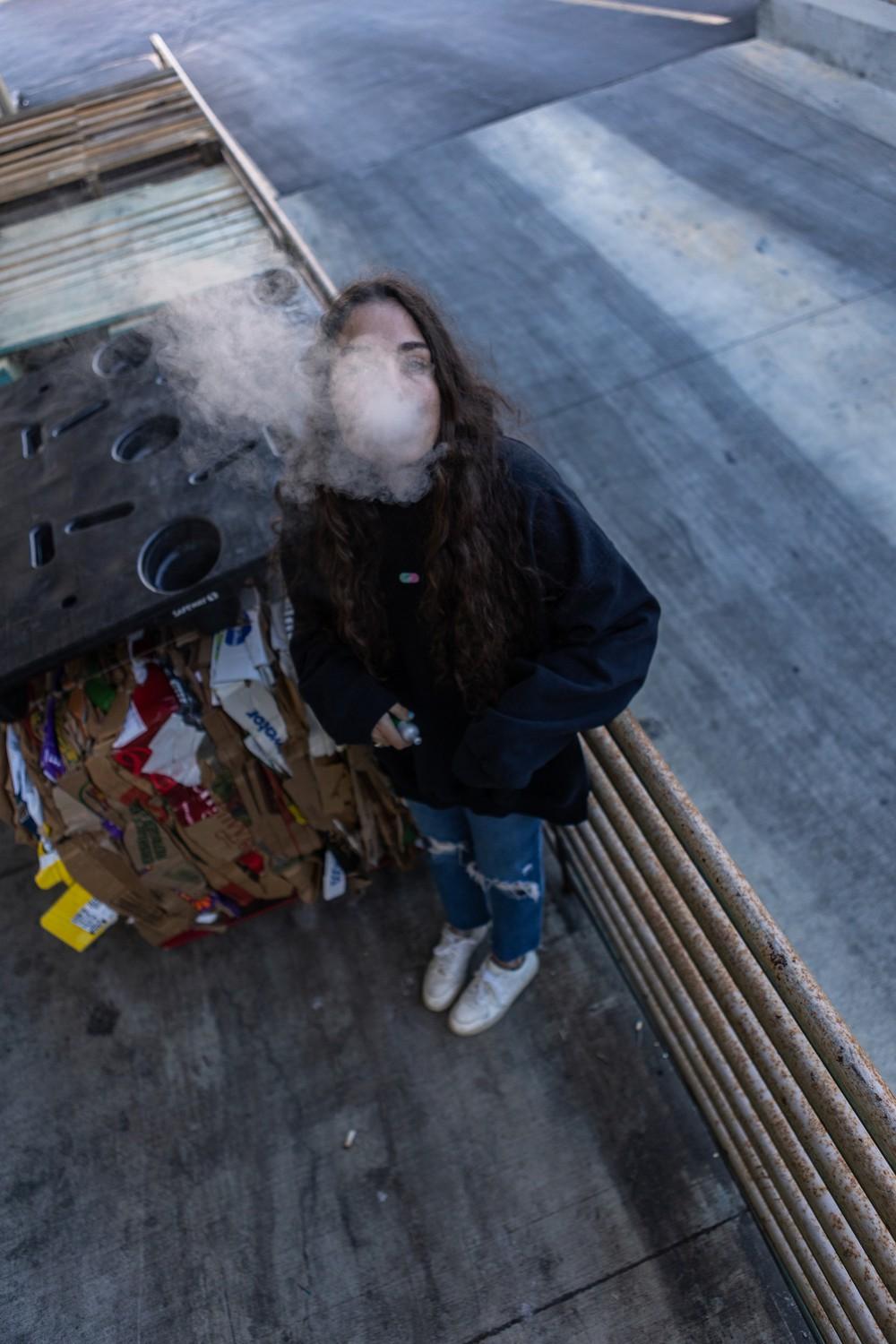 How the vaping industry targets and affects young people
Companies that sell vapes often market them in ways that target young people, like bright colors, aesthetic packaging and fun flavors, Jacobs said.
In 2022, the state of California passed a law banning the sale of all flavored tobacco products, including vapes, according to the California Department of Public Health. This law follows the 2020 federal banning of specific models of flavored vapes, namely JUUL, according to NBC News.
Another tactic Cravotta said they use to hide the damaging nature of their products is strategic labeling.
"Vape companies, you know, they mark vapes as 5% nicotine," Cravotta said. "When you look at that at face value, 5% seems pretty small. But in reality, 5% is an insane amount. It's 50 milligrams per liter, which is an insane amount of nicotine."
At Pepperdine, vaping is mainly prevalent at parties or similar social situations, senior Jaclyn Wishard said.
"Here it does feel more of just a little party add-on, like drinking," Wishard said.
She said she knows former high school classmates who began vaping as teens and still do it today. Most of those people attend large state schools, where she said vaping culture is very different than it is at Pepperdine.
"It's a lot more of a lifestyle for them," Wishard said. "I feel like it is more like an addiction that they're working through."
While Wishard said she chooses not to vape, she also doesn't judge anyone who does. She made the choice not to pick up the habit because she grew up around people who smoked cigarettes and knew it wasn't something she needed to begin.
"The reason I never did it is because I'm very afraid of an addiction to things," Wishard said. "I don't want to be strapped down."
High school senior Emily Collinsworth said she also doesn't vape, but knows plenty of classmates who do — to a degree that concerns her.
"It's kind of all the time at school," Collinsworth said. "They'll keep it in their shirts or their bags and even vape in class, which is really weird."
She began seeing people her age vaping in the sixth grade and said she has already known classmates who used nicotine patches to give up the habit. When it comes to health effects, Collinsworth said her friends who vape get sick more often than most people.
"They always have a lingering cough which sounds disgusting," Collinsworth said. "A lot of them used to be athletes and then just progressively got worse in their sports and ended up ultimately quitting."
Outside of the health effects vapes cause directly, using an E-cigarette makes young people more likely to smoke traditional cigarettes, Jacobs said. This opens them up to all the well-documented health problems associated with cigarettes, too, according to the CDC.
"If you vape, you're addicted to nicotine and you need that fix," Cravotta said. "So if you don't have a vape on you and there's someone with cigarettes, you're like, 'I might as well try a cigarette, I need a buzz.'"
The financial aspect of vaping can also be personally damaging for some people, Cravotta said. The availability of disposable vapes makes it easy for people to just buy a new vape when one runs out rather than opting for a refillable model. Prices of popular disposable options range from a Puff Bar, which costs $12 for the smallest version, to an ELF Bar, which costs $29.99.
For some young people who vape, however, the cost doesn't fall on them, Collinsworth said.
"A lot of people's parents just buy vapes for them," Collinsworth said. "They'll just go to the store and buy it for them."
One major reason many young people start vaping is simply because their friends are doing it, Cravotta said. Once they've started, they will likely become addicted to nicotine, and the discrete nature of most vapes makes them easy to use anywhere, anytime. All of these factors together, Cravotta said, makes it very difficult for people to stop vaping once they've started.
"It's like a perfect storm," Cravotta said.
Puff Count, the app Cravotta created, tracks how much users vape throughout the day, forcing them to tap the screen every time they take a "puff" of their vape to help them quit.
"People don't realize how bad this is," Cravotta said. "So when they use Puff Count, they're absolutely shocked at how much they're actually smoking every single day."
While vaping is highly addictive and may require either an app like Puff Count or nicotine patches to quit, Jacobs said it is possible to give up the habit and live a healthier lifestyle, especially for young people.
"The good news is it's never too late," Jacobs said. "It is never too late to quit, and your body is really an incredible machine that starts regenerating and repairing the instant you stop. It is never too late to quit."
___________________
Follow Currents Magazine on Twitter: @PeppCurrents and Instagram: @currentsmagazine
Email Addison Whiten: addie.whiten@pepperdine.edu