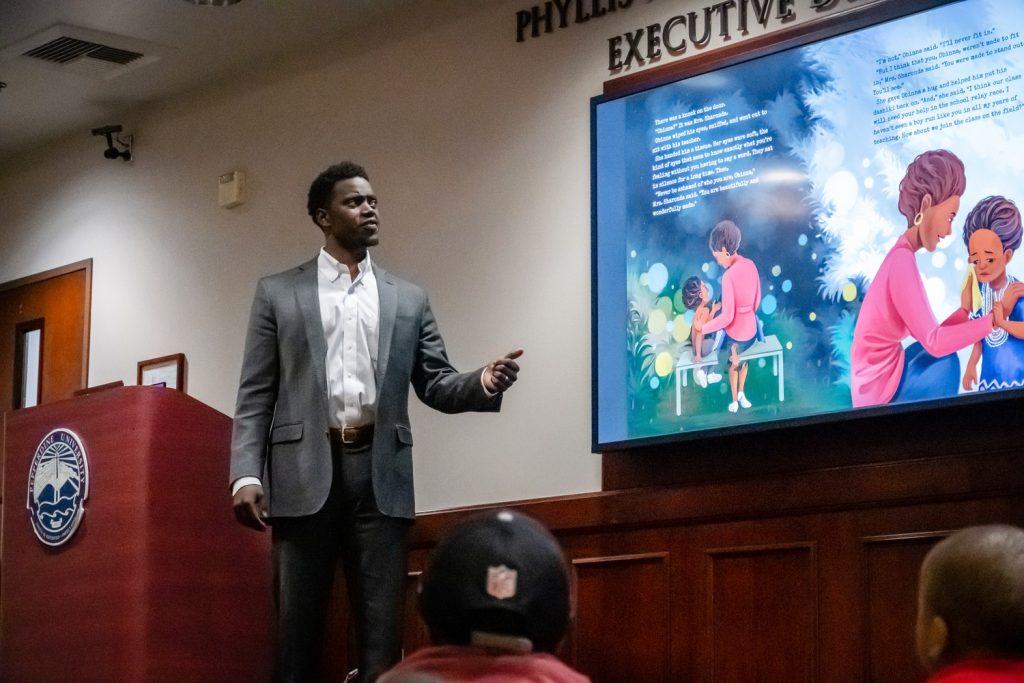 Chris Singleton reads his first published children's book, "Different: A Story About Loving Your Neighbor," in the Villa Executive Dining Hall on March 13. Singleton shared his children's books with the Pepperdine community during the Office for Community Belonging's Story Time event. Photos by Lucian Himes
The Office for Community Belonging hosted a night of faith and unity through Story Time with Chris Singleton on March 13, in the Villa Executive Dining Hall.
With over 15 students, faculty and staff along with about 10 children in attendance, Singleton shared his journey and his mission while reading two of his books — "Different: A Story About Loving Your Neighbor" and "Your Life Matters." The third book he showcased was "Baseball Around the World: How the World Plays the Game."
Singleton, a former minor league baseball player with the Chicago Cubs organization, said he is now an inspirational speaker of unity and resilience after his mother, Sharonda Coleman-Singleton, died in the 2015 Emanuel African Methodist Episcopal (AME) Church tragedy in Charleston, S.C.
"I hope that everybody's reminded that there's a story behind every stance," Singleton said. "I hope everybody is reminded that we don't choose where we're from or what we look like, and I hope everybody's reminded that we're called to be the salt of the earth in the light of the world."
J. Goosby Smith, vice president for the Office for Community Belonging and chief diversity officer, said she moved from Charleston to Malibu in July. She originally made the move to Charleston six weeks after the "Mother" Emanuel tragedy at one of the oldest African American churches in the U.S. Nine people died in the shooting during a Bible study in 2015, according to NBC News.
As an ordained AME Minister, Smith said she saw how the community in Charleston dealt with this tragedy. Smith and the Office were looking for a speaker for the Memorial Lecture Series for Larry Donnell Kimmons and April Akinloye, assistant vice president for the Office for Community Belonging, mentioned an author — Singleton — who has children's books from Charleston.
"Our mission for Office for Community Belonging is to connect, support and equip faculty, staff and students as we create a community of belonging," Smith said. "And Chris, his message is just dead down the center of home plate on that message, not to use a baseball metaphor."
Singleton said his favorite part of the night was seeing the children and adults wanting to hear a message of unity and loving one another. He interacted with the children throughout the night, asking them questions and having them engage with his readings.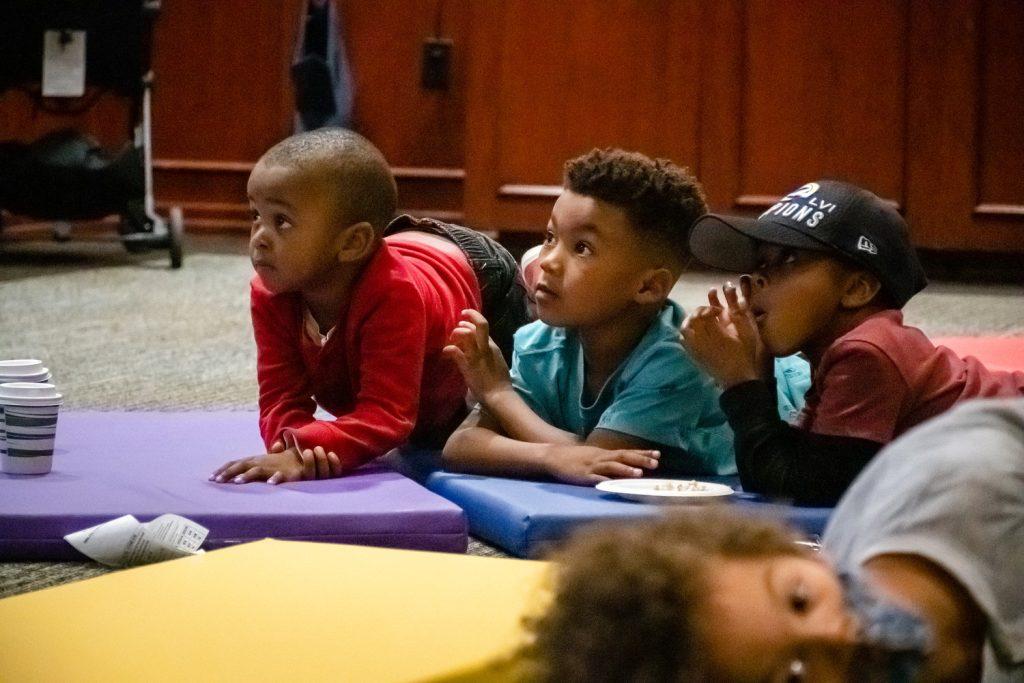 Singleton said, after his mom died, his mission changed to wanting to unite the world, not just the country.
"That was definitely the deciding factor," Singleton said. "And then getting opportunities to share — every opportunity that I get — I get to change somebody's heart and bring people closer together."
He is on the road 150 days a year promoting his message of unity and compassion, Singleton said at the event. He speaks and shares his message with over 80 organizations and 100,000 students and educators across the world, according to his website.
Singleton said at the event he always asks students what makes them different, and in response, he shared how he is color-blind. This is why he has lots of colors throughout the illustrations in his children's books.
After reading his books with the audience, Singleton shared a slide that read, "Every Interaction Matters." He said at the event every interaction with someone matters, and people should put their best foot forward.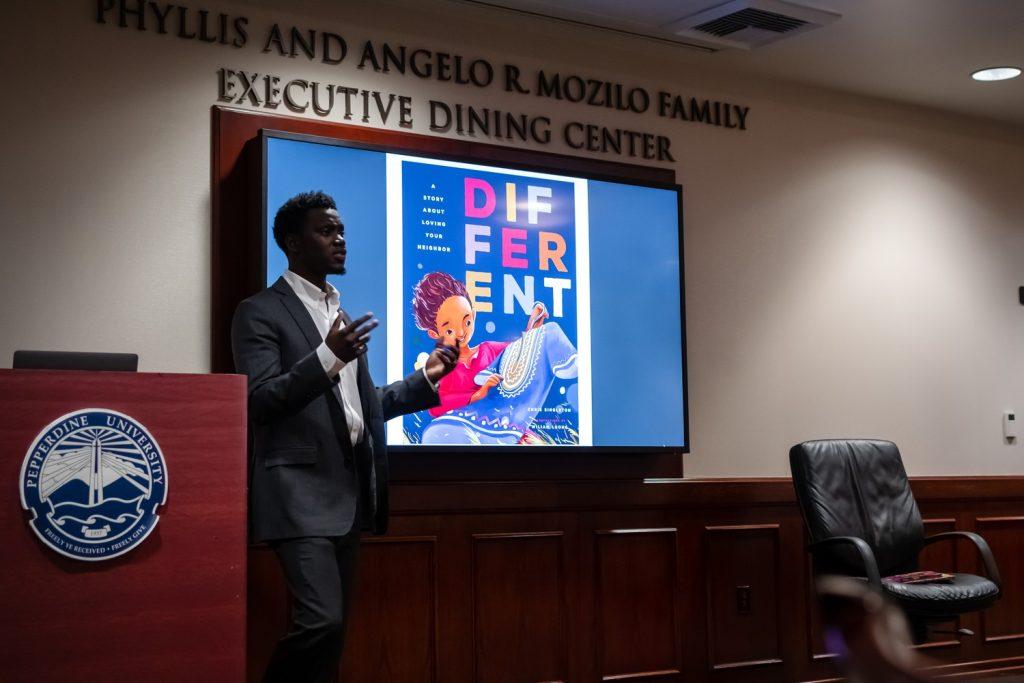 First-year student at Pepperdine Graziadio Business School Able King attended Story Time on March 13. He said he heard of the event from his role working at President Jim Gash's office. King said he likes how Singleton takes big concepts of differences and turns them into kids' stories because it is inspirational and encouraging to them.
"Whenever we talked about how every interaction matters, that's like a big deal for me because you really never know where people are from, what they've been through," King said. "So, him saying, 'You need to give people a chance to just go and listen to them and learn about them,' that was big for me."
King said the messages of non-judgment, understanding people's point of views and not being afraid to disagree with "role models" resonated with him. During the Q&A session at the end, King asked Singleton about unity and teaching. Singleton said he shares both sides of the story to create empathy.
Singleton sold his children's books to the community at the end of the night and also sells them through his website. He said he plans to write more children's books in the future — hoping to write one every year.
___________________
Follow the Graphic on Twitter: @PeppGraphic
Contact Tanya Yarian via Twitter: @tanya_yarian or by email: tanya.yarian@pepperdine.edu