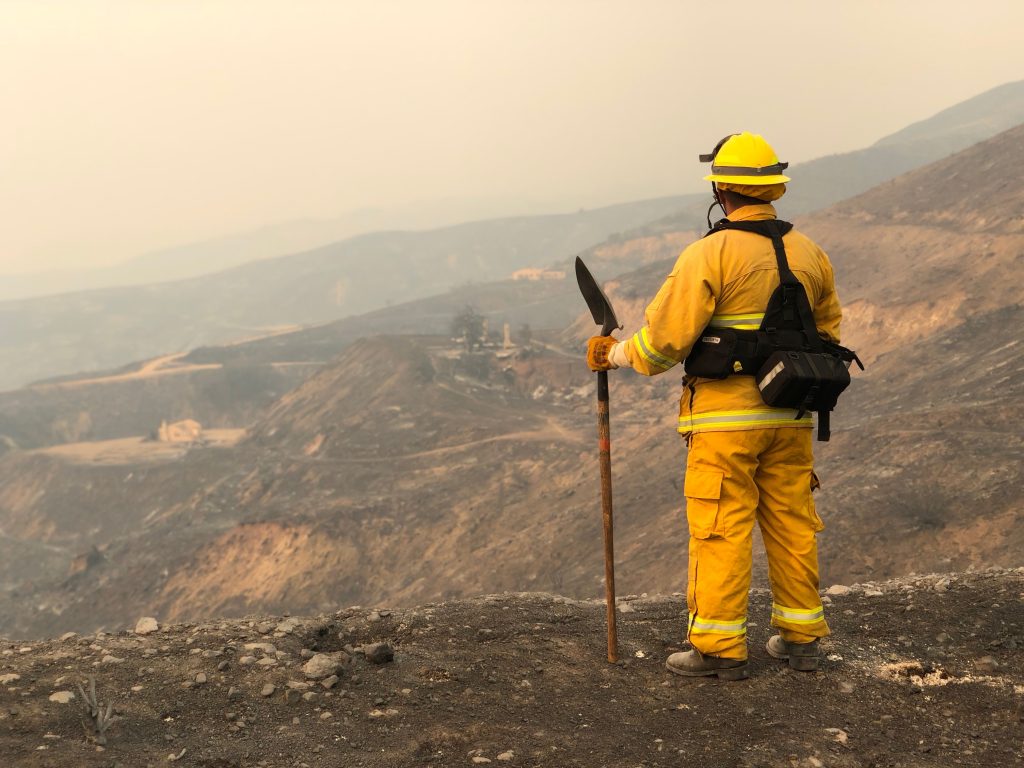 Photos courtesy of Luis Quiroz
More than 100 firefighters, including the strike team and hand crew, responded to the Woolsey Fire at Pepperdine University, according to Mark Lauren, Pepperdine lieutenant of Fire and Life Safety Preparedness. Around 2.5 million gallons of water and one million gallons of flame retardant were used in the Helitack and Bomber Air assault to contain the fire, according to the Cal Fire Incident Command. How much more water and flame retardant used in suppression operations is unknown.
In a phone interview with Lauren, Pepperdine Fire Inspector and Specialist Jason Jensen, Pepperdine Communications Manager Cesar Lopez and Pepperdine Lieutenant for Patrol Luis "Q" Quiroz, each one described their own experiences with the Woolsey fire — what happened the moment they received the "call to action" and how Pepperdine prepared them to ensure absolute safety for all.
What was it like to get the "call to action?"
Lauren – The planning really starts before the incident really [begins], and that is the red flag warning monitoring the national weather service, tracking the fire weather conditions in advance. Pre-planning is critical from our operational standpoint. When I first became aware of [the fire], I already responded to the Borderline incident and was at Thousand Oaks at the Reunification Center. I went right from that incident to the Woolsey Fire incident; there was no time to decompress.
Jensen – Once learning about the fire, working in the fire division, it is part of our responsibility and also our interest to stay on top of any information and what is happening when fire is in the area. I talked to Mark [Lauren], and we discussed the potential for the path for whether we thought [the fire] would get to campus or not, what was happening, whether it was growing and started to work out a plan as far as who would go to the command post and what our process would be.
Lopez – During [a] red flag warning event, we tend to pay attention to the Blue 8 radio frequency of the LA County Fire [and] monitor any brush fire or structure fires in the area. Around two in the afternoon on Thursday, we overheard over the radio that there was a fire off the 118 near Woolsey Canyon, and so, from that moment forth, me and the other dispatchers in the communication center were tracking all activities related to the fire and were reporting on details.
Quiroz – We have a protocol whenever we have a red flag warning to go ahead and establish a modified schedule for everyone on patrol. So we had established that for our Friday where we had 12 on and 12 off, and that was it. We were ready Friday morning.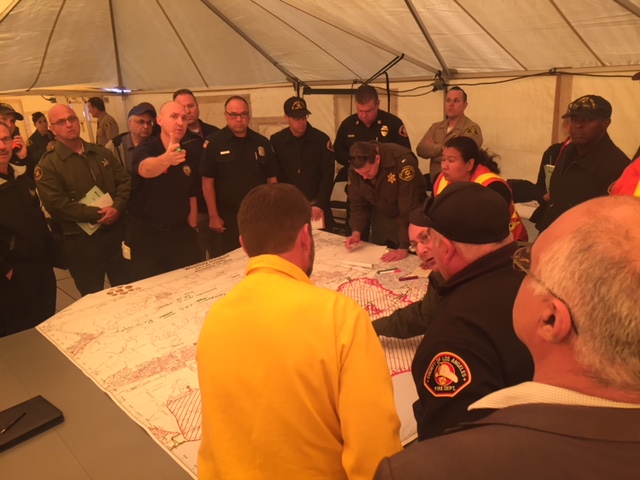 Photo courtesy of Mark Lauren
When the fire approached Pepperdine, what was it like for you?
Quiroz – We came up with a plan and decided we were going to work as a team. Once the fire was in our backyard, that's when we began to use all our training and just jump on it.
Jensen – We were still monitoring at that time. The fire was still a couple canyons over as we were watching it, and then I was just planning in my head how I would approach the campus and what I expect the fire activity to be. So we were coordinating with Q [Quiroz] and his group. We basically had two different groups of fire departments, and we came up with a tactic of where we were going to start and modify that as the fire conditions needed. As it then first approached campus, it was very hot and very windy, a pretty extreme fire behavior. And then, well, we just went to work.
What were your thoughts when you saw the fire?
Jensen – Based on my training and experience, although it was extreme, at no time did I think we were in a compromised position. Campus had a very good plan as far as the brushing goes and as far as the way it is laid out, if a fire is supposed to come through. We relied a lot on our training and working together. Everybody did a great job, communicated well and worked well.
How long did you stay on campus? Were you able to reach out to family members?
Lauren – I never went home. I assumed the role of the incident command post. I was initially in Thousand Oaks and was transferred to Camarillo and worked as the liaison for the university with all the different fire agencies, law enforcement and infrastructure services. I worked hand-in-hand with those same agencies as far as the repopulation procedures [go] to get everyone back into Malibu.
Jensen – I was able to reach out to my family probably once or twice a day and talk to my kids. That was nice.
Lopez – I reached out to my family as well. I let them know that I was very busy at Public Safety and that I was limited on how often I would be reaching out to them. It gave me piece of mind letting them know I was fine.
Quiroz – I was either texting or trying to give my family a phone call once a day to let them know I was fine.
*All officers stayed at the Malibu campus from Thursday Nov. 8 until Friday, Nov. 16, and Lauren stayed at the command post for the entire week.
What was the hardest part for you during this time?
Lauren – I think as a born and raised resident of Malibu, having gone through four previous fires, to [then] go through this again … the devastation that is going to follow it and [affect] so many friends, families and business owners that live in this area … is the hardest part. As far as our plan and the concern for the students and the community here, I felt confident in our pre-planning and working with all the other stakeholders on campus. There are so many layers of consideration, care and contingency to ensure the community is well-served.
Jensen – I'd have to say the hardest part was the back-to-back situation with the Borderline incident — not fully being able to process that as a community or a department and then right into the fire mode, which is a completely different emergency management mode. That was pretty tough.
Lopez – I think one of the more difficult tasks during this event was the volume of calls we were receiving in dispatch from dozens of parents, calling concerns for the safety of their sons and daughters. Some of the parents were very emotional, so we reassured them, letting them know their sons and daughters are safe. In some cases, they couldn't get into contact with them, so we would dispatch Public Safety officers to conduct welfare checks on the students to make sure that the students [were] fine and in turn reach out to the parents and telling them they are okay. From the moment the fire hit, we were getting calls after calls after calls, and it started 24 to 48 hours earlier with the Borderline event.
Quiroz – I think the hardest part was [students] not knowing how the fire was going to act. I mostly wanted to make sure the students didn't go into panic mode. I wanted to assure them that everything was fine, sheltering them in place to Firestone Fieldhouse and the cafeteria, stopping by and just saying hello to them.
How has Pepperdine trained you for moments like these?
Lauren – We have all the tools here and the commitment, the facts, the training — everybody's heart is in this. This is a choice and not an obligation; we feel compelled. It is a privilege to serve and an honor to protect.
_______________
Follow Nicola Wenz on Twitter: @nicocowenz