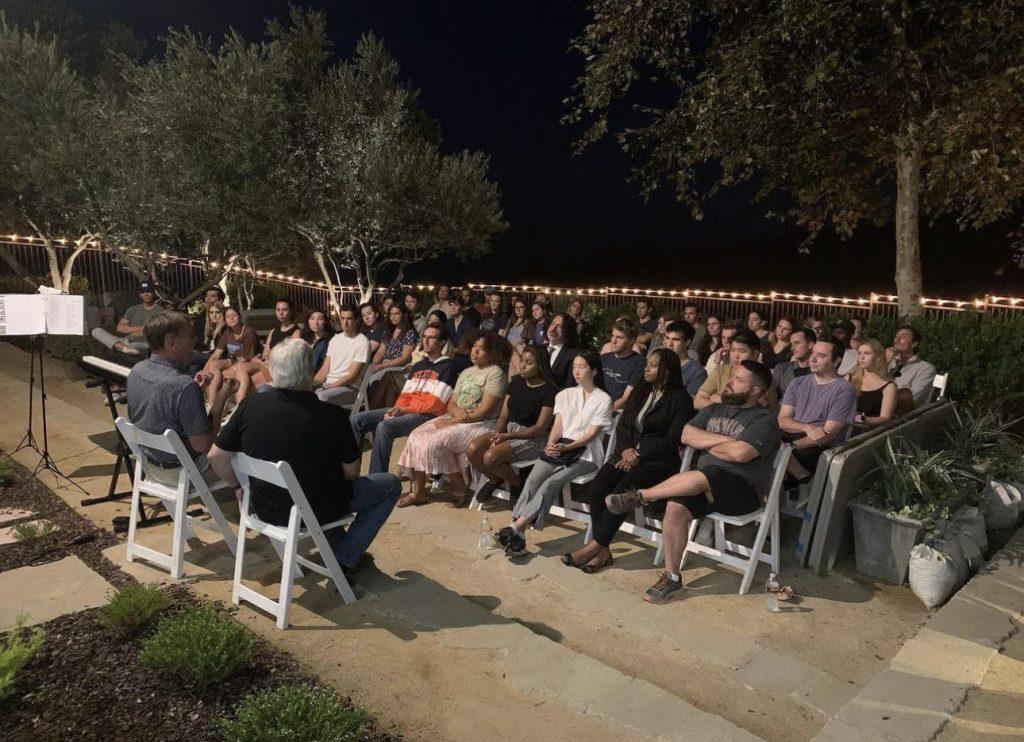 Caruso School of Law students gather at Dean of Caruso Paul Caron's home in February 2022, to listen to a guest speaker and participate in the Dean's Bible Study. Afterward, students separated into small groups to worship. Photo courtesy of Paul Caron
The Dean's Bible Study offers Caruso School of Law students a time to worship and opens a space to share faith with one another. Attendees of the the two-hour Dean's Bible Study service gather in community, listen to sermons and pray.
Dean of Caruso Paul Caron, hosts the Bible study at his on-campus home, where dinner is served at 6 p.m., followed by a guest speaker at 7 p.m., and small group prayer at 7:40 p.m.
Whitney Heuermann, a second-year Caruso School of Law student, said as a first-year law student, she did not miss a Bible study. Heuermann said she considered it her mid-week reset from intense study, and the time allowed her to refresh mentally and spiritually.
"My first year it [the Bible study] was such a cornerstone for me; it was a nonnegotiable time," Heuermann said.
The Dean's Bible Study occurs every Wednesday of the academic year and is open to all Pepperdine students, Caron said. With a new guest speaker each week, students can worship in community and connect with God.
History of Dean's Bible Study
The Dean's Bible Study has been a longstanding tradition at Caruso for 43 years, according to Caruso's website.
With the myriad of academic and mental challenges of attending law school, having a faith community for sharing and support can make those challenges more manageable, Heuermann said.
Historically, deans have not hosted this Bible study. Over its 43-year existence, hosts varied from professors of law like F. LaGard Smith, the original host, to senior vice chancellors like Ron Phillips to deans like Caron and President Jim Gash, according to Pepperdine's website.
Guest speakers vary each week and Caron said he does not require them to stick to a theme. This is one way the Bible study differs depending on the host.
"I like asking faculty, and then others, if they have something on their heart that they want to share, to share it," Caron said. "And I like that organic sort of thing."
Mostly law students attend, but students from Graziadio Business School and Pepperdine's Graduate School of Education and Psychology also come, said Ana Rodriguez, third-year law student and President of Caruso's Christian Legal Society. It is the only Bible study a graduate school hosts, Caron said. Therefore students from all of Pepperdine's graduate schools are welcome to attend, Rodriguez said.
During the COVID-19 pandemic, Caruso held the Bible study virtually over Zoom, Caron said. But attendance numbers sank, with at most 15 people attending compared to the Bible study's current weekly attendance of around 50 people.
Rodriguez said the virtual Bible study had its benefits because speakers who were not local to Malibu could join, but said it's better to hold the faith gatherings in person.
"It's just nice being in community that way," Rodriguez said.
Pepperdine's Christian Legal Society (CLS) assists with the planning and hosting of this event, Caron said. CLS offers various worship opportunities throughout the academic year, one of which is a weekly Bible study on Thursday in addition to the Dean's Bible Study.
"People who are exploring their faith end up coming to the Thursday nights and then Wednesday nights seem to attract people who have been in church for a while or have a pretty strong faith background," Rodriguez said. "I like that we're able to serve those two groups of students."
<div class="flourish-embed flourish-cards" data-src="visualisation/12599350″><script src="https://public.flourish.studio/resources/embed.js"></script></div>
https://public.flourish.studio/visualisation/12599350/
Benefits for Students
Law students gain several benefits from attending the Dean's Bible Study and participating actively in CLS, Rodriguez said.
Heuermann said she credits the weekly Bible study with helping her survive a grueling first year at Caruso.
"CLS and just that Christian community has been so grounding and knowing that I have people that I can deeply depend on who we connect on a deeper level," Heuermann said.
CLS offers a mentorship program to first-year law students, which pairs them with a third-year to help guide them through the rigorous and intimidating first year of law school, Rodriguez said.
As a new member of CLS, Heuermann said she took advantage of of this mentorship. She said it was crucial to a successful first year, both from an academic and faith standpoint.
"She truly helped walk me through that first year, and I'm forever grateful to her for that," Heuermann said.
The intensity of law school can test students' Christian values, Heuermann said, but students said being a part of CLS and the Dean's Bible Study has only strengthened their faith.
"Some people, it either pushes them deeper into their faith, or sometimes it even pushes them away and makes them more cynical," Heuermann said.
While the Bible study offers a place for law students to rejoice, it also opens a space for them to mourn, Caron said.
Evan Carthen, a first-year Caruso student, died unexpectedly in September 2016. In response to this, the Dean's Bible Study invited students to mourn at their Wednesday service, Caron said. Zac Luben, director of Graduate School Ministries, spoke at this service to honor Carthen.
Carthen's friends, family, classmates and professors gathered to celebrate his life, Caron said.
Caron said the community created that night was "magic."
"There is nothing that you can say that explains that or helps in that way, but just kind of being in community," Caron said.
____________________
Follow the Graphic on Twitter: @PeppGraphic
Contact Nora Moriarty-McLaughlin via email: nora.mclaughlin@pepperdine.edu