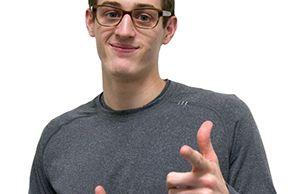 I had an existential crisis at Rock the Brock last week.
I should first state that the event itself was delightful, pristinely put on by the school and an overall memorable evening overlooking the Pacific Ocean at the house of our school's president.
My existential crisis came from a place inside my own heart. I got off on a bad foot when the dress code wasn't announced, and I couldn't find a consensus on whether to go business casual or just straight business. Faced with divergent paths, I took the safer option, and let that be a lesson to you all: It is always better to be the best-dressed person at a soiree than the worst.
There I was, standing awkwardly by the coconut shrimp platter, in a coat and tie, surrounded by a sea of my fellow classmates in jeans, khakis and cotton button downs … a bad start.
If you know nothing else about Rock the Brock, you probably are aware of the raffle that gives the event a certain electric verve. With $5,000 on the line these are stakes higher than Heroes Garden. I came for the raffle, and stayed for the memory-erasing cream puffs at the dessert buffet. On the surface, the climax of the evening came with a giveaway of five grand, but for me, the penultimate moment arrived much sooner.
You see, the raffle came in spurts, and for whatever reason, the prizes were scattered in such a way that one amazing reward ($1,000 and a guitar) was quickly followed by a less than amazing award (a Pepperdine sweatshirt, and a $50 iTunes gift card).
As a quick aside, next time you're at a raffle, notice how the person announcing the prizes and numbers acts as if everything is a personal possession they're just generously giving away. They're glorified microphone holders, but the power rushes to their heads like a 10-year-old snorting a line of Fun Dip.
After missing out on another of the massive cash prizes, the emcee announced a leather-bound portfolio giveaway without the slightest dip of enthusiasm. It was in this brief moment of hype that I turned to my friend and said, "Economically speaking, the opportunity-cost of me walking from here to there to pick up that prize isn't even worth the prize itself."
It was a joke, but still — what? Who says that?
As if the words were companions dangling helplessly off an icy ravine, and I their only hope, I attempted to lasso them back into my mouth where they could remain as one evil, negative thought. But it was too late; they were gone forever.
I didn't win the portfolio, and I didn't deserve it. I once spent a night in a rat infested, thatch hut in Africa, lying on a dirt floor next to a baby with measles. And I still had the audacity to complain about a FREE prize at a FREE event in one of the most opulent and beautiful places on the planet, in a coat and tie, my belly overflowing with coconut shrimp and cream puffs. I didn't know I was capable of such evil. Who had I become?
It's therapeutic to apologize in such a public manner. None of us are perfect, and we all find ourselves thinking the occasional negative thought that only serves to worsen a situation. I think it's important that we recognize the thoughts inside of us and maintain the ability to distinguish a healthy and life-affirming thought from a debilitating one.
Because if you lose that ability to cognitively correct your wrongs, you're left with a problem nothing can fix — not even a free leather-bound, Pepperdine embossed portfolio.
_____________________________________________________________________________
Follow Ben Holcomb on Twitter: @BenjaminHolcomb
As published in the Sept. 5 issue of the Pepperdine Graphic.