Barbie's plastic world came to life in June when the "Barbie" movie, starring Margot Robbie and Ryan Gosling, debuted worldwide.
After its record-setting debut, the Barbie movie made audiences reflect on femininity and the patriarchy, students said. Women at Pepperdine resonated with its message on girlhood. Senior Alina Sanchez said the film made her proud of being a girl and everything that comes with it.
"Girlhood is strength despite those adversities and insecurities and everything that we have to face and the day-to-day that no one ever talks about," Sanchez said.
The "Barbie" Movie
Greta Gerwig's film has earned $1.03 billion worldwide, making Gerwig the first solo female director with a billion-dollar movie, according to CNN. The pink-splattered film boasted a star-studded cast with Margot Robbie as Stereotypical Barbie, Ryan Gosling as Ken, Michael Cera as Allan and America Ferrera as Gloria.
In the film, Barbie leaves Barbie Land and enters the real world in hopes of preventing further malfunctioning — having cellulite and thoughts of existential dread. She embarks on a journey to find the girl who is playing with her, and in turn, finds herself.
A reason for the film's blockbuster success is how it taps into the beautiful yet harsh reality of what it's like to be a woman in today's society, students said.
Junior Caroline Speed said she had been looking forward to seeing "Barbie" ever since it was announced. With all the promotion the film's marketing team had been doing, Speed said she knew she was going to love the movie. Despite the ambiguity of the plot, Speed said she was thrilled to show up at the theaters with her family and best friend all dressed in pink.
Seeing a diverse audience in the theater all appreciating a film about girlhood was moving, Speed said.
"It felt like a community experience, which is cool," Speed said. "I've never felt that connected to random people in a movie theater."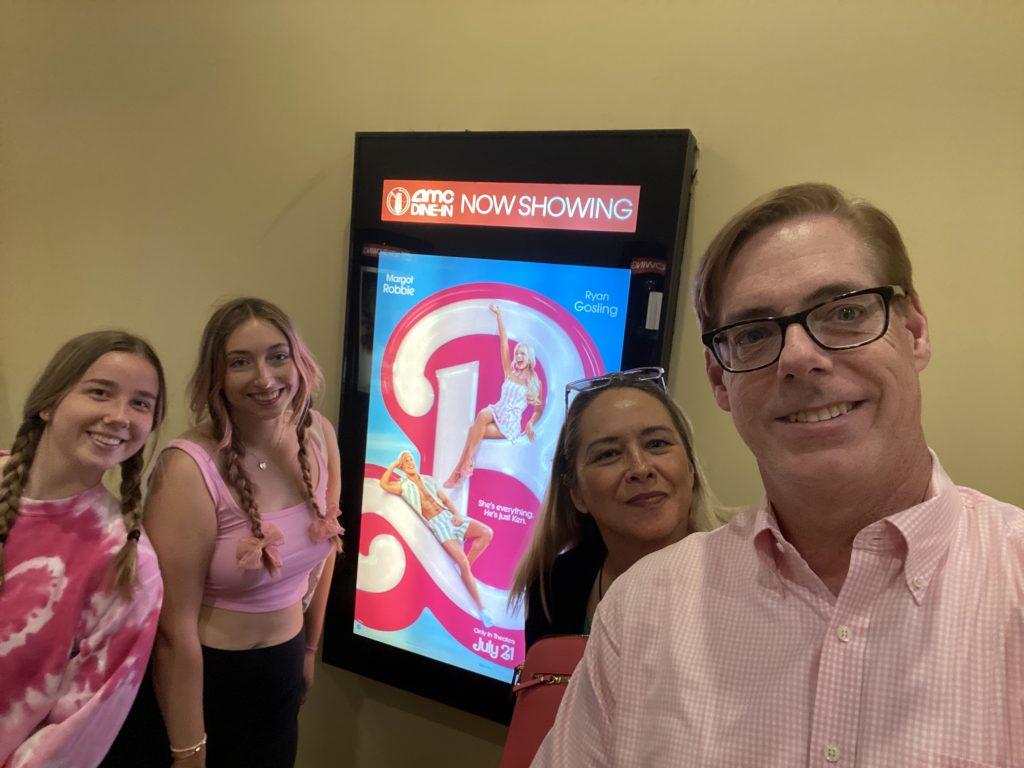 As excitement for Barbie built up in the weeks leading up to its release, Sanchez said she was especially looking forward to the summer movie because of the energy Margot Robbie and Ryan Gosling bring to their films.
Senior Sara Lopez Martinez said she was less thrilled and questioned the productivity of a movie that seemed to idolize white women and push forward a brand so heavily connected with the idea of the perfect woman.
"Going into the movie, I didn't know what to expect," Lopez Martinez said. "Coming out of the theater, I was so, so, so in love with the movie."
With mixed outlooks on the movie before going to see it, there was one thing these students had in common — they all left with a deeper message than expected. The film going beyond just surface-level topics and addressing the topic of feminism head-on was a pleasant surprise, Sanchez said.
"[The film] really touching on that topic of the controversy behind Barbie really shows a lot about Mattel, shows a lot about the creators of Barbie and how they wanted to expand beyond that and go deeper," Sanchez said.
In covering the complex topic of feminism, Lopez Martinez said Gerwig was responsible in her display of the feminine experience and giving a voice to a diversity of women.
"It's really complicated trying to execute something so dense because when you talk about people of color and diversity and womanhood all together, it can get really complicated, especially because women are definitely complex and divine figures," Lopez Martinez said.
While Speed said she loved playing with Barbies, the dolls' lack of diversity always bothered her. She said she was upset the dolls weren't a representation of what she and the women around her looked like. When Speed saw a diverse range of women on the big screen, she said she was shocked.
"It was super cool to see, and it definitely made me appreciate the goals of what they [the filmmakers] were trying to do," Speed said.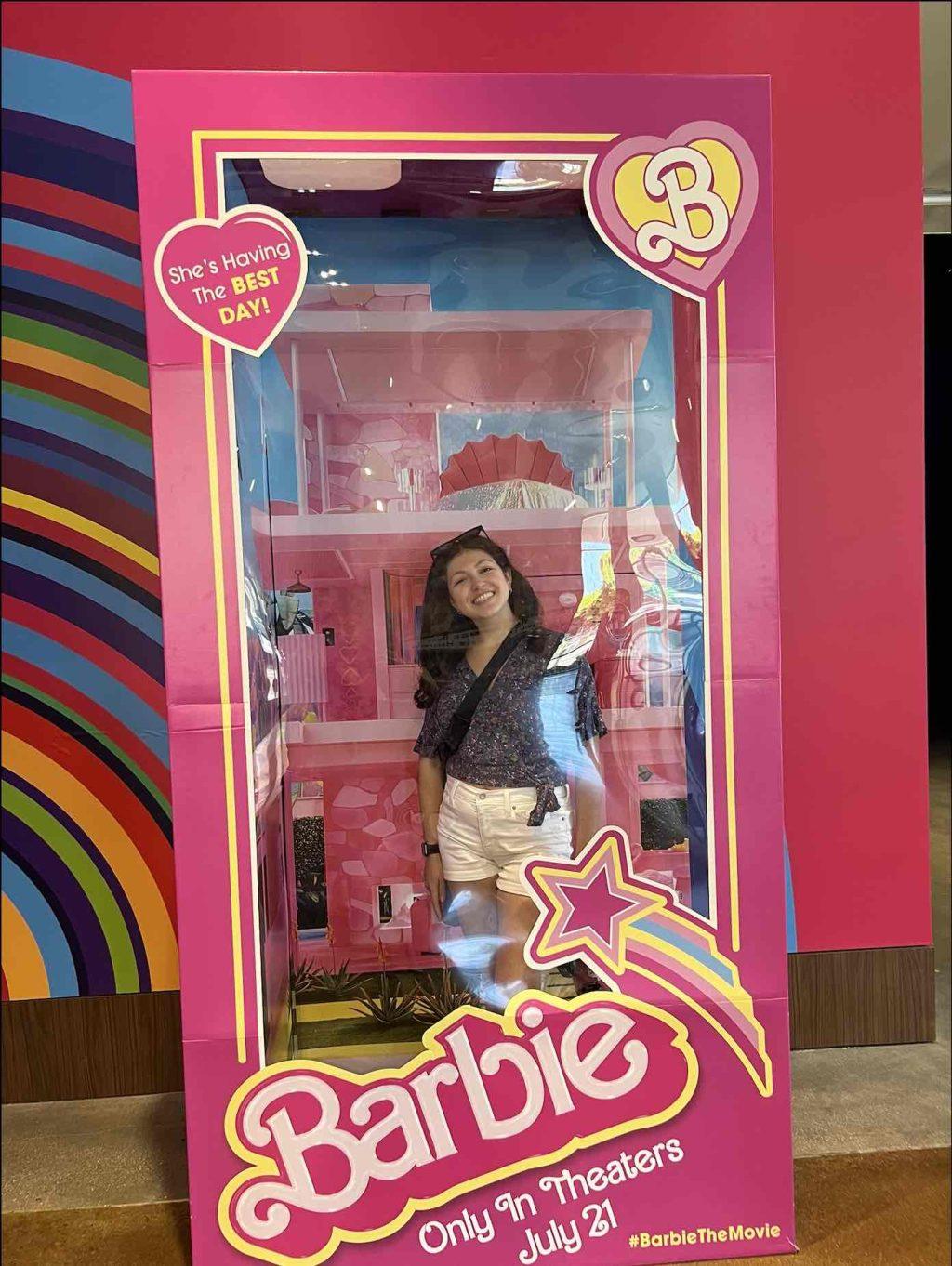 Barbie Embraces Femininity in All Forms
Barbie's love for all things pink, playing dress up and throwing dance parties with her girlfriends symbolizes hyper-femininity. For students who identify as girly, "Barbie" brought comfort to that side of them, they said.
Growing up with a fascination for shopping, dressing up and getting her nails done, Speed said she was excited to see a movie devoted to girly things. Speed said she embraced all the more obvious things that come with girlhood but has recently found an appreciation for the community aspect of it.
"We always just have a connection to other women and find ways to lift other women up," Speed said.
Each Barbie in the movie has their own way of embracing their femininity along with their careers and passions. Growing up with only brothers, Lopez Martinez said she grew up as a "tomboy," less in tune with her feminine side. Once she started college, she took steps to connect with and express her girlhood in a way she couldn't before.
"Being at Pepperdine, I have a lot more girlfriends now. And just having girl nights too, and movie nights and stuff like that," Lopez Martinez said. "It [College] definitely helped sort of elevate that desire that I was looking for within myself."
A part of the movie that resonated with the community aspect of girlhood for Speed was when Barbie sees an older woman for the first time and tells her she's beautiful, and the woman responds with "I know." Speed said she couldn't believe the scene was on the verge of being cut from the movie, which she found out from interviews with Gerwig.
"The fact that she [the older woman] had that self-worth and really embraced her beauty was really cool to see," Speed said. "It [the movie] really did appeal to all women of all ages showing we are all beautiful."
Another scene that stuck out to Speed was the monologue scene where America Ferrera's character Gloria describes all the expectations placed on women and the hardships they cause. Speed said hearing the monologue brought her comfort.
"I felt like no one was ever able to put into words before, like, being a woman in that experience in that way," Speed said.
Insecurities and Joys of Womanhood
During her existential crisis, Stereotypical Barbie showed audiences that even a "perfect" doll can feel insecure in their body. Lopez Martinez said the transformation into "Depression Barbie" resonated with her because it emphasized female feelings of lack and insecurity.
"Learning how to be comfortable within your own skin — I think that is one of the biggest challenges you will experience as a woman," Lopez Martinez said. "As anyone else, we all have insecurities."
Along with the insecurities women face, Sanchez said a female perspective on the world helps unite women and create beautiful friendships. Sanchez said her female friendships are like no other because of the special bond women have.
"Womanhood — that's what I like about it is we connect in a different way that men don't understand or like other people don't understand," Sanchez said.
One of Speed's favorite parts of being a woman is being comfortable with empowering other women, she said. Whether it's women supporting each other in the workforce or complimenting each other in a crowded bathroom, Speed said she is grateful for all the opportunities to lift women up.
Students saw the film as a conversation starter and said they hope male figures in their life watch and reflect on the film's message, they said.
"Feminism is prevalent in everyone's lives because we all have a woman in our life," Sanchez said. "We are one or we have a mother, we have a sister, we have friends. So, I think really understanding just humans at their core, and this is just let alone women, is really important in your day-to-day and how you live your life."
__________________________________________________
Follow the Graphic on Twitter @PeppGraphic
Email Yamillah Hurtado: yamillah.hurtado@pepperdine.edu
Email Jackie Lopez: jaqueline.lopez@pepperdine.edu