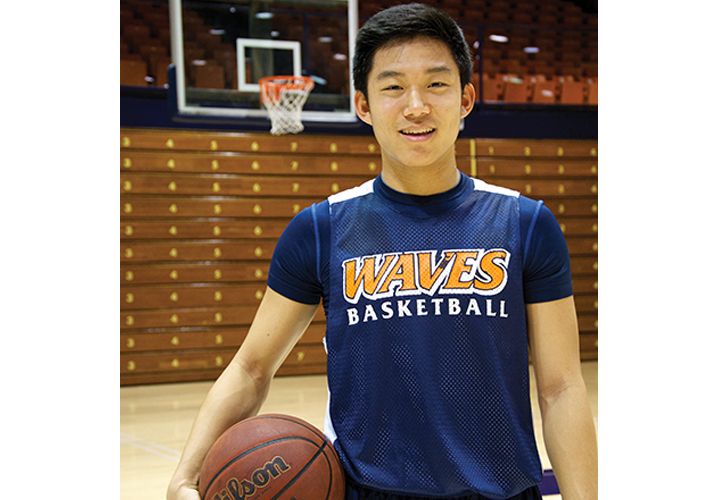 Photos by Arin DeGroff
Wearing No. 2, freshman John Yi is the newest addition to round out the men's basketball roster. Yi chose Pepperdine for its academics, but his love of the game led him to the court this semester.
As a senior in high school, he posted an average of 10.8 points per game along with 1.9 rebounds, 1.4 steals and 1.3 assists. After a summer of training, the guard walked on to the Waves' Division I basketball program.
"While here, I would head down to the gym to get shots up or to play pick-up games," Yi said. "I would also play with the guys on the team during open gym. Finally, tryouts came, and I did the best I could have. The next day I got a text saying that the coaches wanted to see me practice with the guys the following Monday. I gave it my all during practice, and once it ended, Coach [Marty] Wilson told me I was on the team. It was a dream come true, and I am extremely blessed and thankful."
Yi said he found his love for basketball after tiring of playing baseball in seventh grade. The Yorba Linda, California, native played two years of varsity basketball for El Dorado High School. A highlight of his high school experience was dropping 27 points against rival Steele Canyon, closing a point gap that allowed El Dorado to win, 59-57.
"What was different about him [from other walk-ons] is we'd see him working out in the gym, we saw him preparing," Associate Head Coach Mark Amaral said. "It was an open try-out, he was good. With any athlete, he has to add value."
While adapting to the huge transition between high school and collegiate basketball, Yi said he already feels the sense of family with his teammates.
"Yi gained credibility by jumping in and competing and relishing in every opportunity," Amaral said.
"The transition … is a tough change, but I am still currently trying to get used to the level of play here," Yi said. "Guys are much bigger, stronger, [more] athletic and just overall better. I feel honored and blessed to have this opportunity to play for the Waves. I genuinely appreciate and love each and every one of my teammates and coaches. They are always there to encourage me and to help me improve my game."
Yi mentioned he decided to try out because playing for a Division I school was a "dream come true." Initially, basketball wasn't the main motive for his college decision. Yi is a declared business administration major. Handling rigorous classes and adapting to college and basketball is not an easy feat, but a worthwhile one, according to Yi.
"I'm not only looking forward to improving as much as I can individually, but to also help our team improve as well," Yi said. "I love that basketball requires you to work together with your teammates as a unit. The team aspect of it really makes me enjoy it."
__________
Follow Stasia Demick on Twitter: @sdemick12