Photos by Kristin Vartan
Pepperdine Alumnus and sustainable fashion designer Jeff Garner meshed dark and romantic motifs "Poe-tically" together on SavvyChic's Beverly Wilshire catwalk Wednesday.
As a traditionalist who says "Home and family values are something on the wayside in today's society," the designer brought his brand, Prophetik's Spring/Summer 2017 collection "Nevermore" from London Fashion Week to fundraise for Pepperdine's Boone Center for the Family.
"It [the collection] is about lost love," Garner said.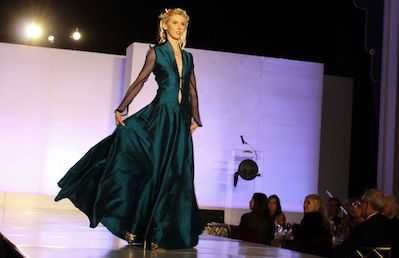 The line took a more "tangible" and darker tone than Garner's usual "light and happy and princessy" aesthetic, Garner said, although there are floral gowns also thrown into the show. Like his Autumn/Winter 2016 collection, "Ruins and the Renaissance," Garner designed "Nevermore" four months ago with his late daughter's memory in mind, as Nov. 15 is the anniversary of her death.
The line was also reflective of his past readings of literature and a television series about Edgar Allen Poe some of his friends are working on. He said he was specifically inspired by "The Raven."
"You find light in darkness. It's not necessarily a bad thing or cruel thing, it's OK. We have these dark moments in life," Garner said. "Everyone has people that they've lost that are close to them, so we all need to be OK with accepting and going through that mourning process."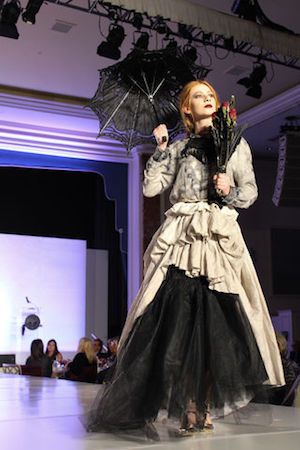 While Garner said he reached into his own darkness while creating this collection, he clarified that the darkness was not "like Heath Ledger or anything. I didn't get lost in that world, and I don't mix it with alcohol, booze or anything like that. It's like when you mix pharmaceuticals with alcohol. There's a reason why you're not supposed to mix the two. You don't need that; it's not a positive." Rather, he basked in the darkness while surfing or taking solitary walks in the woods in the night.
Garner said he is passionate about giving back to his alma mater, especially by employing students during London Fashion Week and hiring all student models for his second SavvyChic.
"I always love that connection and to give students the opportunity I never had when I was there [at Pepperdine] as a fashion lover and student and designer," Garner said.
Student models were grateful to model in clothing by a world-renowned designer, junior Makay Manis said.
"I'm a retail person," Manis said. "I've grown up loving fashion so to see this side, to be able to touch these clothes and wear them and be able to have fun in them and show a little bit of my personality as well has been really cool." Manis had the chance to wear a black and gold number that was once worn by Taylor Swift.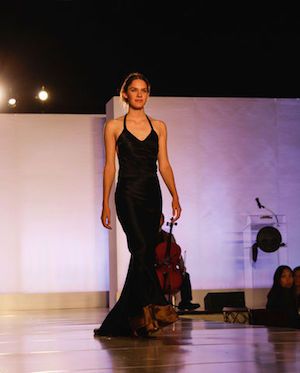 As a result, the runway was adorned in garments of salmon leather, black silks, old and french laces, and black duck feathers that were a head nod to Poe's "The Raven," Garner said. Characteristic of his sustainable nature, the designer used all eco-friendly fabrics and dyes of logwood and vegetable. In them, models took on "reigning queen and black wedding personas," and walked to the music of country rock band Dorado and the hypnotic strings of a cello player from Malibu's coffee shop, Cafecito Organico.
"It's about bringing community and arts together," Garner said about discovering the cello player. As the designer lives in Malibu three months out of the year, he sees the Malibu community as his own.
___________
Follow Kristin Vartan on Instagram: @keepingitkrischic