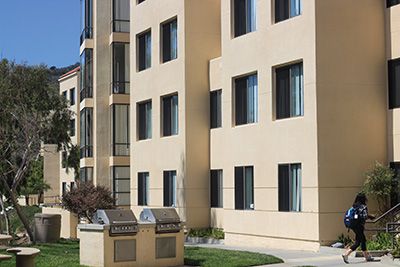 Photo by Allison Hubbard
Pepperdine's wireless network in Towers will have a major overhaul this summer, according to Chief Information Officer Jonathan See. Currently, wireless access points are located in the hallways of Towers, which are not penetrating into dorm rooms thus causing a weak signal. The overhaul plans to place wireless access points "into certain dorm rooms where adjacent rooms can equally access as well without any signal interference," according to See. It's unclear how much the program will cost.
The IT Division tested the new design in Towers during spring break, and the design proved to work. See is currently working with the Department of Facilities Services to finalize the new network layout. The full cost has not yet been accessed, but the Information Technology department plans to fund the improvements.
"Towers is definitely in need of a Wi-Fi redesign," sophomore Charissa Minnis said. "Every time I try to watch a show in my dorm, it buffers. I even bought a Wi-Fi booster, and it still hasn't improved."
According to See, the new wireless layout in Towers is similar to the recent redesign completed at the Lausanne International Program house in January.
"The former network at Lausanne had to be completely replaced because of a multitude of issues, such as poor design and stability, that prevented broad access throughout the building and broad access by many users," See said.
After the replacement of the wireless network, students have had a "much more favorable experience," See said.
See and his networking engineering team are working with International Program directors and Dean of International Programs Charles Hall, to "address and resolve" similar wireless network issues in the Florence and Buenos Aires programs.
Although a specific timeline for improving the wireless network at the Florence, Buenos Aires, Shanghai and London programs has not yet been determined, "the ultimate goal and objective is to enhance the students' experience by giving them a good and stable network and Internet access at all of these abroad locations," See said.
__________

Follow Kara Danner on Twitter: @karadiise