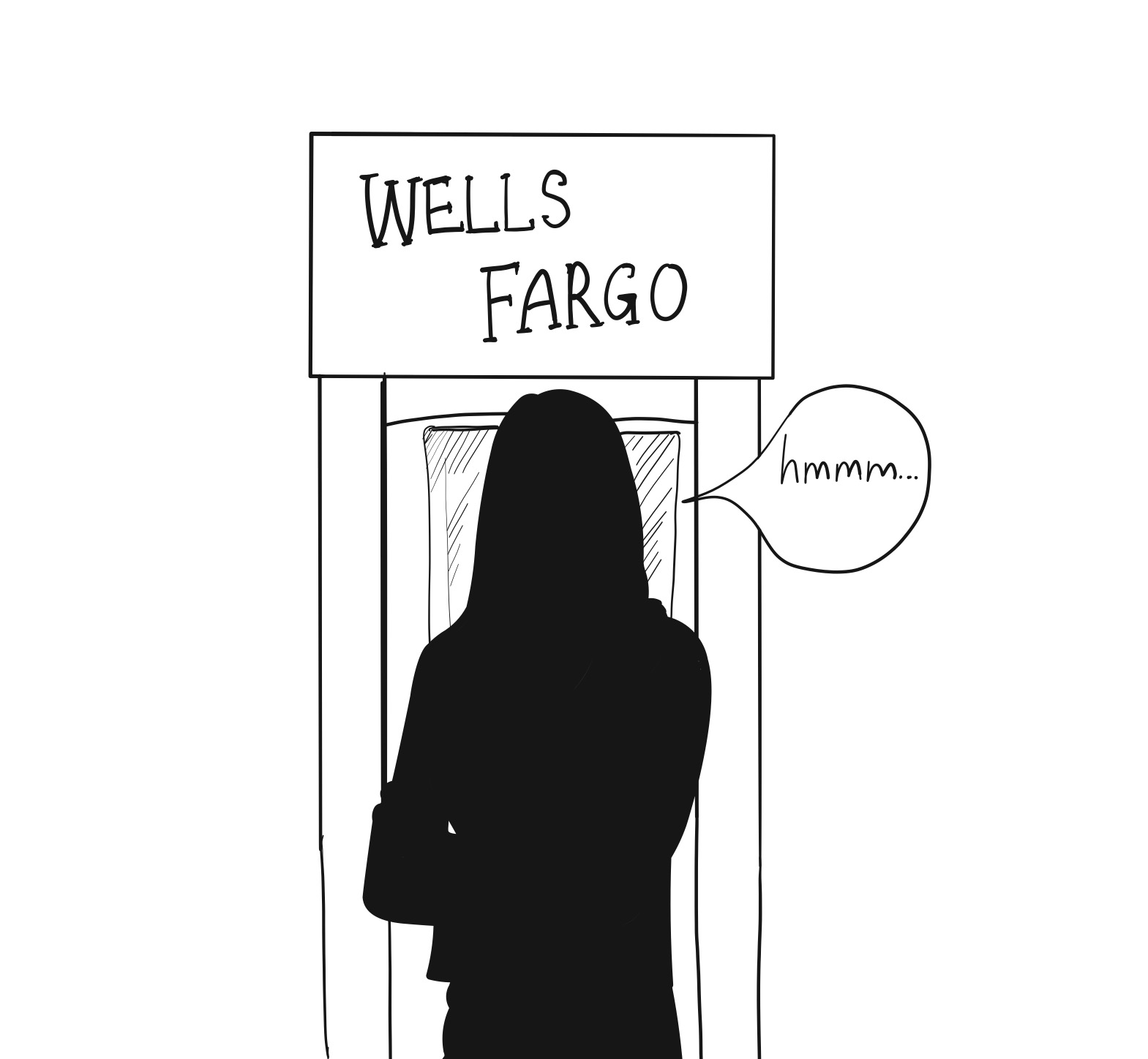 Art by Sybil Zhang
Almost one year ago, news broke that Wells Fargo "employees secretly created millions of unauthorized bank and credit card accounts — without their customers knowing it," according to Matt Egan's article, "5,300 Wells Fargo employees fired over 2 million phony accounts," published Sept. 8, 2016 by CNN Money. Though the bank has claimed to have made improvements in its structure, danger of malpractice remains. Students need to understand this story on a deeper level and continue to watch Wells Fargo very closely.
When I worked in the Senate a year ago, I sat in and reported on the hearing of Wells Fargo's then-Chief John Stumpf. He was grilled by all Senators on the Banking Committee and accused of not taking appropriate measures to prevent the fraud issue. Additionally, he was told that "[he] should resign" by Sen. Elizabeth Warren (D-MA), according to Jena McGregor's article, "'You Should Resign': Elizabeth Warren Excoriates Wells Fargo CEO John Stumpf," published Sept. 20, 2016 by The Washington Post.
Even though Stumpf was ridiculed and eventually let go by the bank, Wells Fargo can't seem to pick up its feet and get back on track. Recently, it was documented that "up to 570,000 car-loan customers may have been forced to buy unneeded insurance," according to the article "A year on, Wells Fargo cannot shake off its mis-selling scandal," published Sept. 7, 2017 by The Economist.
Banks should not be able to get away with this type of fraud, especially when the problem generates millions of dollars in losses for hardworking individuals. To gain a clearer understanding of this issue, students should consider taking the following actions:
1. Understand that Wells Fargo played a very dangerous game — and is still losing. The bank's retail employees were told, by upper management, to develop an extreme amount of new accounts "with the hope of getting bigger bonuses," according to William D. Cohan's article, "Wells Fargo Should Focus on Its Actual Misbehavior, Not on Perceptions," published Sept. 5, 2017 by The New York Times. Resulting from this were millions of new accounts that were opened in random individuals' names — without them knowing.
2. Talk to their respective banks about the scandal and see if they have knowledge of it. This isn't an issue unique to one institution; it can happen to virtually anyone by any bank. Knowledge is essential in this fight against fraud and abuse.
3. Watch Wells Fargo closely. This firm is a big player in the markets and the world. With a market cap of just over $255 billion, it represents an important portion of the financial sector. Keeping in mind company changes like its shift in executive leadership, new chair of the board of directors and alteration in the compensation structure will be key in constructing a benchmark to compare the company to in the future.
Not being directly affected by this issue does not mean that students should stand idly by. This isn't the last time a banking scandal of this magnitude will occur.
_________________
Follow Kevin Gordon on Twitter: @KevinGordon24