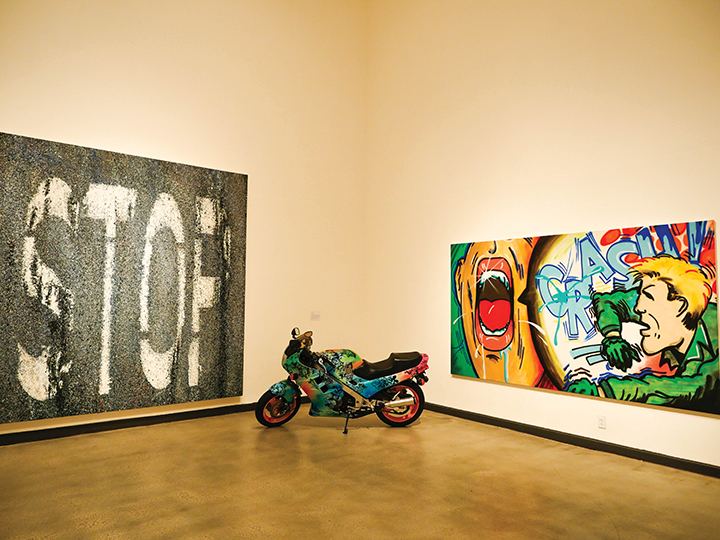 Photos by Kaelin Mendez
The Weisman Museum's new exhibition Pop! celebrates 50 Years of Art & Popular Culture from the Frederick R. Weisman Art Foundation. The exhibit, on view from Aug. 28 to Dec. 2, features a panoply of works by a diverse lineup of artists who draw upon the influence of mass media and daily life on visual culture.
Museum Director Michael Zakian elaborated on the content of the exhibit.
"It begins with some vintage examples of Pop art, but continues beyond that movement to look at how subsequent generations of artists drew inspiration from popular culture," Zakian said.
Upon immediate entrance to the museum, one of the most striking pieces is James Rosenquist's "Bacon." A variety of seemingly disparate images comprise the former billboard painter's piece: The titular "bacon" that comes off the canvas, an electrical switch covered in oil, a ballerina and an ambiguous image of what could either be a hat or a birthday cake. A candle shaped like a light bulb stands on top of the canvas, the wax dripping down the middle of the piece.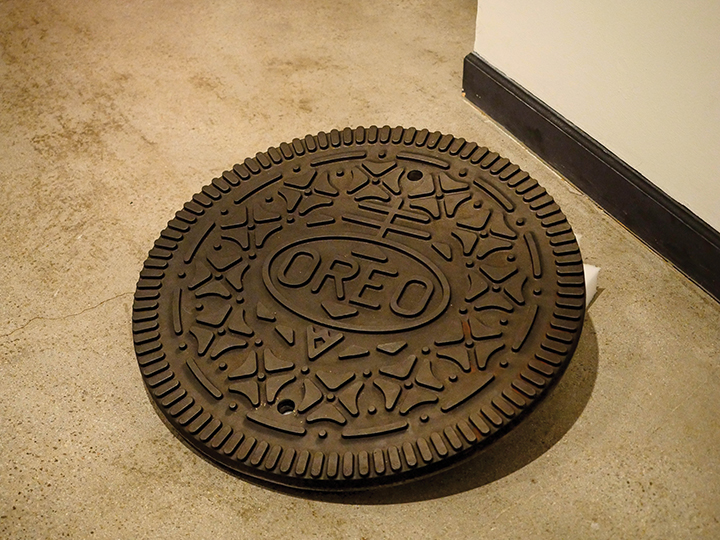 Zakian commented that the media facilitated these combinations of disparate moments. The disjointed images, according to Zakian, might be thought of as an analogy for live TV in the 60s in which merely turning the dial could transport viewers into various stories and worlds, reflecting the potency of the media.
"In the 1960s, people's lives were being transformed by the media," Zakian said. "There was an explosion of print magazines, an explosion of television because while television was around in the 50s, most people couldn't afford to watch it. It wasn't until the early 60s that television started appearing in most average people's lives."
The rest of the show is organized thematically, ranging from money and capitalism, which features a suitcase consisting of a facsimile of a million dollars cash, to the stereotypical office environment.
One of the most compelling themes in the exhibit is about American myths and features what Zakian describes as various cartoons including Pinocchio, Supergirl, Bob's Big Boy and Spiderman that speaks to a facet of American culture that continues to permeate the 21st century.
"When you study ancient classical mythology of Greece and Rome, you learn about Zeus, Apollo, Aphrodite, but we as Americans have our own myths," Zakian said.
Aaron McNamee's "Complete Year Valiant Comics, August 1993-1994," is one of the most salient pieces in this group because of the artist's innovative technique. As the title suggests, the artist layered a year's worth of comics and sanded down the surface so viewers may see the layers.
"It's almost like being an archaeologist, going through layers of strata to get to the earlier layers," Zakian said.
Beyond the more uplifting theme of American myths, the exhibition also grapples with the issue of stereotypes.
One of the pieces embodying this theme, "Gray Hitchhiker" by Michelangelo Pistoletto, consists of a photo etching of a hitchhiker on a mirror, an interactive artwork in which the viewer becomes part of the hitchhiker's world, according to Zakian.
The theme of stereotypes is further explored through Yoram Wolberger's "Indian 2 (Bowman)," a toy Native American blown up to monumental proportions and Alison van Pelt's "Spotted Jack-Rabbit (Hot Pink Background)."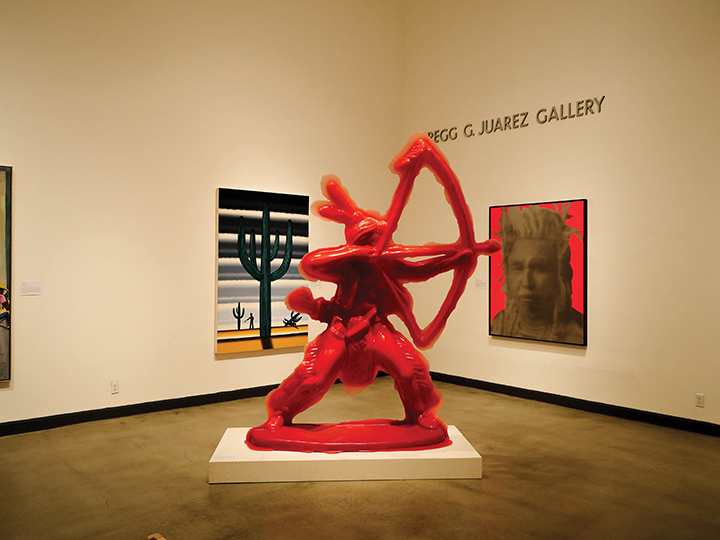 The Los Angeles artist Pelt took a photograph of a 19th-century Native American leader and rendered it in silver-and-gray spray paint against a neon background to create a ghostly image.
"She captures that feel of a 19th-century photograph and makes a comment about how Native American culture has disappeared," Zakian said.
Of the more recognizable artists in terms of global renown is Keith Haring with his piece "Untitled," picturing his typical characters with outstretched arms emerging from a bowl-like receptacle.
"He developed this language of simple symbols that feel like hieroglyphs or cuneiform or writing from some ancient civilization," Zakian said. "The shapes seem abstract, but when you step back, you can see an image."
Haring's work provides a contrast to RETNA's (Marquis Lewis) "Escribo" at the beginning of the exhibition whose abstract graffiti evokes what Zakian describes as a "retro" feeling, despite being created in 2011.
Upstairs in the museum, visitors are acquainted with a variety of playful images, including but not limited to, a breakdancing dog, bullets in the form of carrots, a manhole Oreo and Yayoi Kusama's famous polka-dotted pumpkins.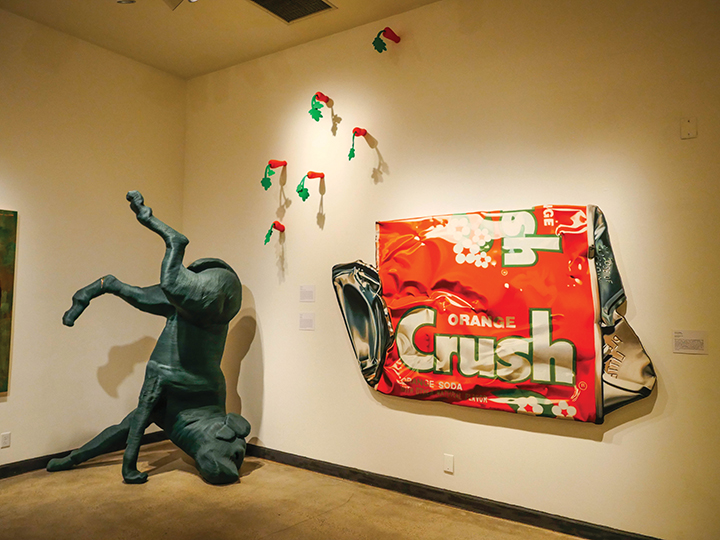 Wedged between the breakdancing dog and a large canvas of Hostess Cupcakes is a wall devoted to the theme of the office. This side features Claes Oldenburg's anachronistic "Typewriter Eraser," Michael Speaker's "Team Xerox" depicting a man Xeroxing his head and Keung Szeto's "Art Work," a bulletin board rendered in the photorealist style that blurs the line between reality and fiction. Trying to distinguish between what is painted and what is real is a near herculean task.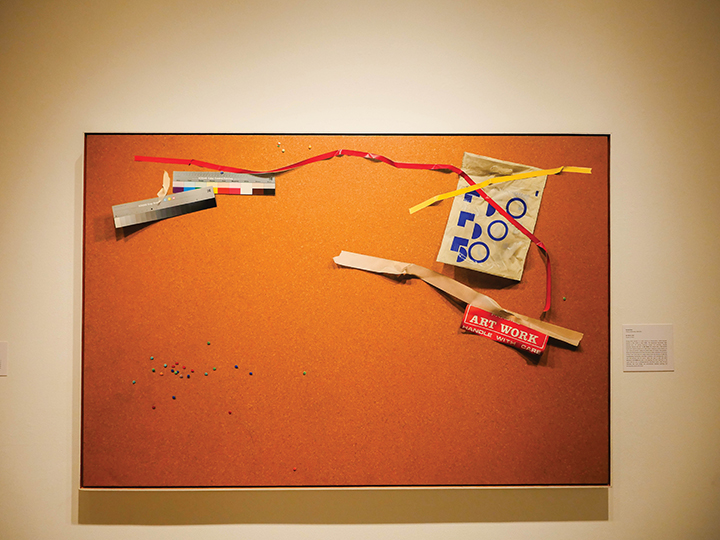 There's also Masaaki Sato's "Newsstand, No. 28," which pictures just that. The newsstand is comprised of all its typical accouterments, but the text on some of the magazines and newspapers is backward, presenting an almost disorienting puzzle for the viewer.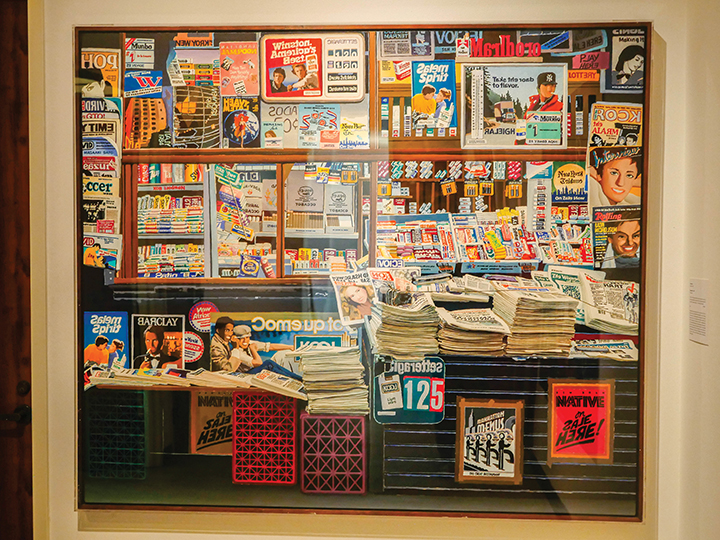 There are other pieces that might be talked about at length, including Richard Artschwager's "Exclamation Point" and Roger Brown's "Saguaro's Revenge." The range of subject matter and periods reflects the diversity and resilience of the movement.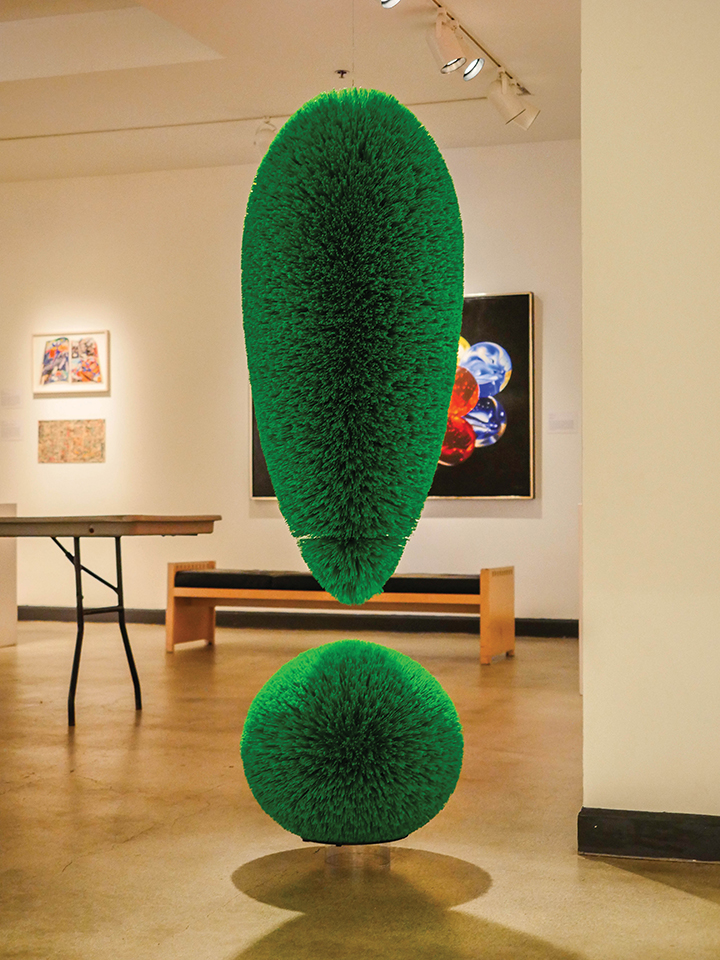 __________
Follow the Pepperdine Graphic on Twitter: @PeppGraphic