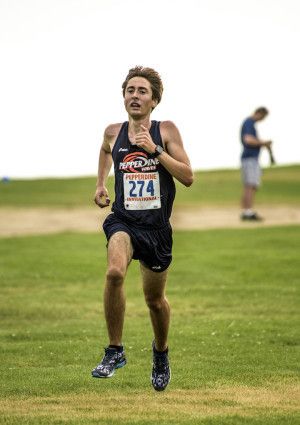 Pepperdine's cross-country teams set the pace at their first meet of the season at home.
In their first meet of the season, the men's cross-country team dominated in their 5K race against CSUN, taking first place with a score of 19-38. The women's team also had an impressive first race, overtaking CSU Bakersfield (17-46), and finishing in an extremely close second to CSUN (25-30) in their 4K race.
Freshman Nick Heath made his college debut with one of the best times in his running career, 15:31.68, leading Pepperdine men's XC to a huge win over CSUN. Not far behind was redshirt sophomore Nick Blanchard, who returned after having to sit out last season due to injury. Blanchard finished in 15:49.85, taking second place overall.
Senior Katie Engel was the first member of the Pepperdine women's team to cross the finish line, and took second place overall, with a time of 14:39.35. Junior Elle Lemco followed in hot pursuit, finishing second for Pepperdine and third overall, with a time of 15:08.08.
As a captain of the men's team, Nick Blanchard expressed his positive outlook for the season, commenting that "this would be a transformational year for Pepperdine cross-country."
"Everyone worked hard and upped their mileage during the summer, and so far this season, we have been crushing workouts," Blanchard wrote in an email. "I know that at some of the larger invitationals and Championship meets, we will surprise a lot of people by showing them what we are made of. We are that scrappy, hungry team that will fight until the end."
This season, the cross-country teams have recently made adjustments to their way of training. "By consciously running our recovery runs at a slower tempo than we have in past seasons, we've been able to maximize our performance in harder workouts and really get the greatest possible benefits out of them. This has allowed the team to drive down their splits in mile repeat workouts and run faster two-mile times over the past two weeks alone," freshman Trevor Sytsma said.
"This year looks very promising for our team, and I'm very excited to see all of our hard work in training pay off in our races," freshman Nick Heath wrote in an email. "I hope to keep pushing myself, as well as my teammates, to keep getting better and to set some times to beat next year."
In 2014, the men's team was fifth out of five teams in the first race of the season, while the women placed fifth out of eight teams in their opening race.
"The team has grown so much since my freshman year," team captain Katie Engel said. "Each year we've heightened our competitive mindsets and taken steps to move up in the WCC."
"We have more potential on our girls' side than we have since I started at Pepperdine two years ago," junior Lindsay Sheaffer said. "We've made some great additions, but our returners also came back a lot faster and stronger than last year."
To prepare for their next invitational, the team practices together six days per week, and often runs together on Sundays as well, to finish anywhere between 60 and 90 miles on a weekly basis.
The Waves' next meet is the Aztec Invitational in San Diego on Friday Sept. 18.
____________
Follow the Graphic on Twitter: @PeppGraphic