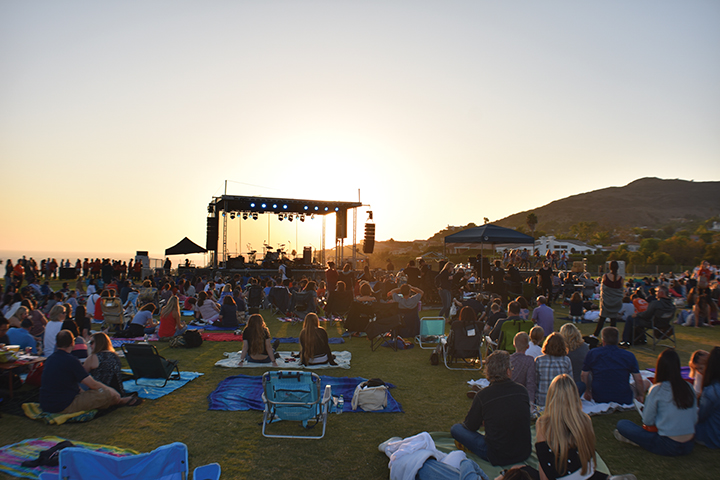 Photos of Waves Weekend 2017 by Sam Petersen
Next week, Pepperdine will celebrate its ninth annual Waves Weekend, an event that brings 200 to 300 alumni back to campus to celebrate alongside students, parents, faculty and friends, Chad Quiñones, associate director of Alumni Engagement for the Alumni Relations department, said.
In combining alumni reunions, parents' weekend and homecoming into one gathering, Waves Weekend encourages a celebration based on a shared love for Pepperdine, not one that is restricted to a certain graduating class or university institution, Quiñones said. It brings alumni back to campus so they can rejoin the greater Pepperdine community.
"Waves Weekend is meant to be a celebration of all things Pepperdine, which means alumni are a part of that, students are a part of that, faculty and staff, even our surrounding community and friends and donors," Quiñones said.
Waves Weekend not only allows alumni to reconnect with one another, but also gives them a chance to catch up on the changes on Pepperdine's campus, Quiñones said.
"It's important for alumni to come back to campus because they get a chance to see all the fantastic improvements that are going on and they get to reconnect with faculty members, staff members and just enjoy campus and bring their families back," Quiñones said. "So it's a great time for them to come back to campus and show their families and show their kids where mom and dad went to school."
Shelby Strecker, alumna of the Class of 2015 and assistant director of alumni engagement of Alumni Affairs, said she still recalls a piece of what it was like to experience Waves Weekend, particularly the event's concert, as a student.
"Especially freshman year, [Waves Weekend] is having an excuse for your parents to come back and see how you're doing and see 'Hey, mom and dad, look at the friends I've made and here's my dorm and I'm happy and I'm comfortable and I'm not my awkward, you know, unknowing freshman self in my first week,'" Strecker said. "It's a pep rally and just pumping up Pepperdine."
Each year, alumni return to Pepperdine for their fifth, 10th, 20th and 30th reunions, Quiñones said. Many also take part in affinity reunions, which bring together previous members of student groups, such as Pepperdine Ambassadors Council, a specific year of an international program or Greek organizations.
Alumni Relations helps any interested alumni plan affinity reunions, Quiñones said. Alumni that want to create a reunion for their specific organization respond to Alumni Relations' request for affinity reunions and the staff helps sort out the details of the event.
"The Seaver Alumni Relations office is here to help anybody who wants to hold a reunion, whether it's at Waves Weekend or not," Quiñones said. "We prefer them to do it at Waves Weekend because it's the one time we want everyone to come back to campus. We help make that happen sometimes with monetary ways, always with support in finding locations on campus or off campus. So we do our best to make sure that if they're interested in doing a reunion, that it happens."
Before Oct. 2010, alumni reunions and parents' weekend did not coincide and were separate events, Quiñones said. The two then merged to create Waves Weekend.
"[Alumni reunions and parents' weekend] didn't have the same audiences, but they had the same goals and that was Pepperdine pride and spirit and bringing people to campus," Quiñones said. "[The] powers that be decided to join those two events into one large event in the fall where we could celebrate the fall sports teams, we get to celebrate the Pepperdine spirit and we could welcome alumni back to campus. So it's also homecoming."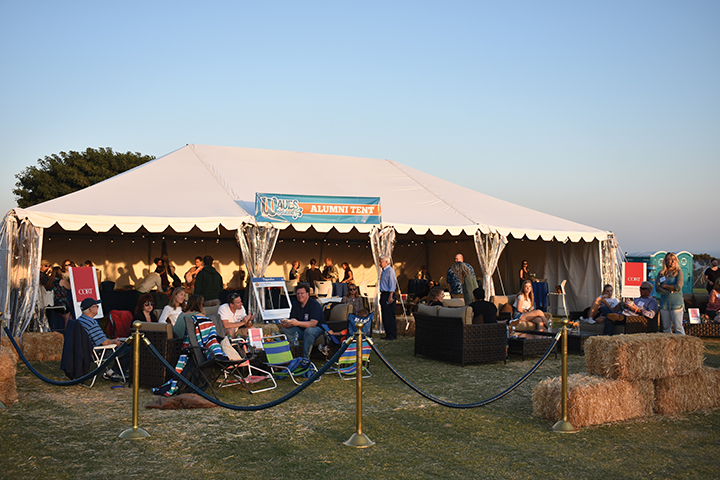 Strecker said she attends the event as an alumna, using the weekend as an opportunity to catch up with friends who still live and work in the LA area.
Working at the university, Strecker said she has a greater understanding of the amount of planning that goes into the event.
"As a staff member, I think I appreciate Waves Weekend so much more," Strecker said. "I just know how much hard work and effort goes into Waves Weekend and how much, you know, the alumni really do love Pepperdine."
Freshman Jordyn Regier's parents are alumni of the Classes of 1994 and 1995, so she attended several Waves Weekends before attending Pepperdine, she said. This year she gets to experience the event from a new perspective.
"I think it's going to be different coming as a student and having that side of like personal spirit more so than just like it's my family," Regier said. "[Attending as a family member] was definitely different of course, but still so fun and welcoming and I got mostly just like the family Pepperdine side, the stories of, 'Oh, when I was here' more than what was currently going on."
Alaina Housley, another freshman and daughter of two Pepperdine alumni, said she also experienced a few Waves Weekends when her parents attended their class reunions, before becoming a student.
"I personally like having [alumni reunions and parents' weekend] combined because it's cool to see all of the generations kind of coming in," Housley said. "But I also haven't experienced it as a student, so that I might feel differently afterwards. Like I might just want a parents' weekend."
Infograph by Madeleine Carr
The number of alumni attendees increase each year as Alumni Affairs and Alumni Relations work to inform them of the purpose of Waves Weekend, Quiñones said. Recent alumni experienced the event as students and have a better understanding of it than alumni who studied at Pepperdine when alumni and parents had two separate weekends.
"It's important for students to see that alumni are coming back to Pepperdine, that it's not just your four years here and then you don't think about Pepperdine again, but you see that alumni are giving back to Pepperdine over their time, coming back and enjoying campus [and] still feeling like part of the family," Quiñones said. "'Once a wave, always a wave' is always our motto and we always strive to connect students to alumni and make sure that they see that alumni are coming back and they're doing great things for Pepperdine."
Waves Weekend takes place from Oct. 12-14 and includes events such as Blue and Orange Madness and the Waves Weekend concert featuring Echosmith. Alumni, faculty and staff admission to the concert and other events costs $20, student admission costs $5 and family member admission costs $100.
________________________
Follow Madeleine Carr on Twitter: @madeleinecarr23