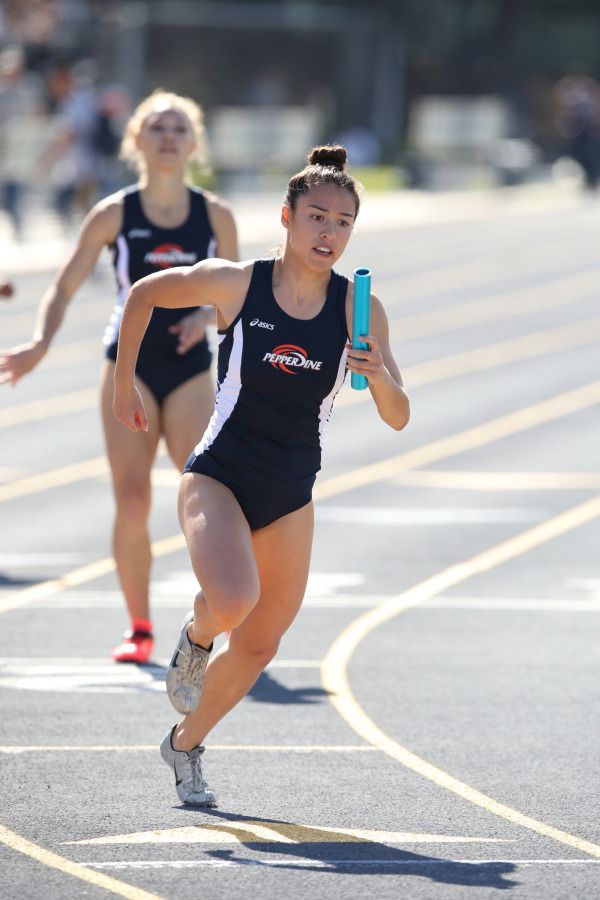 Photos by Berkley Mason
Pepperdine men's and women's track teams competed in the Bruin Legends Invitational Friday and Saturday at UCLA's Drake Stadium, and broke a four records in the process. Senior Katie Engel broke Pepperdine's 10,000 meter record with a time of 36:53.68 and finished second in her race on Friday, beating Hayley Lytle's 2013 record by a little less than 30 seconds.
The distance — 10,000 meters on the track — is 25 laps, or almost six and a quarter miles. Engel said she was thrilled with her performance, and had a very specific strategy to break the record.
"I've wanted to run the 10K and break the record since my freshman year, so it was definitely rewarding to finally reach that goal," Engel said. "To get prepared, I just focused on what splits I needed to hit for each lap, and I just stayed relaxed."
On the men's side, Nick Heath also broke the Pepperdine 10,000 meter record, finishing seventh in the race overall with a 30:51.98 — breaking the previous time set in 2012 by Wes Blundell. Heath said that although running such a long race was tough, he still felt very proud of his result.
"It was a very challenging race, and also my very first 10K on a track, so I am extremely grateful to have run so well," Heath said. "I'll admit that I lost count of the laps at a few points throughout the race, but having other athletes by my side and my teammates cheering me on helped me to stay focused and determined."
Of course, the 10K wasn't the only race that afternoon that featured Waves competitors. There were three runners in the 5K: junior Nick Blanchard, sophomore Kevin Maeda and junior Ben Fox, who finished right next to each other in fifth, sixth and seventh place, respectively. Blanchard said that he felt strongly about his racing strategy, despite the other runners going out too slow.
"The race was a very tactical one. I would've liked if it would've gone quicker from the start, but I feel that most of my strategic choices worked pretty well," Blanchard said.
Saturday, more school records were broken, but this time, it was by one runner, and she broke her very own records that she set earlier this year. Junior Izzy Connell not only broke Pepperdine's 100 meter record with a 12.13 time and a fifth-place finish, but also surpassed the Waves' all-time best, which was her own all-time best, in the 200 with a 24.96 time and a sixth-place finish. Connell said she was ecstatic about both of her races, particularly the 100 meters.
"I was really excited after I found out about my time in the 100, because that is the fastest I have ever [run] that event in my track career," Connell said. "12.13 was my goal for the season so I was happy to achieve it."
For their next event, the Waves track squad will travel to Claremont this Saturday, April 9 to compete in the Pomona-Pitzer Invitational.
_______________
Follow Jackson Hogan on Twitter: @jacksonhogan