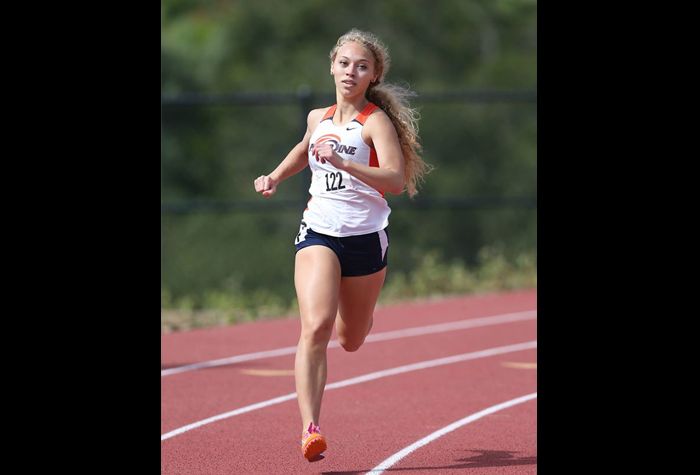 Photo by Rachel Rant
Men and women's track opened their 2015 season at Westmont College this past Saturday in a tri-meet against Westmont and UC Santa Barbara.
The Waves had several standouts on the day, including junior distance runner Katie Engel, who almost set a new school record in the mile event.
"Overall, this weekend went really well," Engel said. "We have a number of freshmen on the team this year and it was really exciting to watch them compete after working so hard all fall and winter. It was a good chance to get used to competing again and test our fitness."
Engel came in fifth place, clocking in a 5:15.35 mile time, a mere .17 seconds behind Pepperdine's current record holder Aneasha Lawrence, who set the school record in 2012 with a time of 5:15.18.
"It was pretty frustrating to be so close to the record and just miss it, but now I'm even more motivated to work hard and see what I can accomplish this season," Engel said.
Many other Waves stood out on the women's side, including sophomore sprinter Jordan Spencer, who placed fifth in the 400-meter and junior mid-distance runner Stasia Demick, who clocked in at 2:23.62 in the 800-meter. Demick, the Sports Editor for the Graphic, finished sixth in the event.
In addition, freshman sprinter Claudia Rodriguez made quite the debut, placing third in the 100-meter event.
"This meet was really a rust-buster for us," sophomore distance runner Elle Lemco said. "I think everyone did well considering, for many people, it was their first college meet or first competition coming off an injury."
The men's squad had some top performers as well, most notably freshman distance runner Kyle Cajero and sophomore distance runner Torin Wile.
Cajero placed fourth in the 800-meter event, with Wile following in seventh place.
The Waves boast 14 freshmen on the roster this season, and what they lack in experience, they make up for in talent.
"I am really looking forward to seeing how these freshmen, who comprise most of the team, handle the step up from high school training," Lemco said. "We have a lot of talent this year and it just needs to be refined and combined with good health and no injuries."
Pepperdine is back in action March 6 and 7 at the Cunningham Track Classic, hosted by the University of Nevada, Las Vegas.
__________
Follow Kelsey Blosser on Twitter: @KelseyBlosser