Photos by Matt Benton
Women's swim and dive hosted the Pacific Collegiate Swim Conference (PCSC) time trials Saturday for their final regular season meet. Pepperdine dominated the day, winning 9 of their 15 events.
"The meet went really well — I think there was a lot of energy with it being our last home meet this season," sophomore diver Sydney Newman said.
Newman started the day off for the Waves, posting a personal best score of 243.65 in the 3-meter springboard competition, winning her the second place spot.
"I felt really good about my 3-meter list and was really excited to learn it was a personal best," Newman said. "My goal is to do the same at Conference [PCSC Championships], hopefully setting a new personal best."
The 1-meter event followed, where Newman had another standout performance, notching over the 200-mark and taking third place. Freshman diver Lauren Stigers trailed close behind, placing fourth in the event.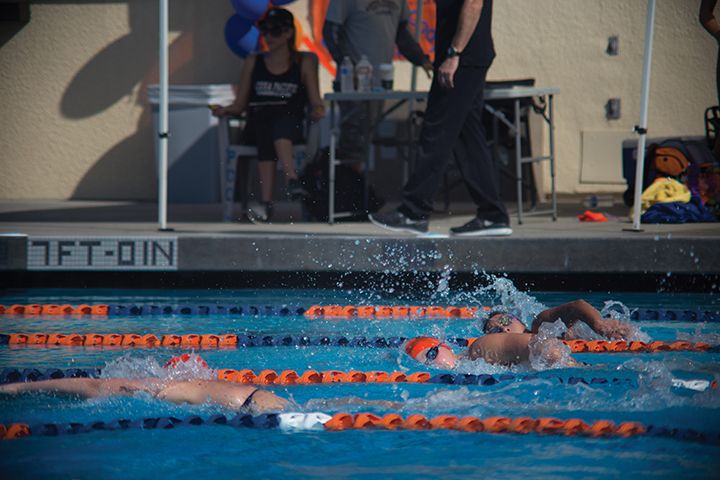 "Everyone was putting up great times and lots of swimmers got season bests," senior swimmer Cailey Stuebner said. "We had a lot of aggressive swims, and our divers also had strong performances."
Junior swimmer Allison Naasz kicked off the race events for the Waves, tallying a season-best time of 2:12 in the 200-meter individual medley. Naasz placed first in the event, with freshman swimmer Sabrina Altman following in second place.
It was Senior Day for the Waves, who are graduating four seniors this year: Katie Giacobbe, Codie Cox, Blair Kacynski and Cailey Stuebner.
"Senior Day surpassed any and all expectations. It was so special, and I am definitely sad to say goodbye to this team," senior swimmer Codie Cox said.
Cox came up big for the Waves, getting the ninth and final victory on the day for Pepperdine in the 1000-meter freestyle.
"Our senior class has left a positive legacy of dedication, leadership and teamwork," Stuebner said. "As seniors, we've tried to develop a team environment where we push each other to be the best we can be and build each other up. We've led by example with our commitment to academic success, to the team and to competing with purpose. I'm proud of the impact we've had on the team and the Pepperdine community."
The Waves look to continue their 2014-15 season Saturday at the PCSC Pre-Conference Invitational in La Mirada, California.
__________

Follow Kelsey Blosser on Twitter: @KelseyBlosser