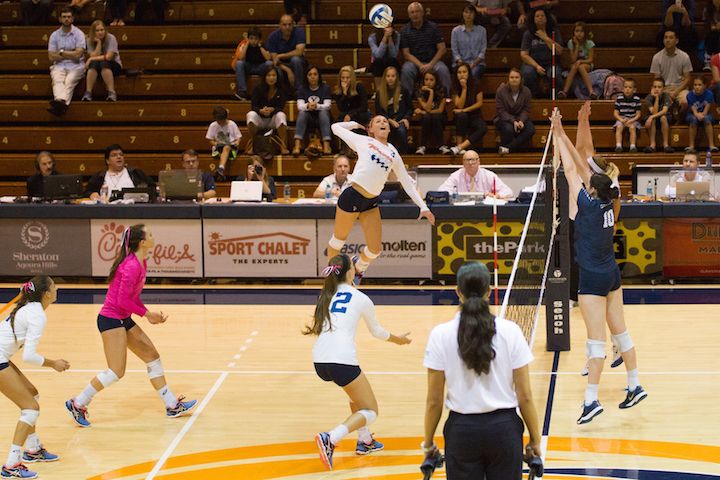 Photo by Zach Le
Pepperdine's women's volleyball team put up a good fight against the San Diego Toreros on Saturday, but fell a little short, putting them at 13-10 for this season's overall record, and at 4-6 in the WCC. The Waves had also previously matched up against BYU on Thursday, but the No. 12 in the nation Cougars had the upper hand and came out with the win.
In Thursday's game against the Cougars, freshman outside hitter Nikki Lyons was on point, throwing up nine kills and 19 serve receptions. Fellow freshman middle blocker Tarah Wylie, freshman outside hitter Heidi Dyer and freshman opposite hitter Jenna Tunnell were also killing it that evening. Wylie had a .455 hitting percentage, while Dyer and Tunnell added three kills each to the scoreboard.
Junior middle blocker Brooke Honeycutt also put up three kills for the Waves. Senior setter Becca Strehlow and senior libero Lara Dykstra were also on top of their game, as Strehlow put up a double-double of 22 assists and 14 digs and Dykstra put up a commendable 10 digs and 10 serve receptions. Still, the Waves ended up falling 25-13, 25-19 and 25-16.
The team has a very high percentage of freshmen starting, but they seem to be just fine in keeping up, even with the difficulties of adjusting to being on a new team.
"My biggest challenge on the court is one that I probably share with most athletes everywhere, and that's struggling with confidence," Dyer said. "Having confidence is a huge key to having success. If my game is breaking down, it usually has to do with my confidence not being as strong. But I overcome it by reminding myself to give my all for God's glory and it gives me confidence that He will take care of the rest of my game."
Although the following game against San Diego had the same end outcome, the Waves improved each set and were able to make it a much tighter game.
Strehlow and Dykstra still keeping up the pace, Strehlow put up her 12th double-double of the season, with 22 digs and 10 assists, plus four kills and four blocks, while Dykstra had 11 digs and three assists. Wylie had a solid eight kills and six blocks for the evening, and Honeycutt had five kills and five blocks. Lyons and Tunnell both added five kills to the scoreboard for Pepperdine.
The team certainly puts in the time for practice during the week, and it was no different in their preparation for both games. "Practice is every day, but we do get Sundays off. We usually go for around two hours, but it differs based on whether or not we have a competition coming up," Lyons said. The Waves gave the Toreros a run for their money, especially in the last set, but eventually fell 25-17, 25-20 and 27-25.
Even with the two losses, it is far from stopping the team from continuing to put in the hard work. "We want to focus on the daily process of refining our skills and ultimately moving this program toward a national championship," Head Coach Scott Wong said. "The team has worked hard and have made significant strides this year, and I know we aren't done yet."
The Waves keep on fighting in their next match-up against Pacific in Stockton on Oct. 29, followed by a game against St. Mary's on Oct. 31.
__________
Follow the Graphic on Twitter: @PeppGraphic