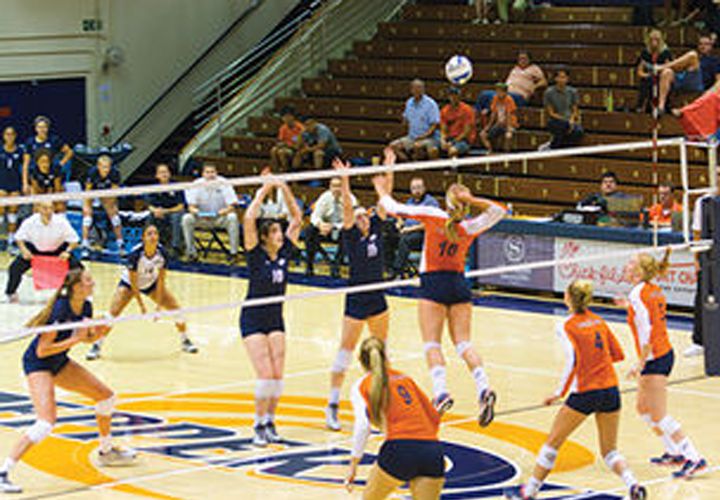 Photo by Arin DeGroff
Volleyball kept up in a tough battle against No. 10 BYU on Tuesday. The Waves fell 3-0 to the Cougars at home 25-17, 25-21, 25-20.
"I always love playing teams that are really good," senior middle blocker Samantha Cash said. "It always makes you play better, and the better the team, the more fun it is because the better the volleyball."
Although BYU swept the Waves in three sets, the team continues to keep its head up as the players look ahead toward the rest of their season.
"BYU is a well-coached team and is ranked No. 10 for a reason, so for us, I think we need to not get down on ourselves in certain situations," junior setter Becca Strehlow said. "We need to realize and have confidence in ourselves because we are a fantastic squad and we can do many things, and we give good teams a run for their money."
Senior outside hitter Katie Messing led the team with 15 kills followed by sophomore outside hitter Gaby Palmeri with 9 kills and Strehlow with 8 kills and 15 digs.
As leaders, both Strehlow and Cash find encouragement from a match-up against competitive schools and have taken away lessons for improvement.
Cash hopes to contribute more defensively by being a greater presence in terms of blocking. Thus far in her career, Cash has 385 blocks and continues to move up in making program history.
On another note, Strehlow recognizes the need for a louder, supportive leader on the court.
"Coming into it, I'm going to focus on bringing people up and bringing more smiles to the court if that's what is needed," Strehlow said.
According to Cash, the match against BYU proved that the Waves are capable of battling with big-name schools and she looks forward to a good season.
Today the Waves travel to Spokane, Washington, to take on Gonzaga at 6 p.m. in their fourth match of West Coast Conference play.
__________
Follow Marissa Yoshizawa on Twitter: @MarissaYosh