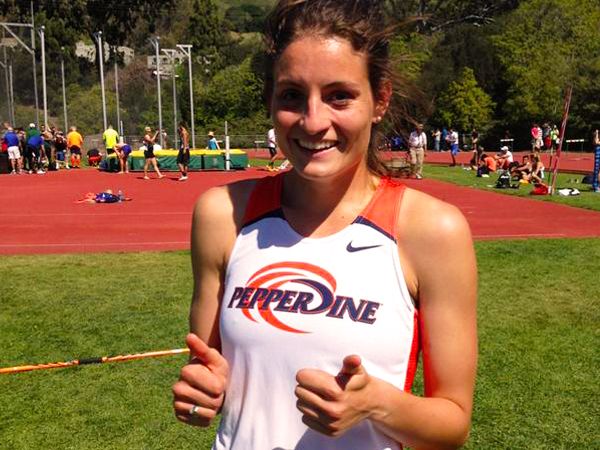 Photo by Stasia Demick
Men and women's track and field competed in the Cal Poly Invitational this past Saturday, where junior hurdler Hannah Turpin broke a seven-year-old Pepperdine school record in the 400-meter hurdles.
"Freshman year I was close to the record, but then I unfortunately had a season-ending injury. This is my first season back, so I am just grateful to have had the chance to run hurdles again. It's gratifying to finally be able to run a record time," Turpin said.
Turpin ran a 1:07.03 in the 400-meter hurdle event, besting Pepperdine's school record of 1:07.48, set by 2011 alumna Amanda Ajdari.
"The performance of the meet was Hannah Turpin's school-record-breaking 400-meter hurdles event, but several members on the women's team beat their season bests," freshman distance runner Kyle Cajero, who writes for the graphic, said.
The women's side had several other top performers, including freshman sprinter Madison Blume, who ran a season-best time of 1:02.02 in the 400-meter. Blume's time was the best of any Wave in the 400 this season. Freshman sprinter Claudia Rodriguez also posted a season-best time in the 100-meter (12.73) and 200-meter (26.52) events.
"The women had a successful day in SLO (Cal Poly). Quite a few people ran new personal best times — it was a good showing overall," Turpin said.
On the men's side, it was sophomore distance runner Torin Wile who finished seventh in the 800-meter (1:57.85) and Cajero placing 17th in the 1500-meter event (4:07.29).
"For the men's team, this meet was kind of a midseason lull," Cajero said. "We have two very competitive meets after this, so we're taking what we've learned from this meet and moving forward."
Mid-Season Roundup:
The men and women's track team is having a record-breaking season, with three Waves beating school records.
Waves at the Ben Brown Invitational:
Sophomore distance runner Torin Wile broke his own school record in the 400-meter with a time of 51.82.
"The 400-meter is not the main event that I focus on, so I surprised myself when I bested that school record. It has given me the confidence that I will finish my season out stronger than I ever have," Wile said.
Waves at UC Irvine Spring Break Invitational:
Freshman distance runner Kyle Cajero broke a five-year-old school record in the men's 800-meter, winning the second heat and placing seventh overall (1:54.83).
"Honestly, I haven't given this season much thought because it's not over. I don't want to rest on my laurels, because there's always more work to be done," Cajero said.
Waves at Cal Poly Invitational:
Junior hurdler Hannah Turpin broke a seven-year-old Pepperdine school record in the 400-meter hurdles, running a 1:07.03.
"We have a talented young team with a lot of potential. We are still growing, but we have had numerous successes from sprints to distance, with a couple of other record or near-record times," Turpin said. "It's an exciting time to be a part of this group."
The Waves are back in action Saturday, April 4 at the Pomona-Pitzer Invitational, hosted by Pomona College.
__________
Follow Kelsey Blosser on Twitter: @KelseyBlosser