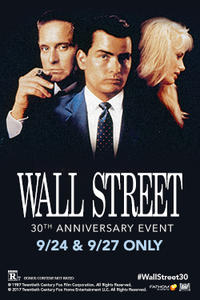 Photo courtesy of Fandango.com
The iconic movie "Wall Street" made a limited-time debut in 650 theaters across the U.S. in honor of the film's 30th anniversary.
The movie returned to hundreds of big screens Sept. 24 and 27. Fathom Events and Twentieth Century Fox presented this new screening that also included a featurette film called "Greed is Good." The featurette highlighted some behind-the-scenes production elements as well as the impact of the film on society. Themes of ambition, self-interest and obsession with money dominate the movie and its commentary on society.
The movie mainly follows the life of Bud Fox, played by Charlie Sheen, a young and ambitious stockbroker who intends to make a name for himself on Wall Street. Soon, Fox is caught up in the world of the powerful, affluent and corrupt upper circle of New York society.
Gordon Gekko, played by Michael Douglas, is a prominent figure in this circle, as well as the character that earned Douglas an Oscar for Best Actor in 1988. Gekko, a corporate raider, takes the young man under his wing and teaches him the keys to success on Wall Street. It soon becomes clear that these methods involve using any tactics necessary to make money, often involving morally and legally dubious decisions.
"Greed, for a lack of a better term, is good … Greed, in all of its forms — greed for life, for money, for love, knowledge — has marked the upward surge of mankind," Gekko said in his famous speech.
This speech "became one of the most quoted moments in movie history, crystallizing much of the cultural sentiment of the 1980's," according to the Fathom Events press release.
Young Bud Fox finds himself deeper and deeper in this world of cutthroat self-interest and materialism until his own ambition leads to harming his own father. This betrayal served as a wake-up call and stimulus for a form of redemption in Fox's life. Fox breaks ties with Gekko and his other well-to-do friends in order to attempt to save his father's company and mend their ties.
A major theme in the film that remains relatable from 30 years ago when the film was released to present day, is the question of what the meaning of life is and where to place one's identity.
In one scene, after Fox had a beautifully-prepared and expensive dinner date with an attractive woman, he wanders out onto the balcony of his extravagant apartment. Looking out at the New York skyline, he voices a simple yet profound question: "Who am I?"
Despite his rapid climb to success and lavish surroundings, Fox is preoccupied by the fact that the cost of his prosperity is his identity.
The film provides a perspective on the American Dream and human ambition. Both are essentially good but can easily be perverted until they overwhelm one's life. It is 30 years since its original screening and yet "Wall Street" leaves audiences with relevant questions to ponder: Who am I? Where does my identity lie? Is greed destructive or is it good?
____________
Follow the Pepperdine Graphic on Twitter: @PeppGraphic