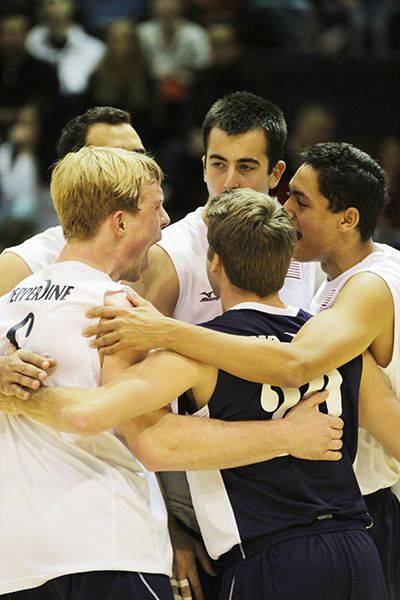 Photo by Connor Shewmake
The No. 4 Men's volleyball split a pair of road matches this weekend. The Waves shut out the UCSD Tritons in three sets (25-17, 25-10, 25-18) on Friday night, but were tightly-contested against the UCI Anteaters, ultimately falling 3-2 (22-25, 25-18, 25-20, 18-25,15-13).
Waves vs. UCSD:
On Friday night, the Waves defeated UCSD handily, dominating the pace of the game all the way through, totaling a .364 hitting percentage. The Tritons were held off to only a .093 (24-16-86) hitting percentage on the night.
Pepperdine spearhead the Mountain Pacific Sports Federation (MPSF) in opponent hitting percentages, cutting it down to .165 on the season.
"The game against UC San Diego went great. We were able to play well and get some new faces on the court, which is nice," senior libero Brennan Anderson said. "We have a very seasoned team with a lot of experience, so it's nice to get some of the younger guys some in-game experience."
Redshirt junior middle blocker J.J. Mosolf and senior outside hitter Scott Rhein led the team with 10 kills, respectively.
Mosolf came up big for the Waves, posting a season-high 10 kills.
"UCSD had a couple good servers, and stressed our service receive a little bit, but we played really well, holding ourselves to a high standard — we played 'Pepperdine Volleyball,'" sophomore outside hitter James Gehrels said.
Senior setter Matt West had a career night, collecting 31 assists and a career-high four aces, as well as nine digs.
Waves vs. UCI:
In Saturday's game, men's volleyball fell short against UCI.
"I think we discovered some areas, especially in the UCI game, where we can improve both individually and as a team," Mosolf said. "For us, it's a long season and every game we play is against a quality opponent, so it's important to remain consistent and level-headed through both the wins and the losses."
Despite the loss, the Waves were relentless.
"The game against UCI was a battle from the get-go, and the further into the match it went, the better we played as a team. Ultimately UCI just made a couple more big plays," Gehrels said. "Our ability to come back from a 2-1 set deficit really showed our resiliency as a team."
Led by senior middle blocker Parker Kalmbach's match-high 20 kills and senior outside hitter Josh Taylor's 18 kills, West had another dominant night, posting 46 set assists, seven digs and six total blocks.
"The tide of momentum was back and forth the entire match. But in the end they got a little lead at game point, and we weren't able to bridge the gap," Anderson said.
It was the Waves' first five-set match of the year, and just their second defeat as they remain 11-2 on the season.
"For it being our first five-set match of the season, we fared pretty well, and we learned a lot from the challenge. I think it will serve us well later on in the season," Gehrels said.
The Waves will be home Friday night at 7 p.m. for a rematch against UC San Diego.
__________
Follow Kelsey Blosser on Twitter: @KelseyBlosser