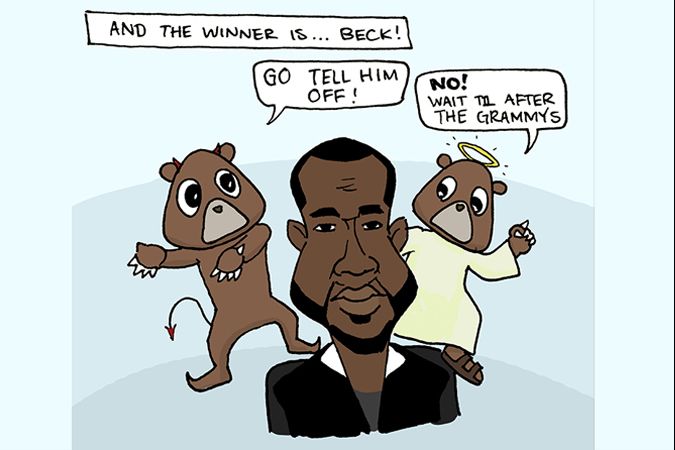 Art by Peau Porotesano
Somewhere deep in my soul lies an affinity for people with personalities that the general public loathes. Kanye West is one of those people.
Doused in controversy, fresh off stealing the Grammy spotlight from Beck, Mr. West still holds my affection. From "College Dropout" to "808s & Heartbreak" to "Yeezus," he can do no wrong. From swiping 19-year-old Taylor Swift's mic, to blasting Jimmy Kimmel on Twitter, to calling himself a god, he's still my favorite rapper.
Before you burn the paper you're holding or toss your laptop out the window, know that this is no blind love. There's more to Yeezy than meets the eye.
Let's start with his most recent offense: the 2015 Grammy Awards Beck rant. After the awards show ended, Kanye said that Beck is "disrespectful to inspiration." Later on, in an interview with Ryan Seacrest, he backpedaled from those fighting words, calling them "a mis-wording on my part." But you can't retract a punch that has already been thrown.
Kanye's Beck comments, combined with his past disses, broke the Internet. I Googled "Kanye, jerk" and came up with 1,010,000 results in 0.41 seconds. You win 400,000 more results if you type, "Kanye, a–hole."
Where millions see a pompous rapper, I see a misunderstood visionary.
Re-listen to Kanye's Grammy comments: "They need to stop playing us … they do this promotional event, and they'll run music over somebody's speech, the artist, because they want commercial advertising. No. We not playing them anymore."
Kanye called out the system. Of course, no one listened because Kanye talks in third person, and because the juiciness of the T-Swift vs. Yeezus beef made a Beck vs. Yeezus flak look like filet mignon.
Through every Kanye outburst is a common thread of, as he put it a couple weeks ago on Ellen, "jumping in front of the tank for other people or for culture."
In the 2006 Red Cross Katrina benefit that aired on NBC, he broke from the script — shocking everyone — and proclaimed, "George Bush doesn't care about black people." He's spoken against racism countless times over the span of his career (London's Wireless Festival in 2014: "I'm just saying, don't discriminate against me because I'm black or because I'm a celebrity").
At this year's Grammys he spoke out for "real artists." Following his 2009 VMAs incident, he revealed on the Ellen Show that he snatched the mic as a "soldier of culture." Amidst his 2013 Jimmy Kimmel all-caps Twitter rampage, he addressed the new societal struggle of "classism" — how the weight of the money in your pockets matters more than anything else. "Classism is when they try to say, 'You're a rapper … your girl is on a reality show so you're not up here with us. We're old money,'" he told Kimmel.
It's easy to dismiss his outbursts as gibberish of a troubled man who can't control his emotions, but that doesn't mean it's right to do so. If Beyonce said the same things, she'd be praised.
For one second, pretend Kanye isn't the Kanye you hate. In this age in which celebrities are forced to stay in the lines for fear of social media's retribution, the unfiltered thoughts of an artist are refreshing. Especially when the artist says exactly what he or she means.
Another thing about Kanye is he never rescinds his words. For instance, in this year's post-Grammys interview with Seacrest, Kanye clarifies ("Obviously, Beck is one of the most respected artists"), but then ends by reinforcing his initial statement ("There's like many of times I gave other people my award, literally made them come onstage").
And he walks the walk in his lyrics. "The College Dropout": "We don't care what people say." "Graduation": "I'm on TV talking like it's just you and me." "Late Registration": "You telling me if my grandma's in the NBA, right now she'd be OK?" "808s & Heartbreak": "They say, 'Kanye, you keep it too real boy.'" "My Beautiful Dark Twisted Fantasy": "The system broken, the schools close, the prisons open." "Watch the Throne": "I might even make him (my son) be republican, so everybody know he love white people." "Yeezus": "F— you and your corporation, ya'll n—– can't control me."
On top of that, Ye sings on his freshest collab track, "FourFiveSeconds": "See they want to buy my pride, but that just ain't up for sale."
If you're real, you have to recognize Kanye's real. His awards show and interview bursts may be over-the-top, but that's part of the Kanye West experience (insert "100 emoji" here) — harsh and true. As a teacher or an actor or a retail worker, I bet he'd be exactly the same. It's not a race thing or a power trip money thing. It's a Kanye thing.
Lately he's made comments about needing to be cautious in order to protect his wife and daughter. It'd be unfortunate if he toned down his opinions to mitigate backlash.
Kanye, if you're reading this, just know that some of us understand you. The haters gonna hate, hate, hate, hate, hate.
__________
Follow the Graphic on Twitter: @PeppGraphic