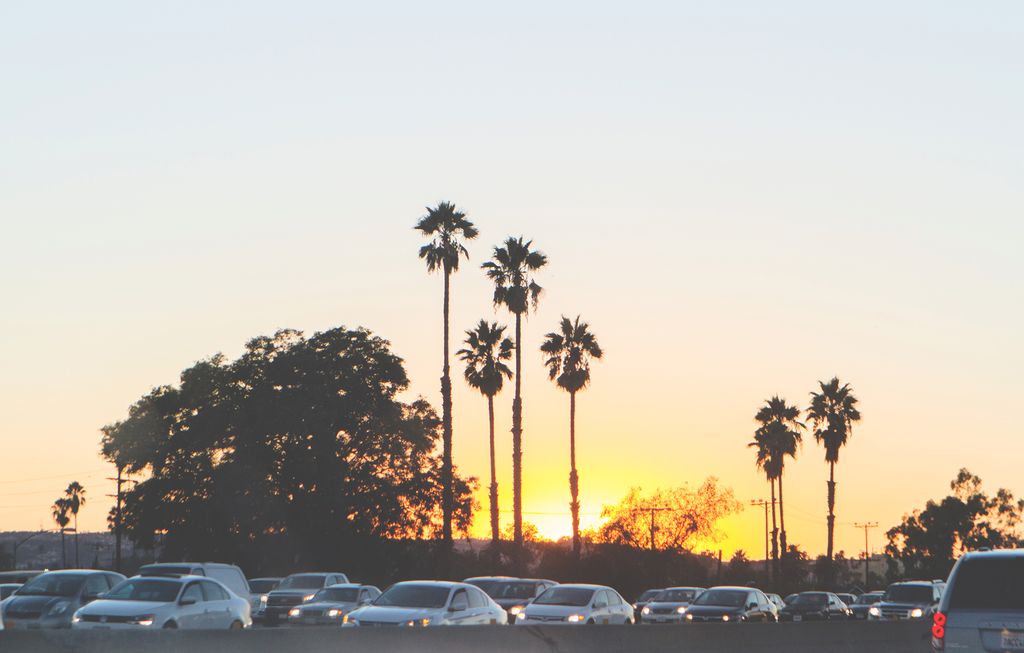 Photo by Daniel Caso
Los Angeles is the land of amazing movies and terrible traffic. It's one of the few cities on Earth where a gridlock can happen at 3 in the morning and where a 20-mile commute by car can take almost as long when walking. There are scores of websites dedicated to telling drivers when and when not to drive on certain routes, and freeway signs chart times, not distances. The traffic in LA is bad, but there may be a way to fix it.
The Problem

LA traffic is not new. The Hollywood boom at the turn of the 20th century caused rapid expansion, and the invention of cars helped residents traverse the sprawling community. By the 1930s, city congestion was so bad that planners began working on a new "motorway system," a novel idea at the time. The final plan was drawn up in 1947, and construction began in the early 1950s, according to "The History of California Freeway Development" on CAHighways.org.
Everything was going smoothly until the 1970s, when widespread freeway revolts halted construction in LA and many other cities, as stated by "The History of California Freeway Development." Citizens wanted mass transportation instead of freeways, especially after the sharp rise in gas prices after the 1973 Oil Crisis when U.S. gas prices more than quadrupled. Funding was decreased, and construction halted. Because of this, today's freeways are not built to handle the amount of traffic that they experience.
While there has been some renewed interest in freeway construction to handle the increasing LA population (LA County alone has 10 million people), adding new freeways at this point is untenable. The closure of the 405 for two days of road work back in 2011 was dubbed "Carmageddon," and while crisis was avoided at the time, if freeway construction were to happen in earnest, roads would be shut down for more than just a day or two.
At this point, the freeway system has been damaged beyond repair. Cutting funding and not re-evaluating the plans have left LA in a state of traffic turmoil, and the solution is not going to come easily. There has to be a huge upheaval in how LA and California think about traffic.
This is an environmental concern as well as a practical one. LA has the fourth worst smog in the nation, behind only Fresno, Visalia and Bakersfield, according to the LA Times article, "LA, Central Valley have the worst air quality" published on April 29, 2014. It's borderline dangerous to live in LA if you're healthy, and actually dangerous if you have any sort of respiratory impairments. It's also a huge contributor to the global warming crisis, as exhaust emissions are one of the major culprits behind increased CO2 levels in the atmosphere.
The Solution
Cities like London and New York City have largely avoided LA's problems by constructing comprehensive metro systems. Both of these cities are much more accessible to residents and tourists as a result. At this point, even if putting in new freeways were feasible, it wouldn't do anything to dispel the multitude of cars that drive every day, and in time the problem would return again. In order to make any kind of dent in the current gridlock, LA will have to install a new metro, one much more expansive than the paltry one that currently exists.
Building a robust public transportation system won't be as disruptive and costly as one might think either. Unlike freeways, metros are mostly underground, and construction will affect smaller streets rather than large swaths of freeway. Gridlock will increase in construction areas for a time, but not like Carmageddon. Metros also generate nominal income. Usage fees will not fully cover the cost of construction, but revenues will help mitigate maintenance costs, something the freeway system cannot do.
California can help cover the rest of the cost. Instead of the insipid high speed rail that will traverse the state in 20 years, stopping in major cities for about the same cost as a plane ticket, take the estimated $98 billion (yes, that's billion with a B) and split it between the cities that would have been affected by the train. This gives LA a few billion dollars to invest in metro construction.
Even then, this won't completely cover costs, nor will it cover upkeep once the metro is up and running. To help, LA should increase income taxes on all residents earning more than $200,000 a year and increase vehicle operation fees, like smog penalties and registration fees, especially for heavily polluting cars like SUVs.
During construction, the bus system will need to be running safely and efficiently so motorists have a public transportation option if they need it. Take cues from London and add more buses and more routes, and especially add more buses that cover longer freeway routes. One bus with 30 people takes up a lot less room than 30 cars with one person each.
Better public transportation will take a huge bite out of LA's current traffic and cause a sharp decline in pollution. It can also help tourism, as many visitors from other countries may not feel comfortable renting a car and taking on the traffic. Making LA more accessible to tourists, like many European cities have done with their public transportation, will increase city revenues even more, which can then be funneled back into the metro.
This cheery best-case scenario won't come easily. It will take at least a decade of work and fundraising, and the end of the bullet train. But it may be the only way we can make LA an accessible city again. We can save this amazing city from its traffic nightmare, but we have to decide on a solution and then support it the entire way. If we end up with another half-finished freeway system, we're going to doom LA to a lifetime of gridlock and smog.
__________________
Follow Jessica Kerner on Twitter: @The_Kernster