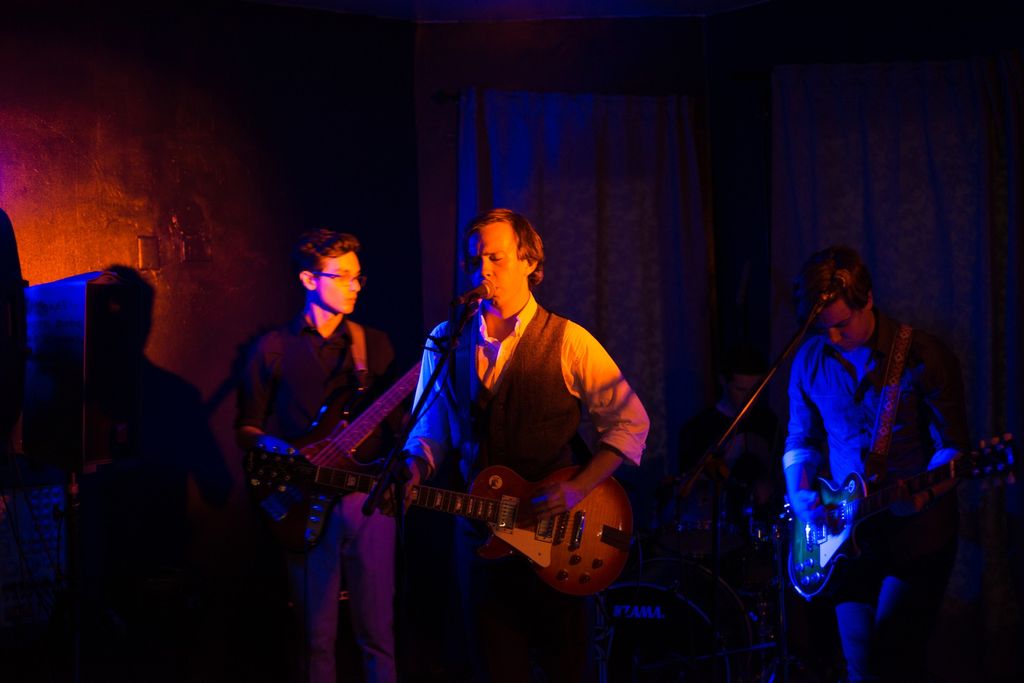 Photos by Katrina Warme
The sweat of legends past permeates the Vaucluse Lounge as Timsh'l takes the stage for their final sound check before the show. The minimalistic venue that is the former home of Charlie Chaplin once hosted the likes of Janis Joplin and Bob Dylan and, unfortunately, hasn't installed an air-conditioner since. It's hot. Plastic crystals hanging from the mini chandeliers strewn intermittently around the room sway slightly to each hit of Timsh'l's bass drum.
After the band sets the stage and the instruments are properly tuned, bassist Kai De Becker starts to pace. Bouncing between audience members, somebody asks if he's nervous.
"Oh, I'm beyond nervous," he says. "It might not seem like it, but internally I'm screaming."
The band socializes until audience members stream into the venue around 8:15 p.m. The guys find each other and head to the stage, taking up their instruments for their first song of the night.
__________
The Tuesday before the gig, Timsh'l — composed of guitarist Jacob Williams, vocalist Jared Taylor, drummer Davis Savage and bassist Kai De Becker — discussed life in a band, the pressures and worries connected to where senior year will lead them and the role that God has played in their journey thus far.

"I was always of the mindset that when I got to Pepperdine I would start a band," Taylor said.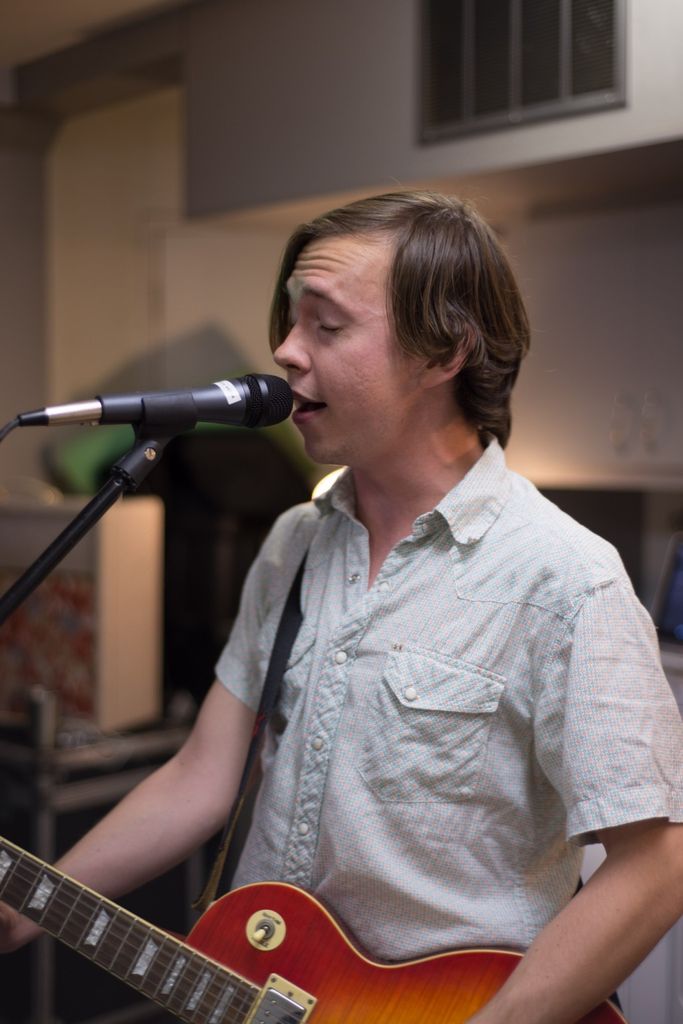 Williams chimed in, "Jared and I connected at NSO and started jamming together at Eaton — my freshman dorm. After a couple minutes, we were both like, 'Yeah, this is happening.'"
Jamming in the dorm then became a weekly ritual.
"After a while, all of Jacob's suitemates knew our songs," Taylor said. "Later, I got the impression that this band was supposed to serve a greater purpose than just jamming."
They added a drummer to the lineup, and the acoustic foundation of Timsh'l, a Hebrew word meaning "Thou mayest," was formed.
During their search for a bass player to round out the newly established band, Taylor approached De Becker, whom he met during the first semester of freshman year.
"We really needed a bass player," Taylor said, turning to De Becker. "I was so scared you were going to say no."
De Becker nodded and adjusted his glasses, "In that season of my life, I was going through a really hard time."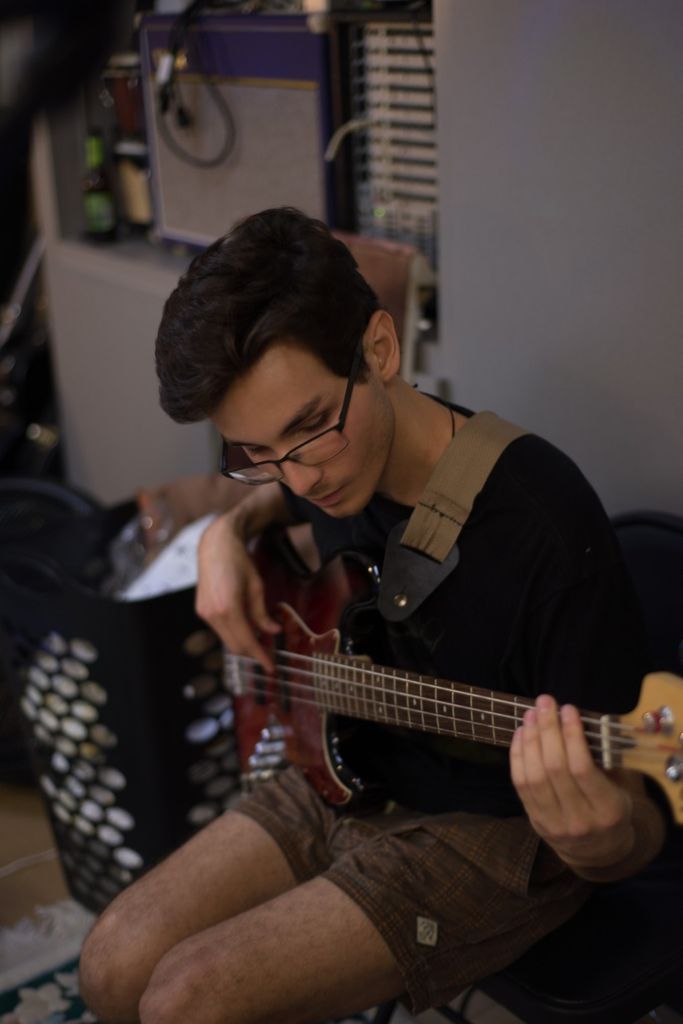 He said that during the second half of his freshman year, his cousin Caleb, who he said was more like a brother, passed away from a rare type of cancer, leaving De Becker reeling in the aftermath.
"I lost myself," he said. "I really did. I was a mess."
When Taylor asked him to join the band, De Becker said, "Something inside me told me, 'Do whatever he asks, 'cause you really need to get your mind off of this.'"
With a new bassist and hasty preparations, Taylor set up a miniature 10-day tour around California to start the band playing somewhere other than the music rooms at Pepperdine.
"What would happen was we would all meet up at 3 or 4 o'clock," Taylor said. "We'd haul ourselves to the city, probably a two-hour drive. We'd get there, sound check, maybe get food, and then we would do our set. Oftentimes we'd bring a following of people with us. We'd go to IHOP afterward, then drive all the way back to Pepperdine, getting there at like midnight. We'd do homework, go to sleep, then we'd get up and do everything again. Ten days in a row, besides that Monday, which was our Sabbath."
As the tour continued, their following grew, and by the end they were filling the venues they played.

Taylor smiled and said, "A lot of grace has been poured out on us."
In the midst of the crazy schedule, De Becker said he began to experience healing in the brotherhood of the band.
"Anything to help me feel like I was doing better by Caleb," he said. "I could channel that through a show in a Coffeehouse in something that could make people happy. I found love in other places, and I'm really glad about that."
He turned to Taylor: "Thank you by the way."
Taylor reached for De Becker's hand: "We're really happy to have you."
The tour was a defining time for the band, but soon afterward, they lost their first drummer when he left for China to study abroad during their sophomore year. Not wanting their newly found momentum to come to a screeching halt, Timsh'l began looking for a replacement. After an arduous auditioning process, they found Davis Savage.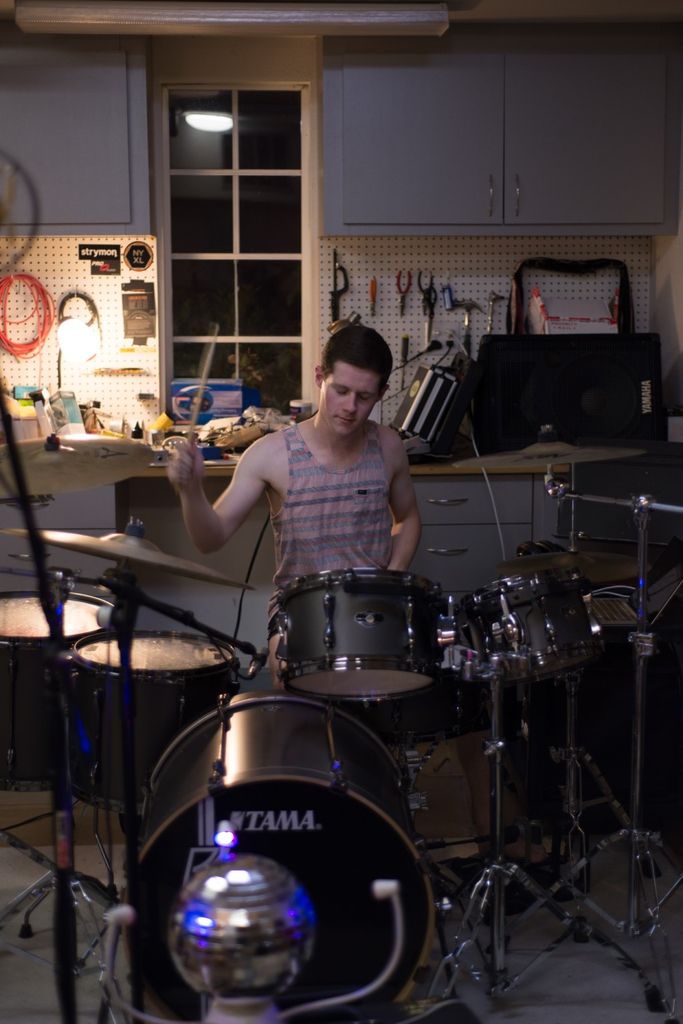 "I came across them doing ministry stuff," Savage said. "I'd done worship all my life. I guess just connecting with them musically, that was basically it."
The current lineup has been playing together ever since.
As senior year picks up steam with graduation day in sight, the question of Timsh'l's future has loomed ominously in the background of their excitement over what is still to come.
Will Timsh'l still exist after the caps are thrown?
"We haven't really talked about that, honestly," Williams said.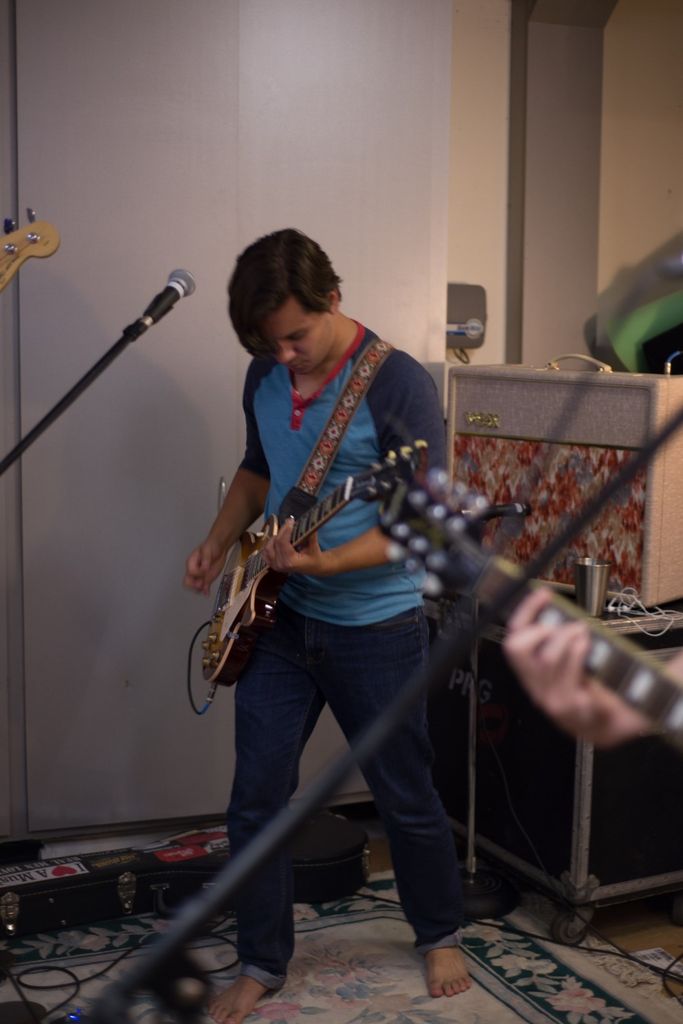 The guys looked at each other for a beat before De Becker answered: "The general understanding is that we're going to make it work. LA has job opportunities for all of us, and most of us planned on staying out here anyway. We want to keep this going."
The guys smiled at each other with nods of affirmation.
As Timsh'l records songs for their new album, set to release by the end of the semester, the band members said they were more focused than ever on reaching people with their positive message of encouragement and the availability of God's grace.
"'I'm growing fond of broken people, as I see that I am one of them,'" Williams quoted from Mutemath's song, "Pins and Needles." "The thing is, we write about what we experience, and we bring that encouraging but honest message to people who know God, and to those who maybe don't go to church but need to know that there's still hope in this world."
Taylor smiled and said, "It's been so cool having people come up to us and say, 'Hey, the lyrics of this song really helped me, I really connected with that. Thank you for writing that song.'"
__________
Back at the Vaucluse Lounge, Timsh'l leaves it all on the stage. The multicolored lights bounce off of their instruments, as Taylor sings about how God takes on our burdens when they become too much to bear.

"Sometimes I forget that this thing called forgiveness is stealing all my cares away," he sings.
And suddenly, it's all too clear to see that these guys are a band of brothers — a family of broken individuals whose stories weave together into the the tapestry that is Timsh'l.
As the crowd cheers to the resounding close of their last song, Timsh'l takes their much deserved bow, leaving the venue a little brighter than they found it.
Be sure to check out Timsh'l on Instagram, Facebook, Twitter and Youtube at Timsh'lmusic, and keep a look out for their new album coming soon.
__________
Follow the Graphic on Twitter: @PeppGraphic