Junior Chun Tung Jackie Chan said he also goes by his Chinese name: 陳鎮東 (Chen Zhen Dong). Chan said his first name, Zhen Dong, means "to conquer the east." Photos by Megan Williams
For junior Psychology major Anitiz Muonagolu, his name connects him to his Igbo, Nigerian heritage — but it also points to the hope he will one day reconnect with his African roots.
Muonagolu is one of many individuals on campus who struggle to connect with the names they have been given, especially if they have an "ethnic" name in an American-English context. This exploration of one's name shapes one's identity and sense of self.
"My name being Nigerian, being Igbo, being 'ethnic,' isn't just something that's like, 'Oh, it's just something that goes in my Pepperdine ID,'" said Muonagolu, who is also the Graphic Perspectives editor. "It is something that I have to live with, that shapes me, and that is part of the first way that I identify with the world."
A sense of connection (or disconnection)
Muonagolu's first and last name were passed down from his grandfather to his father and then to him. When Muonagolu's grandfather came to the United States, however, he "Americanized" his first name, going by "Joseph" instead, Muonagolu said.
To maintain a sense of his heritage, Muonagolu said his father passed down his name to his son, making Muonagolu technically the third Anitiz Muonagolu in his family.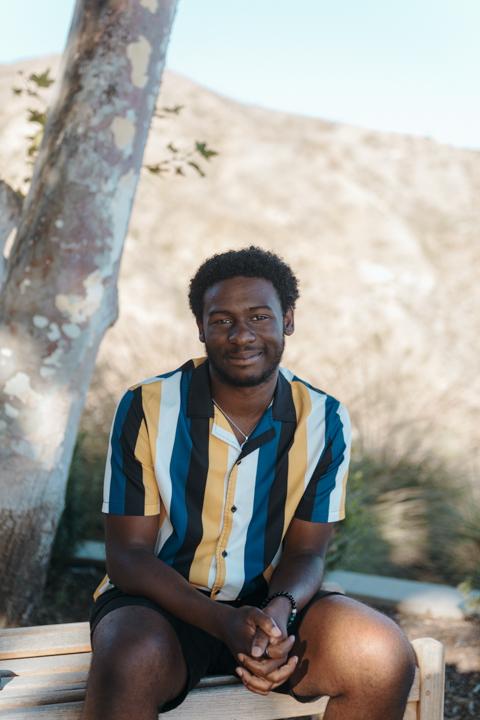 Despite the cultural and familial significance behind his name, Muonagolu said he is disappointed by how disconnected he still feels from Igbo culture. Rather, his culture revolves more around being Black in the United States and growing up in the South.
"My name for me makes me think about and reflect on the ideas of what it means to be Pan-African despite being in America," Muonagolu said. "There's still these roots that are either present or un-present to me that are etched in African spirituality and practice and culture that hopefully, with enough digging, I can one day connect."
Sociology Professor Rebecca Kim said she also feels a disconnect with her name, and is sometimes even burdened by the symbolic meanings her parents instilled into her name.
"When I hear my name, I don't even know if that's my name," Kim said. "I know it's my name, but I don't feel like it's mine. I didn't have any choice in the matter."
Kim said her parents named her after Rebecca in the Bible, and to her, the name represented someone who serves others and is a caregiver, particularly in a gendered context. Kim's Korean first name, Yi Sook, which is also her English middle name, refers to a Christian martyr. Ahn Ei Sook risked her life by staying true to her Christian faith instead of bowing to the Japanese emperor during Japanese colonialism in Korea, according to the Gospel Coalition.
"[A name is] like a very personalized categorization that has a lot of symbolic meaning," Kim said. "Whether about religion, whether about gender, whether about race, nationality, foreignness or not, and so the fact that you don't have any choice in the matter — although you could change your name, of course, I know that — but fundamentally, it's something that you're born with, you're given this name."
Junior Business Administration major Chun Tung Jackie Chan said he also goes by another name, his Chinese name: 陳鎮東 (Chen Zhen Dong). Chan said his first name, Zhen Dong, translates to "town" and "east," and means "to conquer the east."
In regard to his English name, Chan's parents love martial arts films, so Chan speculates that they named him after the actor Jackie Chan. The actor also goes by the name 成龍 (Cheng Long), which means "to become the dragon," "to be one in a million" or "to be successful."
"In both names, they want me to be really successful, and to be someone that's really great and a leader," Chan said.
When Chan grew up in Hong Kong, people called him by his Chinese name. When he was 13, he moved to the U.S. with his family, where Chan would introduce himself as Jackie.
At first, Chan said he felt embarrassed by his English name because people would always reference the actor, but he still appreciates how his name would act as an icebreaker.
Chan said he identifies more with his English name because he started using it during pivotal years of his life. However, his Chinese name feels closer to his heart since his family and childhood friends use it.
"Having both names is kind of having two different lives," Chan said. "And so far, they haven't mixed together yet, or they haven't met each other yet, so it's pretty interesting."
Chan said he hasn't considered going by his Chinese name in the U.S. because having an English name is easier for others to pronounce and also helps people remember him. In his classes, even though his Chinese name is also written on the roster, Chan tells his professors to call him Jackie.
A broader societal dynamic at play
Muonagolu said before he came to Pepperdine, he mainly went by the name AJ, partly to appease his white peers and make his name simpler for others.
Echoing both Muonagolu and Chan, Kim said people who have more than one name often choose to go by the name that is "easier" and more "acceptable" in an American, English-speaking context.
"Research shows that it's going to be harder for that person to gain access to all these various forms of capital, and they'll be stereotyped in all these ways," Kim said. "So it's this kind of existential dilemma, 'Do you give the name of your heritage and not the name that you want your child to have? Or do you change?'"
Kim said names are social cues and symbols at an individual level that can sometimes even point to negative, threatening stereotypes.
Kim said her brother views their last name as identifying him as "the other," "the foreigner" who does not belong. When her brother shared his last name with others, for instance, people would often ask him if he was related to the North Korean leaders Kim Jong-il or Kim Jong Un.
"By just listening to or hearing our name, people can guess about all those factors," Kim said. "And it's not just about guessing. There's also a hierarchy, unfortunately, attached to that, you know, who's more or less American, who's more or less of a leader, who's more or less of a citizen."
French Sociologist Pierre Bourdieu argued that individuals may possess various forms of capital — such as symbolic capital, which comprises symbols that allow or prevent people from certain privileges. Kim said a person's name is an example of such symbols and gives people the currency to access cultural and social capital, communicating a level of prestige to others.
"Our names give us a lot of clues," Kim said. "It symbolizes various social categories that are put on us in our society. Everything from our sex or gender, or religion, ethnicity, nationality and even our race."
When Muonagolu was a first-year student, he said he decided to introduce himself as Anitiz to professors and others he met as a sign of respect for his name.
"My name has power and has prominence," Muonagolu said. "It's reflective of me, and I shouldn't be ashamed of having a name that isn't 'white.'"
Bourdieu's theory also points to a language hierarchy that exists globally, Kim said.
"Behind it [a name] is a structure of a language hierarchy," Kim said. "And beyond that, what countries have power to make their language the language of the world because the default language of the world is English."
Kim said she encounters students who tell her to call them by a name different from the one listed on the class roster. For instance, she has a student who changed her first name to one that is more gender neutral and connects to her African heritage.
"That's real power to be able to call yourself what you want to be called," Kim said.
_______________________
Email Emily Shaw: emily.c.shaw@pepperdine.edu
Follow Currents Magazine on Twitter: @PeppCurrents and Instagram: @currentsmagazine