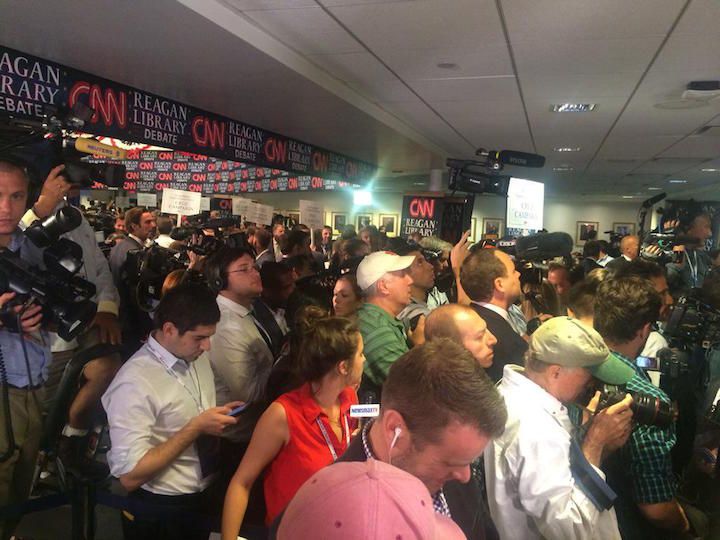 Photos by Veronica Johnson
Last Wednesday, I attended the GOP debate at the Ronald Reagan Presidential Museum and Library. Pepperdine students were invited not only to cover the debate but also to serve as volunteers by assisting with the debate activities. This is how I account for my day in words and pictures as all of the Republican candidates squared off in their second televised debate. The ratings showed that 23 million Americans watched the debate on CNN. I was lucky enough to be in the auditorium as candidates such as Carly Fiorina, Donald Trump and 13 others challenged each other for the nomination.
11 a.m.
I drove up Simi Valley's winding Presidential Drive to the Ronald Reagan Presidential Foundation and Library and their press credential center. After some interrogation by the local police, I was allowed through and informed that there was no more parking, but was told that I could check in for the filing room and spin room. I did just that.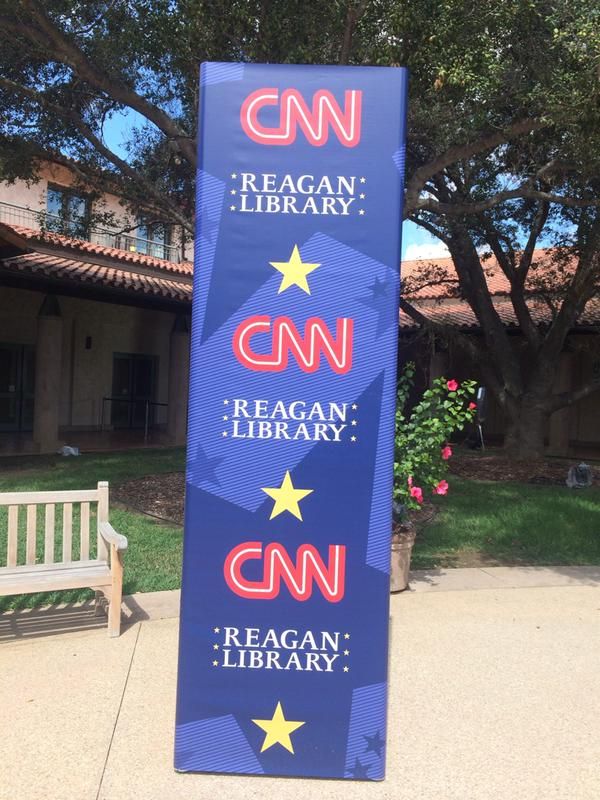 After receiving my lanyard with my name printed out on a label, I also received a goody bag. There was a pen, program and a small box of Jelly Belly jelly beans, complete with the Seal of the Office of the President. Just like the ones president Reagan used to have.
12:30 p.m.
In the hot noon sun the line formed as invited guests waited to get their admission tickets.
A backslapping man passed out barf and skunk spray flavored jelly beans to those waiting in the line to pick up credentials.
A rockstar and Emmy award winning producer reminisced about their college days of drinking beer and doing math homework.
I spoke with museum docents and staff whom I had met last year. They were kind last year and even nicer today as they volunteered their time to make a national event run smoothly.
In the plaza, well-heeled Republican contributors eating ham and turkey sandwiches, and then munched on lemon cookies and stared down at the raffle snake infested valley below.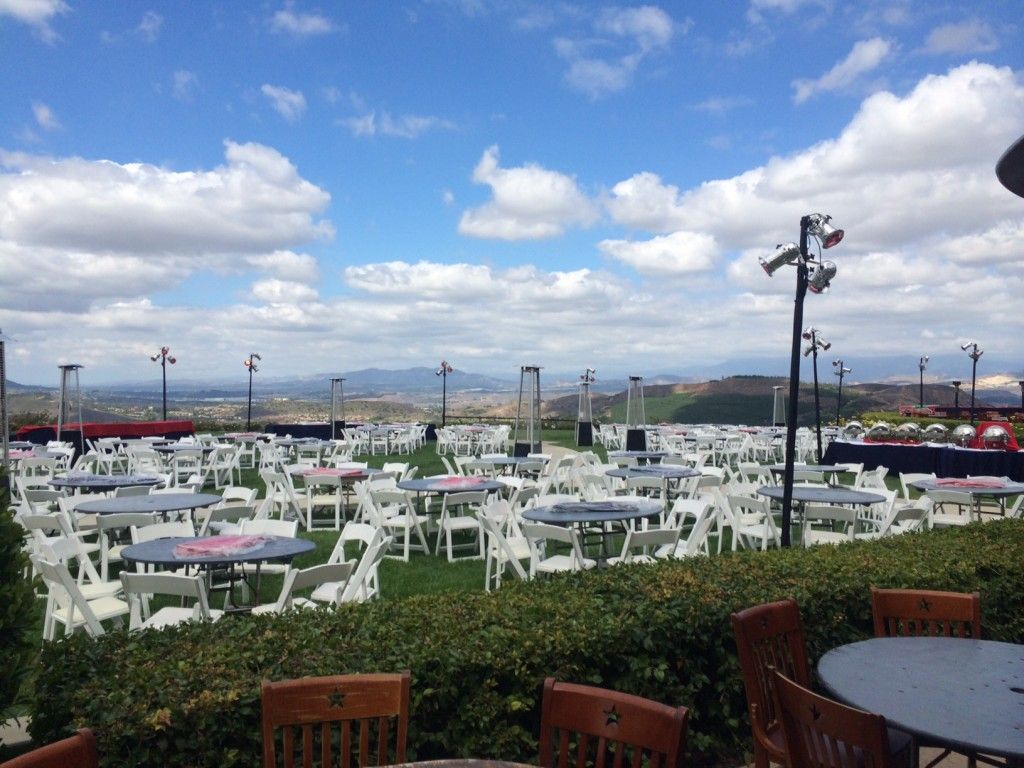 1:45 p.m.
Debate goers rushed in to claim seats as the temporary risers shook and vibrated below them. The air conditioner didn't seem to work. Older white men chattered loudly across rows of other older white men. 500 people were packed in like sardines overlooking Ronald Reagan's Air Force One plane.
2:30 p.m.
Everyone was seated and instructed on how to enthusiastically clap their hands for the camera. It was like a game show warm up where the producer was more like a stand-up comedian. Still photographers walked around searching for the perfect audience member to photograph and cameras swooped across the crowd.
3:20 p.m.
Jake Tapper, the CNN anchor was announced and hurried on to the stage in his best "The Price is Right" MC trot.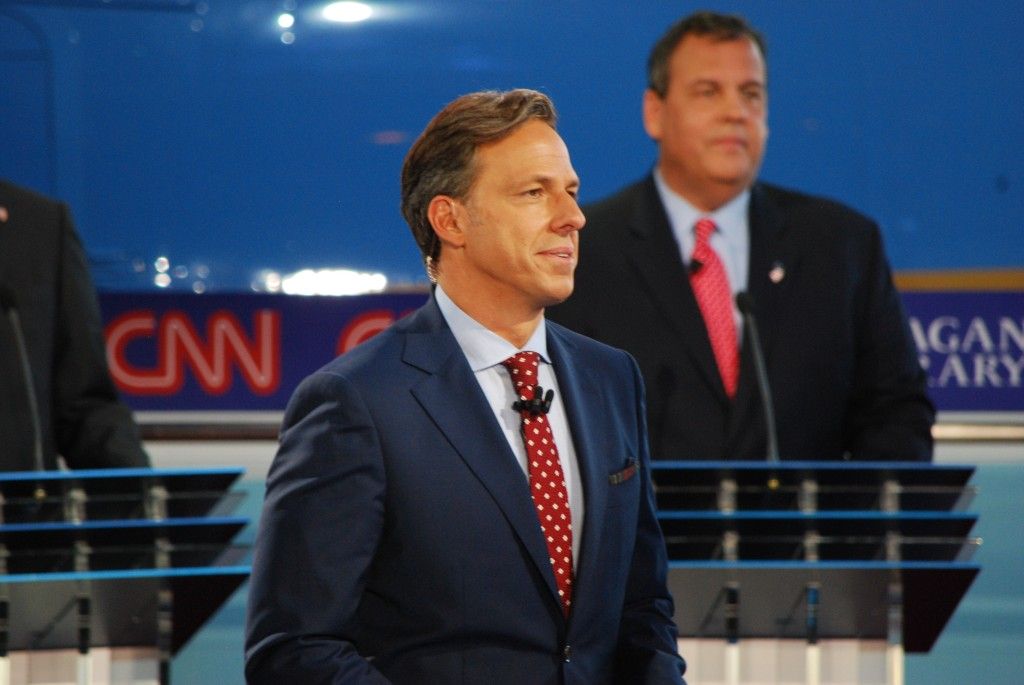 The first round of candidates took the stage. The harsh lights hit them as they noticeably started to sweat. So did I. They nervously dabbed their foreheads and eagerly gulped down some water.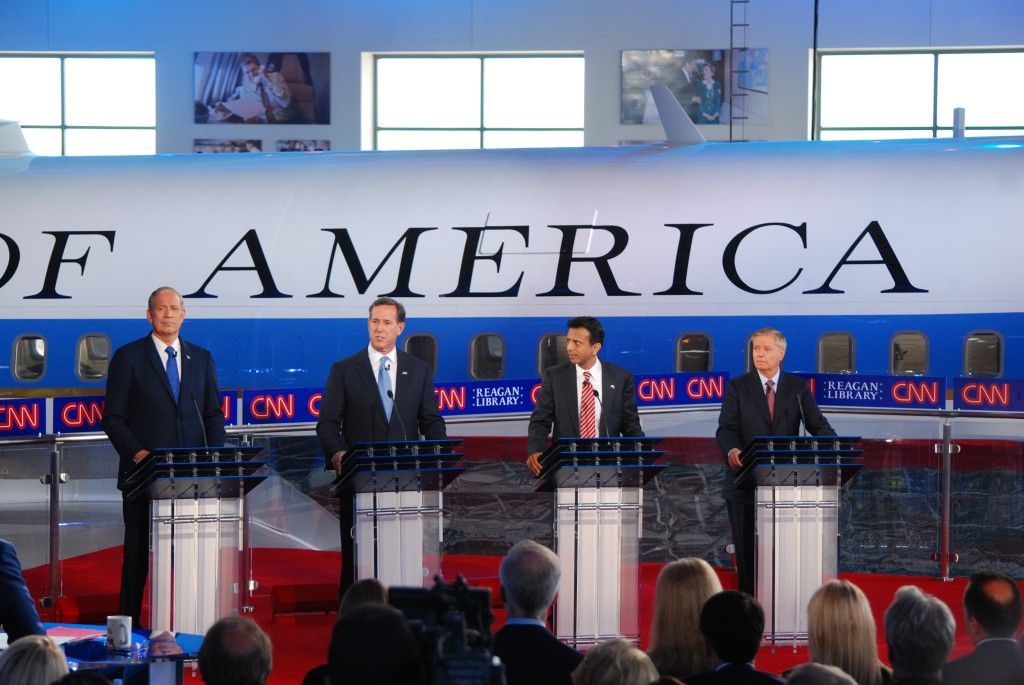 Sometime during the second commercial break, I couldn't wait any longer. I raced the 3 minute clock to get to the ladies room and back.
I was brought back to life by the cool wind of the air conditioned hallway as I brushed past the mock Oval Office. After my pit stop on the way back to the debate hall, the snack station called out to me. The kind docent offered me a plastic Ziplock bag which was complete with a miniature peanut butter and jelly sandwich, raisins, trail mix and two brownies. The first debate ended to the standing ovation of the crowd.
5:20 p.m.
The main event.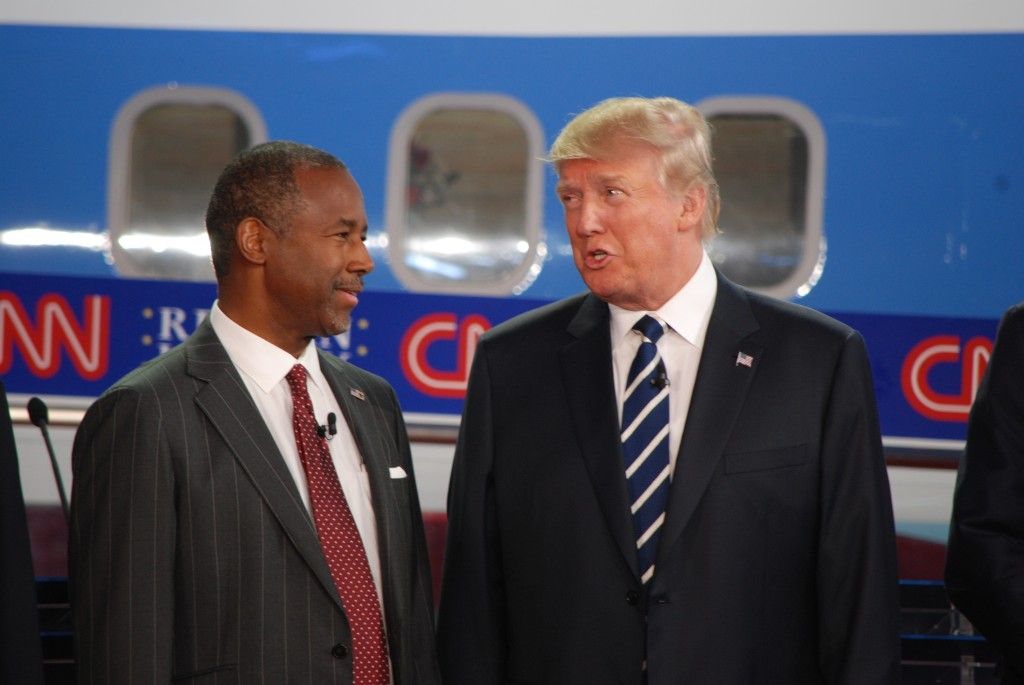 All 15 candidates filed into the debate hall for a group photo. The press stood about 7 feet away from the candidates. I stayed at my seat high in the risers and clicked my telephoto lens onto my camera. I watched each candidate through my lens. Smiles plastered across their faces. I wanted to believe they were authentic and sincere faces. Some looked nervous, others disinterested. I caught the attention of another photographer who was even farther back from me. He gave me a knowing head nod. I felt like I was let in on some sort of secret, but not too sure of what it was. The more photos I snapped the more I crossed the line of observer to participant in this historical moment of time.
5:30 p.m.
The second round began. The candidates were ready to fight. The jelly beans came in handy as I chewed them as an intermission snack. Some of the audience members seemed genuinely disturbed by my nutritional needs. I offered an elderly lady a cinnamon jelly bean. She squinted her eyes and shook her head.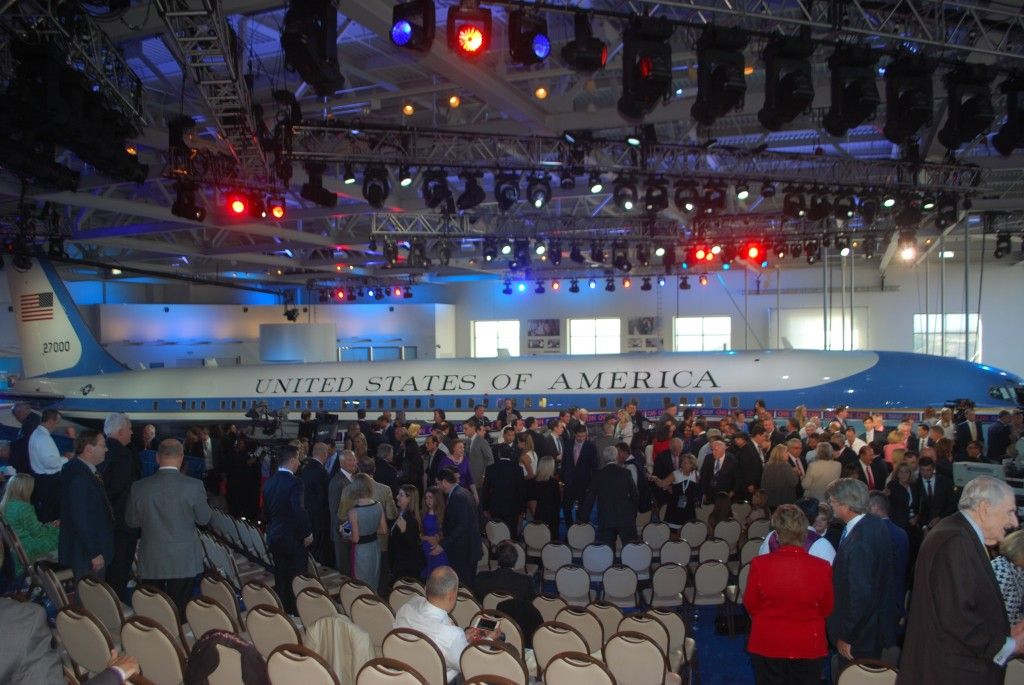 Donald Trump's smiles and frowns became my camera's focus. Partially due to the fact that he was standing in the dead center of all the candidates but also because of his exaggerated facial expressions, it was difficult to stop watching. He seemed to be overcome by an emotional blanket of fear, arrogance and disinterest.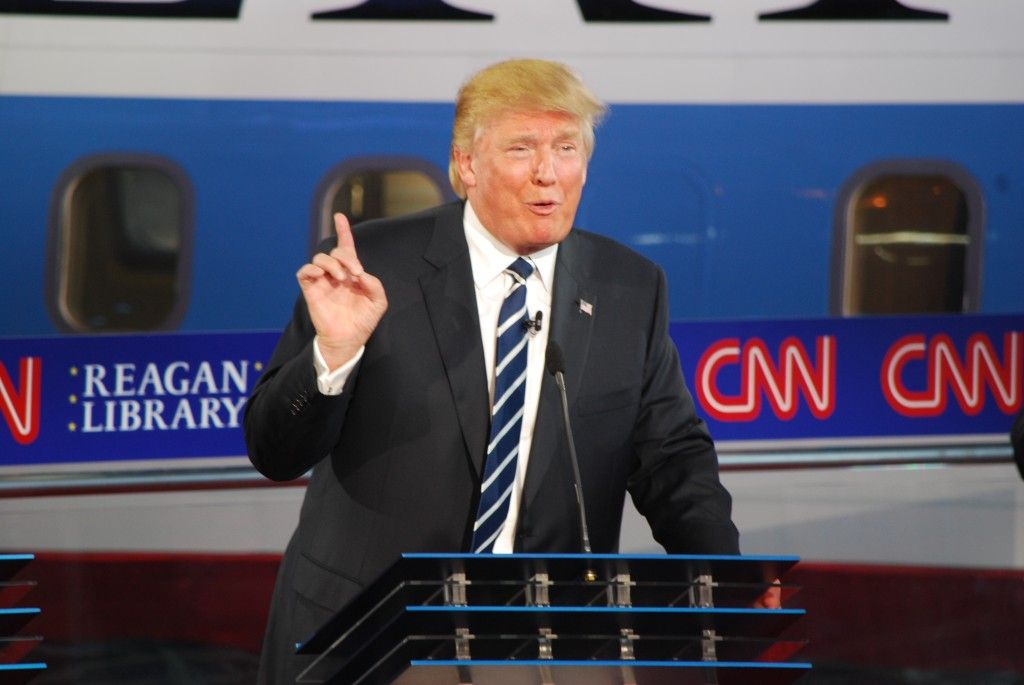 6:30 p.m.

Eating too much. Bathroom break round two. Still hot. I took another snack bag on my way back to the debate hall but then turned around and gave it back. The combination of sugar, heat and nonstop ambition was about to put me on the floor underneath the seats.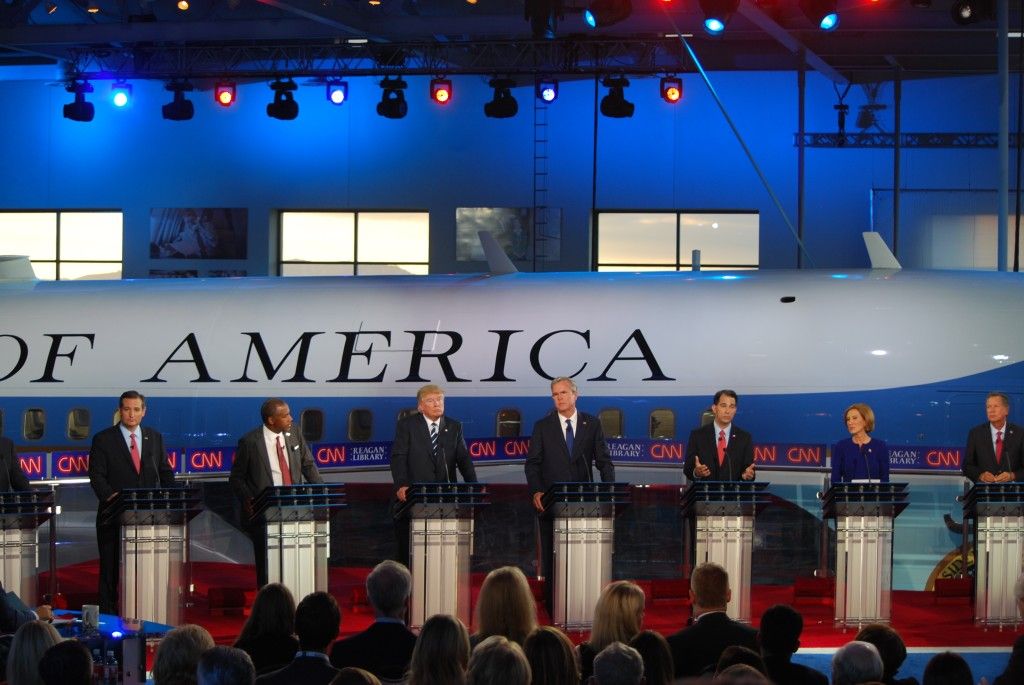 7:30 p.m.
The debate was in overtime. I slipped out of the debate hall to get to the spin room before the candidates and their handlers did.
7:40 p.m.

The angriest and most densely packed horde of electronic bearing inquisitors filled the spin room. I stood off to the side silently clicking my camera.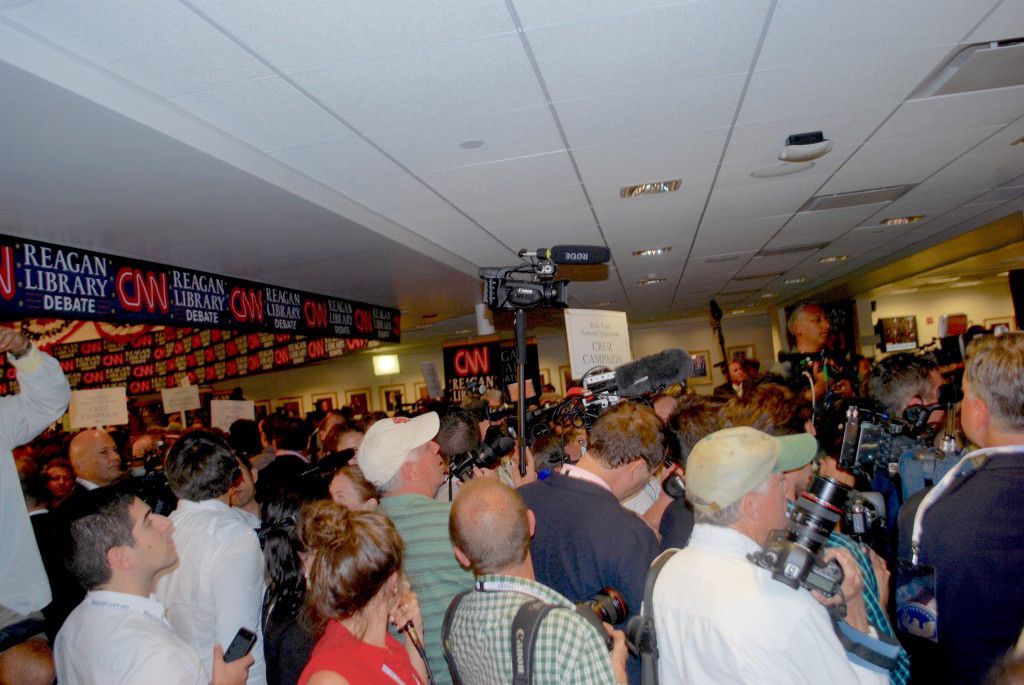 The spin room returns to its Reagan roots because the term was first coined to refer to the post debate comments by consultants and advisors to how their candidates did after a Reagan Mondale Presidential debate in 1984. The term "the spin room" traces its roots back to President Ronald Reagan. The term was first coined to refer to the post-debate period in which consultants and advisors analyzed how their candidates performed after a Reagan-Mondale presidential debate in 1984.
Standing in the room included Pepperdine volunteers holding white signs bearing the names of the candidates and their advisors and the candidates themselves announcing their arrival so that they could be interviewed by the national press corps to explain why they won.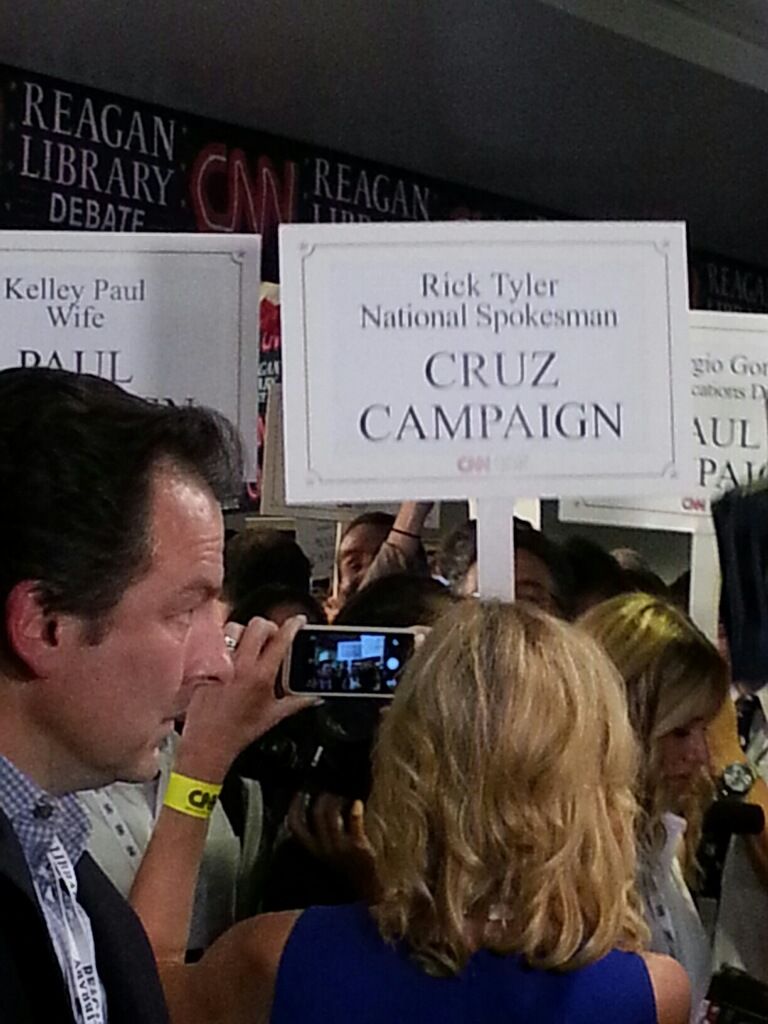 8:10 p.m.
The madness of an information frenzy in a two minute media cycle culture began. I felt like I was Alice and had just fallen down the rabbit hole.
Hands flailed pushing their microphones closer to the candidates and their representatives, cameras hit heads, and unapologetic reporters and their crews carried on.
8:40 p.m.

Another correspondent I know well was trying to interview Rand Paul and Ben Carson. He asked me to stand with my back to the crowd to act as a physical barrier to the onslaught of information hungry scribes and shutterbugs.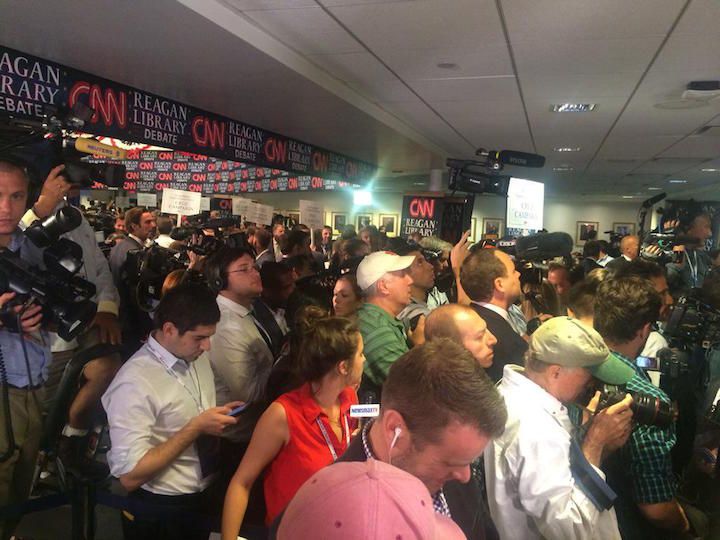 8:50 p.m.

A different correspondent yelled at me because I was in his "space," and he was about to do a live shot. There was no where for me to move. I ducked under the cameraman.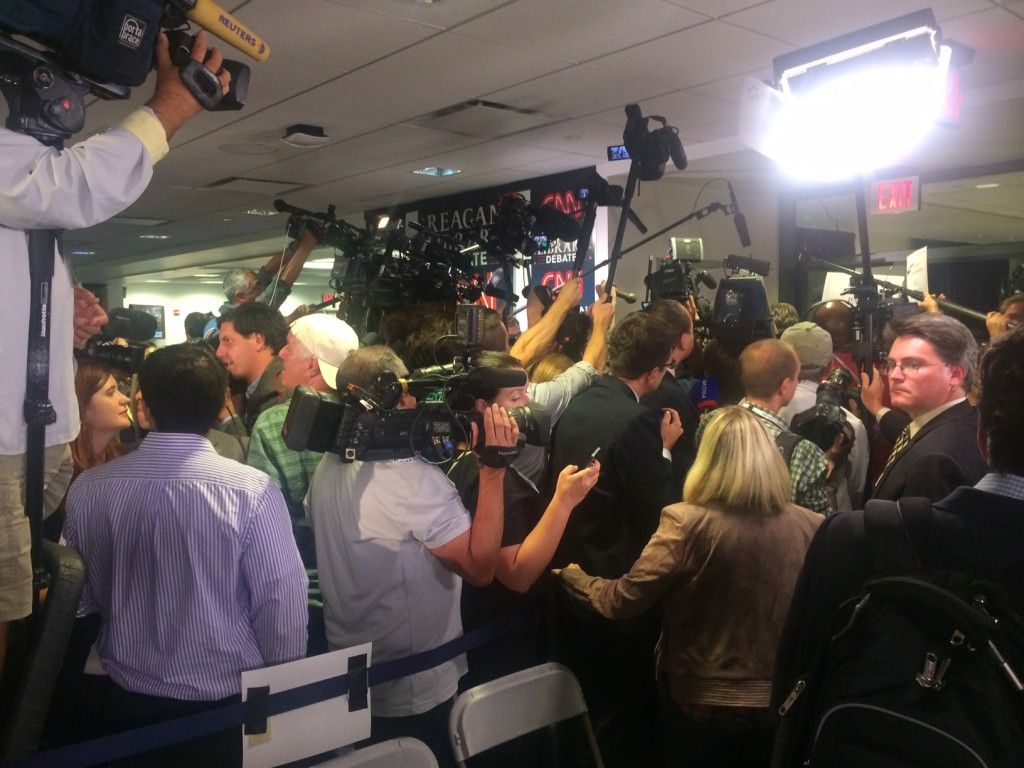 9:20 p.m.

Reporters and candidates slowly started to trickle out, but I remained in the sea of journalists as the mixture of body odor, perfume and lots of hairspray wafted into my nose.
9:45 p.m.
It was a long thrilling day with a lot of unexpected turns. From munching sandwiches with the friendly Reagan Foundation benefactors to the shark tank atmosphere of the spin room, it was a whirlwind day.
The spin room was spinning. But you know what? I wasn't the least bit dizzy.
__________

Follow Veronica Johnson on Twitter: @veronajohn36