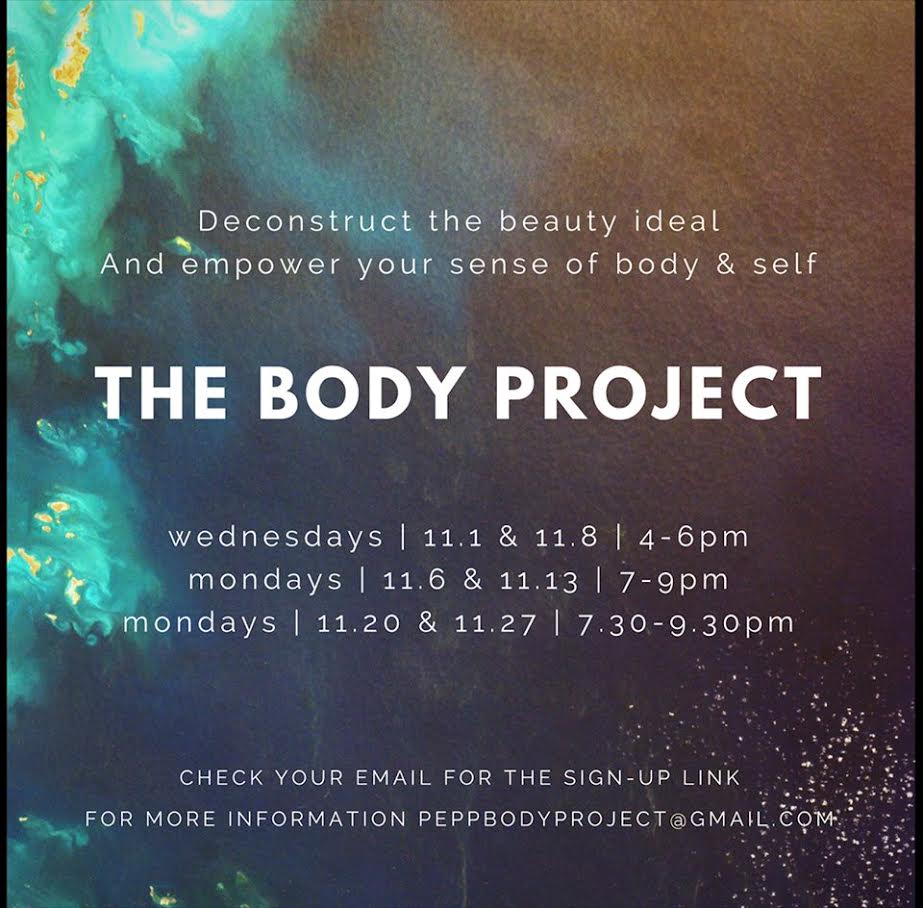 Photo courtesy of the Body Project
The Body Project is back for its third year to combat societal pressures and empowering young women at Pepperdine.
The peer-led program aims to deconstruct the "thin ideal" and promote body acceptance in small group settings. Each group meets for two, two-hour sessions that began Wednesday, Nov. 1 and continue through Monday, Nov. 27.
Associate Professor of Psychology Dr. Jennifer Harriger said she started Pepperdine's branch of The Body Project to begin conversations about body image and the unrealistic standards of beauty in our society.
"Body dissatisfaction is an issue that many females struggle with at some point in their lives," Harriger said. "The Body Project provides safe spaces for female students to discuss the pressures they feel and to begin to discover how they can begin to challenge the unrealistic standards set for females in our society."
According to The Body Project's website, the program is a "cognitive-dissonance-based body acceptance intervention that was designed to help adolescent girls and young women resist sociocultural pressures to conform to the thin-ideal."
Junior peer leader Jordan Diab said the goal of the program is to create a culture of confidence on campus.
"These group settings are clinically proven to promote better results because women can find that they are not alone in their struggles, discuss goals, and talk about how they can create a positive impact on their campus," Diab said.
According to the Collegiate Survey Project launched in 2013 by the National Eating Disorder Association (NEDA), the rate of eating disorders on one college campus increased from 23 to 32 percent among females and from 7.9 to 25 percent among males over a 13-year period.
Senior peer leader Gabrielle Pfund said she learned in her psychology class that Pepperdine has a greater percentage of women with eating disorders than the national average, and that it is important to have open and honest communication about body image issues. The Body Project aims to do this through discussion, behavioral exercises and a loving community.
"It is easy to get lost in expectations that we feel like are being set before us if we aren't sure exactly what expectations we should have for ourselves," Pfund said. "When we don't know who we want ourselves to be, it's easy to get lost in how we think we should look."
Sophomore Abigail Hunt said participating in the program and hearing others' stories made her realize that she was not alone in her struggles.
"It made me rethink the idea of fat talk and how negatively it can affect your thoughts and everyone around you," Hunt said. "It sparked a desire within me to try and change the way us girls talk about ourselves in casual settings."
Additional resources at Pepperdine include the Counseling Center's eating disorder treatment team.
"We can also begin conversations around body image, the unrealistic standards in our society regarding appearance, and our own responsibilities to challenge these standards," Harriger said. "It is also important to raise awareness about the dangers of dieting, restrictive eating, severe body dissatisfaction, and other disordered eating behaviors and how our comments about our own and others' bodies can unintentionally affect others. Many females are surprised to find that they are not alone."
_____
Follow the Pepperdine Graphic on Twitter: @PeppGraphic