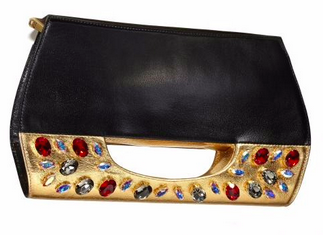 Photo courtesy of InStyle Magazine
Fashion is full of "Do's" and "Don'ts," but taking some risk is a definite "Do." Pepperdine graduate student Danielle Gumina learned this lesson when her handbag design was selected as a finalist in the InStyle Magazine Independent Handbag Designer Awards.
After sketching out a design for fun, Gumina decided to enter the competition on a whim. The media production student is no novice when it comes to fashion, but Gumina says this was her first time entering the field of design.
"Over the year, I'd slowly been developing this design," Gumina says. "I entered the competition and thought it would be cool to see where it went."
However, the production process wasn't simple. Gumina did her research to find the right manufacturer before finally deciding on one in New York City. After the bag was completed, Gumina was one of thousands of entries from around the world to enter the InStyle Magazine contest and was one of only forty to be selected as a finalist.
"So many handbags look the same," Gumina explains. "I just wanted to create something that had never been seen before."
Gumina will now travel to New York City for the awards ceremony on June 17. The winner's designed will be featured in the September issue of InStyle Magazine.
Gumina's bag is nominated for both the Fan Favorite Award and Best Student-Made Handbag Award. You can vote for her design on InStyle.com by clicking here, but don't wait — voting ends June 12. The clutch is also available for purchase at handbagdesigner101.com.
As to what's next for the new designer, Gumina says one day she hopes to make a career in the fashion industry, but for now she'll keep designing.
"I have some color selections and I'm working on next season," Gumina says. "In fashion you always have to be a step ahead."
__________
Follow Shayla Girardin on Twitter @shaylagthatsme
Follow Danielle Gumina on Twitter @griphandbags