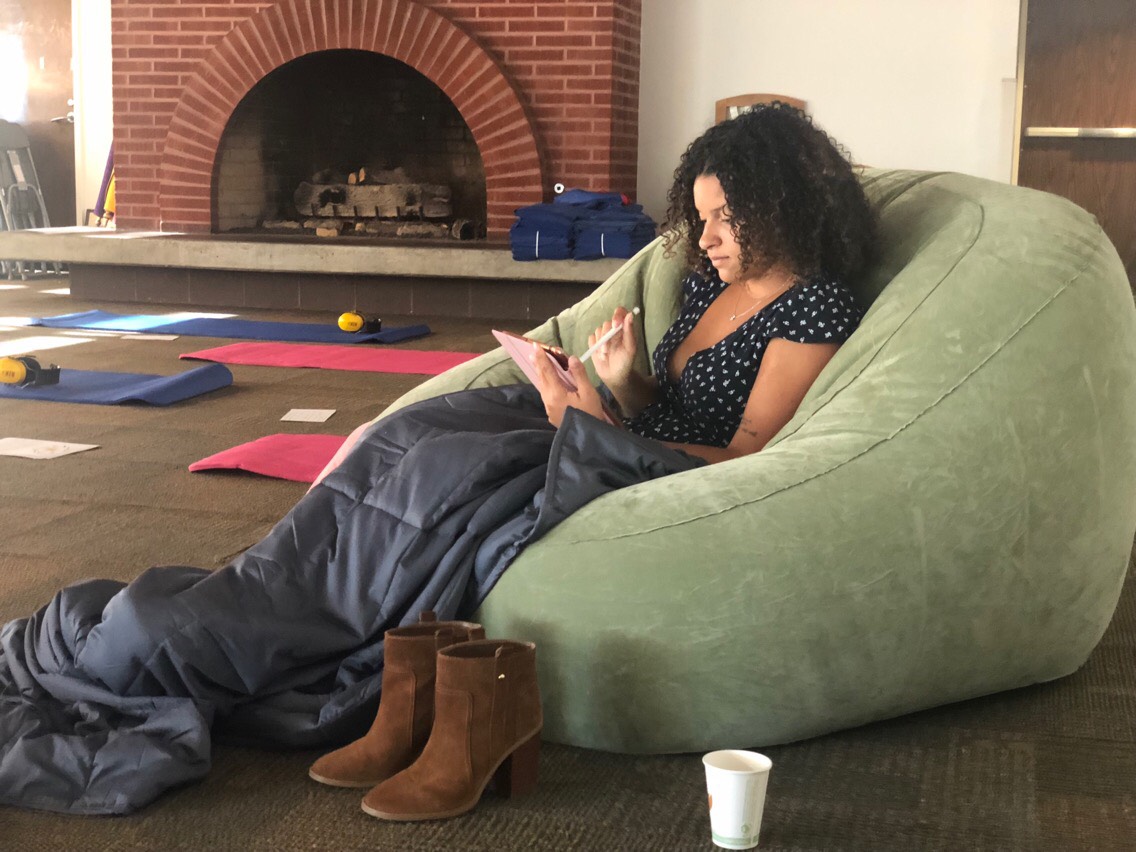 Photo courtesy of Allie McIntosh
As Pepperdine students navigate through college, pressure is on their minds. The Student Wellness Advisory Board (SWAB) switched from a club to an organization with paid positions this year in an effort to alleviate this mental health pressure.
SWAB held a series of events the week of Monday, Oct. 15 through Friday Oct. 19 to bring awareness to mental health. SWAB has three main focuses branches: healthy minds, healthy bodies and healthy communities.
As mental health issues rise among college students, student members of SWAB provide mental health support by helping to reduce stigma, alleviate stress and become advocates, senior SWAB Co-President Hannah Robert said.
"There needs to be an incredible increase in mental health awareness," senior Lillian Lee said. "There is a nasty stigma behind mental illnesses and people are so quick to judge and so quick to make assumptions if they find out a peer is struggling with anxiety or depression."
Mental Health Awareness Week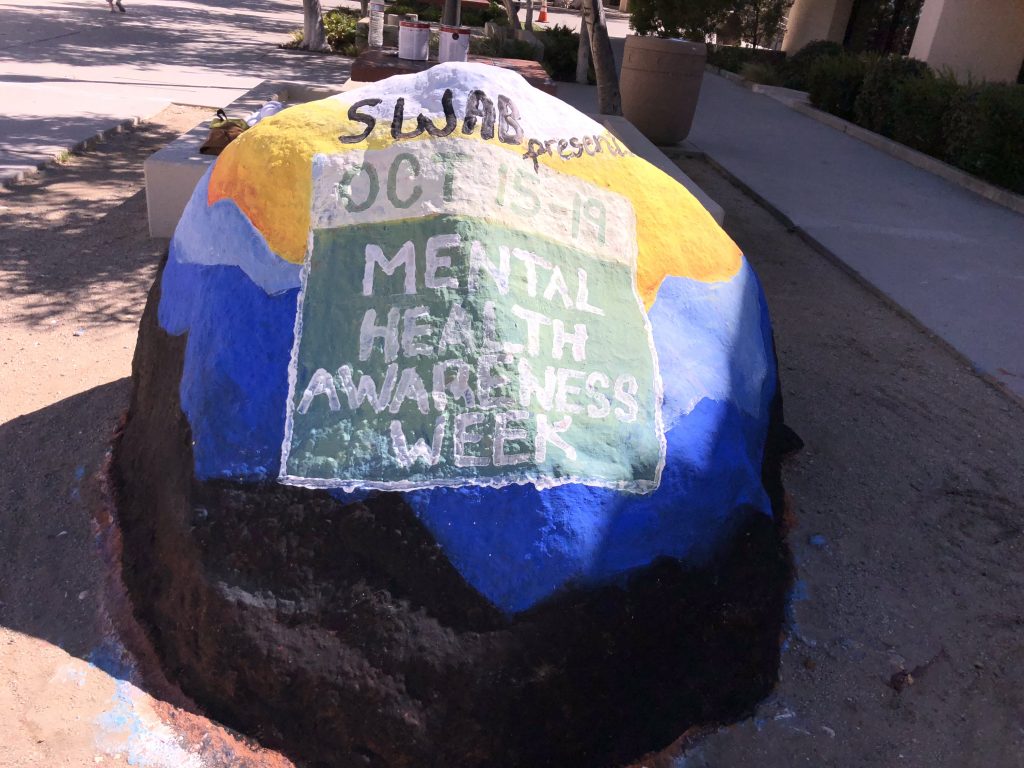 SWAB's main goal is to inform and educate students to decrease stigma on campus, junior Psychology major and healthy minds ambassador Amanda Fricker wrote in an email.
Each event of Mental Health Awareness Week ranged from support to education and served as an opportunity for students to come together and support one another.
"We do something that's relatable and educational to students," Robert said. "It's not just a tabling event where they come up and are handed a bunch of facts. They integrate the facts with something that they like, so it kind of sticks."
Robert added that a lot of people don't understand the difference between anxiety, depression and a seasonal slump, which their organization helps people recognize.
The following is a list of the events SWAB hosted during the week:
At Movement Monday from 11 a.m. to 2 p.m., students were able to play games, grab a snack and move around.
Tranquil Tuesday from 11 a.m. to noon 12 offered painting and drawing and 1:30 p.m. to 4:30 p.m. was a depression movie screening (conducted by the Counseling Center) in the Fireside Room.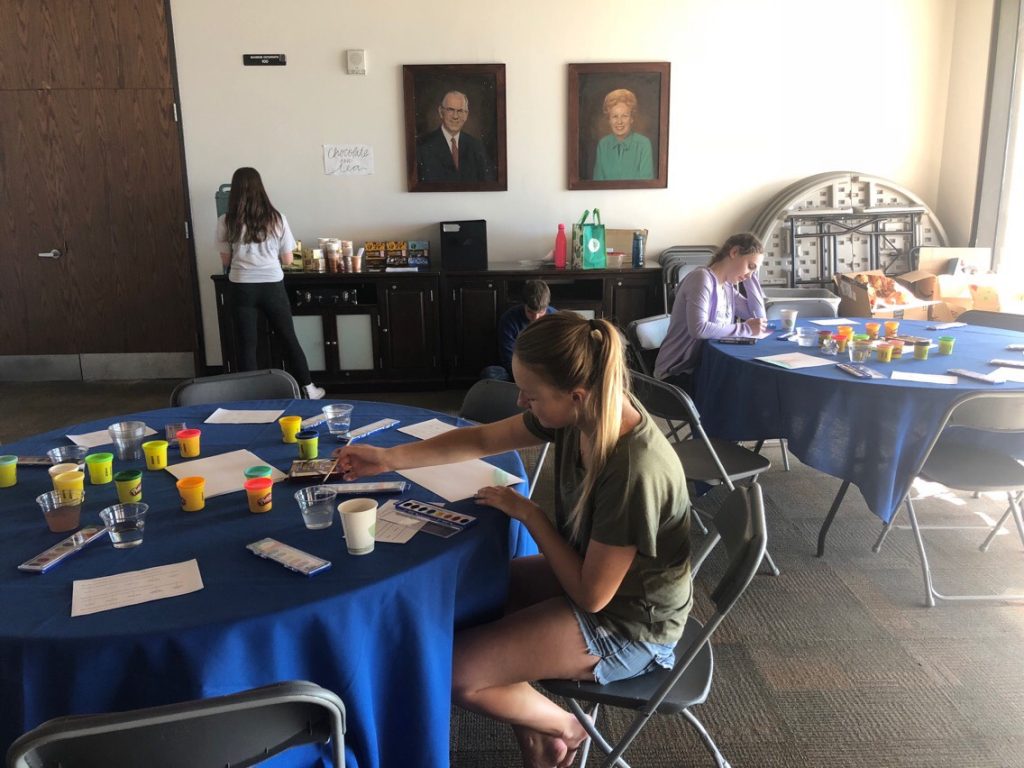 SWAB brought therapy dogs that students could play with for Woof Wednesday at Lower Adamson Plaza from 11 a.m. to 2 p.m.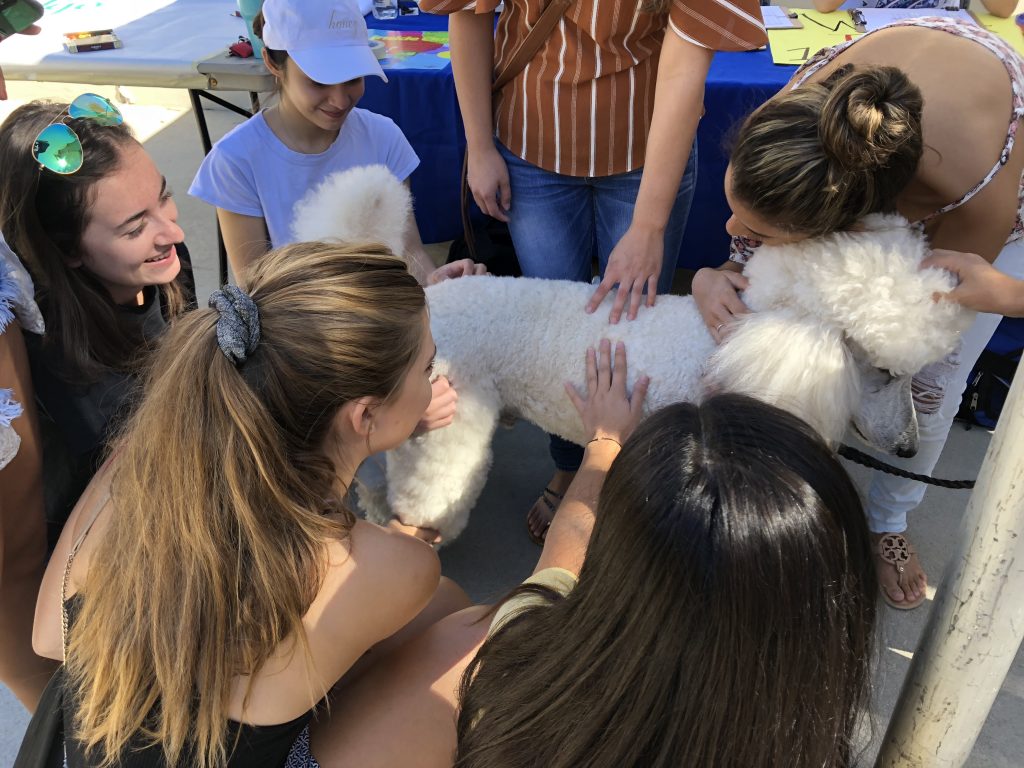 Photo by Miranda Battaglia
Thoughtful Thursday was at the Sandbar patio from 5 p.m. to 6:30 p.m. and consisted of a night of painting and kombucha samples.
Fun Friday offered a movie screening of "Inside Out" with popcorn, s'mores and more at the Seaside courtyard.
"I think it's important to have a club like this and promote these events because often college students don't have an outlet to relieve stress or anxiety, especially during midterms, finals, etc.," Lee wrote in a text. "It can be extremely beneficial to engage in even a small amount of therapeutic activity."
Raising Awareness
The events for Mental Health Awareness week were part of SWAB's healthy mind emphasis.
"We believe that mental health is something that should be talked about, especially on college campuses," Fricker wrote. "We want to make sure students are aware of their own mental health and ways to help those around them on the subject of mental health."
SWAB's organization allows students to know the resources available to them on campus.
"It shows the support of the counselors and the Title IX office," Robert said. "Something we have immediately seen this semester is people using the right verbiage when describing Title IX."
A campus culture that promotes mental health is becoming more prevalent at Pepperdine, Robert said.
Robert said there is not a centralized thing that brings the campus together such as having a football team, so students recognizing what SWAB is doing to better mental health and campus culture is important.
Lee agreed it's important for students to feel validated, recognized and to know where to go.
"Almost everyone at some point in their lives will struggle from a mental illness and it's important to know that people around you might be going through/might have gone through the same thing," Lee wrote. "It's entirely more comforting to have someone understand you and relate to your experience."
SWAB consists of education and encouragement liaisons, Jillian Johnson, sophomore healthy mind ambassador and Graphic contributor said. Their job and hope is that students will come to events and learn how to better approach their health and wellness.
"Talking about mental health more and more creates a more positive conversation and helps to get the message across that mental illnesses are more common than not," Lee wrote.
Students outside of the organization's thoughts and attitudes are also helping change the campus conversation around mental health to create a positive campus climate, Robert said.
"Everyone at Pepperdine has a lot going on all the time, whether it's midterms, school responsibilities, clubs or Greek Life," sophomore Savannah Montalvo said. "It's really important to kind of take a step back and focus on your mental health because that's something college students always overlook."
From SHAB to SWAB: A club to an organization
SWAB used to be a club under the name of Student Health Advisory Board. Robert and some other SHAB members transformed it into an organization similar to The Board or Student Government Association, Robert said.
SWAB is a pilot program this year, Johnson said.
It is an advisory board run mostly by students with paid positions for the healthy bodies, healthy minds and healthy communities ambassadors. Clubs such as Psi Chi, Active Minds and other volunteers are called "representatives" who don't get paid to help partner with SWAB, Johnson said.
"We all just started at the beginning of this semester," Johnson said. "But I think I can speak for everyone and say that it has already been a very busy but very necessary and important experience."
Allie McIntosh, health and wellness education coordinator for the Counseling Center, is the head of the program who mostly organized these types of events in previous years in collaboration with either Title IX, the Health Center or the Counseling Center. SWAB was created to organize all of those together.
McIntosh said the students are the dreamers of the organization and she helps implement their dreams.
"People are responding really well to SWAB and are excited about helping out and becoming involved," Johnson said.
Events to come
SWAB will be holding events throughout the end of the fall semester. On Oct. 25 they held an event called Stick-Or-Treat, which was a mental health carnival in partnership with the Health Center and Psi Chi to promote mental health on campus.
In November, SWAB will offer a convocation series called "Finding Balance." In December they will host a de-stress week where they hope to bring in therapy dogs again.
"These events help students be empowered by things they may be experiencing and also ways they can help their friends," Robert said.
Pepperdine will assess how well SWAB performs and decide if they should keep it as an organization and continue to fund it in the future, Johnson said.
___________________________
Follow Miranda Battaglia on Twitter: @battagliamir