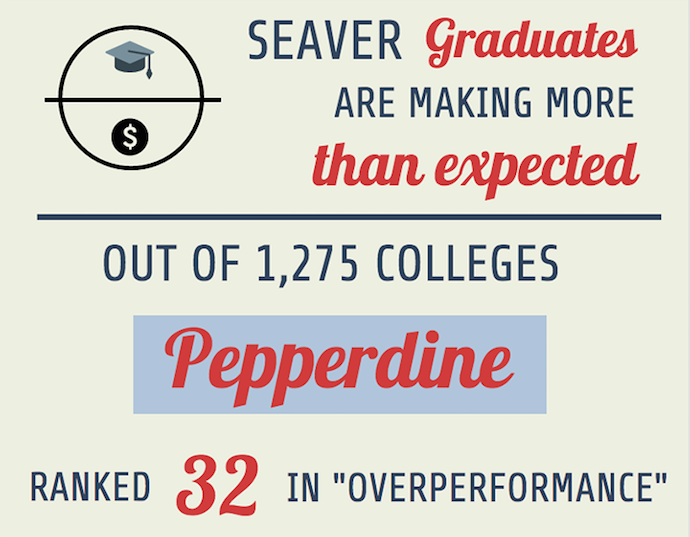 Seaver graduates are making more money than they are supposed to, according to a study done by the Economist. The subsequent rankings were from the study, which posted on Oct. 29, compared annual expected earnings to annual median earnings of 1,275 undergraduate schools, ultimately coming up with an "over-performance" value, which is where Pepperdine excelled.
Pepperdine ranked 32nd of the 1,275 colleges listed based on their over-performance value. With expected earnings of $53,760 and median earnings of $61,400, Pepperdine's over/under score, or overperformance value, was +$7,640. Essentially, this means that Seaver graduates are making almost $8,000 more annually than they are expected to, according to the study.
"As an institution that prides itself in balancing faith and academics, it's fantastic to see Pepperdine ranked so highly," Derek Stoutland, who works for Pepperdine's Office of Financial Planning, wrote in an email.
An article that accompanied the study on the Economist's website stated that "the first-ever college rankings are based on a simple, if debatable, premise: the economic value of a university is equal to the gap between how much money its students subsequently earn, and how much they might have made had they studied elsewhere."
The study compared government–generated numbers "by matching individuals' student-loan applications to their subsequent tax returns, making it possible to compare pupils' qualifications and demographic characteristics when they entered college with their salaries ten years later," also according to the article.
"It's difficult to establish an objective ranking system for all universities," Stoutland wrote. "The Economist did a great job selecting key indicators."
The criteria for the study included: average SAT scores, sex ratio, race breakdown, college size, whether a university was public or private and the mix of subjects students chose to study. Exactly the way in which these elements are measured was not mentioned in the article. These factors were complemented by whether a college is affiliated with a specific religion, the wealth of its state and prevailing wages in its city, whether it has a ranked undergraduate business school, the percentage of its students who receive Federal Pell Grants and whether it is a liberal arts college. The two biggest contributing factors on the list are SAT scores and course of study, according to the article.
"Their regression models analyzed factors such as SAT scores, location and religious affiliation to produce an appropriate median income estimate for graduates of most major universities," Stoutland wrote. "Comparing these results to actual performance, Pepperdine greatly exceeded calculated expectations."
The study also noted that "to avoid penalizing universities that tend to attract students who are disinclined to pursue lucrative careers," the Economist took into account how many times a certain school has appeared on the Princeton Review's top-20 lists for political leftism and "reefer madness" in the past 15 years.
As noted by the researchers, the study has several inconsistencies. It only takes into account an individual's earnings for a 10-year span, starting at the beginning of their freshman year. It also only takes into account students who applied for some type of federal financial aid. And lastly, the study does not distinguish between those who choose not to work, during college and/or after graduation, from those who simply could not find a job.
One of the biggest surprises resulting from the study is that colleges like Harvard, Princeton and Yale are not listed at the very top. The highest rankings for median earnings goes to the schools who have notable pharmacology programs, including the Massachusetts, St. Louis and Albany Colleges of Pharmacy and the University of the Pacific in California. To put things in perspective, the first three schools mentioned are listed at earnings of $20,000 per year more than anyone else on the list, according to a separate article taken from the print edition of the Economist.
After becoming aware of the study, Stoutland and his colleagues examined the rankings of Pepperdine and some of the university's primary competitors.
"We are actually ranked third in [overperformance] amongst our key competitors, behind University of the Pacific and Georgetown," Stoutland wrote.
_____________
Follow Alec McPike on Twitter: @alecmcpike