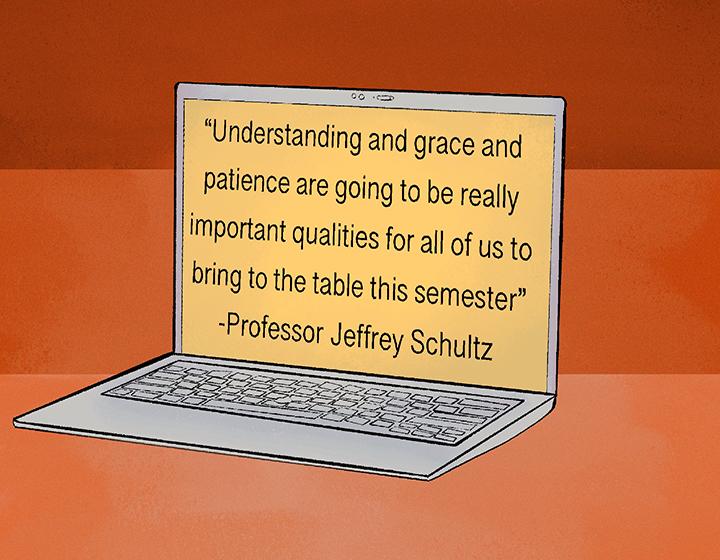 Art by Madeline Duvall
On July 22, Pepperdine announced that all courses for the fall 2020 semester will be delivered online. After previously planning for a partially in-person semester, predicted California ordinances finalized the decision to transition to remote learning. Student and faculty reactions were mixed.
"Zoom is different," Professor Jeffrey Schultz wrote in an email. "Community is harder to come by when so many layers of technology are between us."
Jeffrey Schultz wrote that his classes tend to be discussion-based and that the students usually lead the discussion.
"The rhythm and spontaneity of really great discussions require access to a lot of non-verbal cues that just don't come across in video-conferencing," Jeffrey Schultz wrote. "Zoom-based discussions have to be structured as Zoom-based discussions; the technology isn't transparent; it dictates how things are done."
Jeffrey Schultz wrote that in his 15 years of online teaching experience, he has consistently had more issues with academic dishonesty than in his in-person classes. He knows other professors who've experienced the same problem, but students shared different concerns.
First-year Jackson Murrieta said his main concern is building connections and fostering a strong sense of community, which he believes is now more daunting.
"The personal connections and classroom experience will be less impactful [in an] online learning [format]," junior Michael Kadlick said.
Kadlick said he plans to make a concerted effort to engage in the Zoom class sessions not only for better retention but also to help foster a sense of community. He said keeping in touch with friends could also help.
"Since I am a visual, interactive learner, online learning doesn't really do a great job," senior Sydney Schultz (no relation) said. "I lose the interaction, clues and sensory cues that I normally [would have], making it more difficult to [retain information]."
Sydney Schultz encountered numerous difficulties when the spring semester shifted online and expects similar results in the fall. She said she found online learning more challenging to engage with compared to in-person classes, which are held in an environment specifically designed for learning.
"I feel like I cannot just spend four hours studying as I could easily do at Pepperdine," Sydney Schultz said.
Sydney Schultz said she is concerned about her family interrupting her Zoom classes and study sessions. She fears she will be unable to dedicate herself to her studies as fully in remote learning due to familial obligations.
"Last semester seemed hard because nobody was prepared, but now both students and professors have had time to adjust, so time will tell [if we're better prepared]," Sydney Schultz said.
Sophomore Justus Johnson said he predicted that taking a heavy course load was going to be difficult online.
"Pepperdine has posted a lot that they've claimed to prepare us for the same rigor of courses on campus, but I just don't see [it]," Johnson said.
Jeffrey Schultz wrote that all the tutorials, workshops and classes faculty has access to helped prepare them for what is to come. There's been a free flow of information and communication in preparation for an online semester.
"I've had a number of discussions with people about course design and approaches to the online learning environment," Jeffrey Schultz wrote. "A lot of resources are available to faculty, both formally and informally."
Kadlick said that following the school's decision for an online semester, students should remain focused on their goals. Despite aspects of student lives that are out of their control, they should take note of what is in their control and do the best they can. Johnson agreed with this sentiment.
"I think the best thing we can do is pace ourselves and work with ourselves; just be patient," Johnson said.
Johnson said if someone knows they have a hard time getting up and going to class in-person, then taking a lighter course load would be a smart way to ensure a successful semester.
Murrieta said students should do their best to participate actively not only in class but also in extracurricular activities and clubs. He stressed the importance of connections with students and faculty alike.
Sydney Schultz said students should designate a specific place in their home as the "school zone." She knew she couldn't effectively do homework in her bed so having a separate study space made a difference in her success for the spring semester.
"I hope all of us, students and faculty, can bring a spirit of mutual aid to the semester," Jeffrey Schultz wrote. "We're all going to have to help each other out in order to create the sorts of environments where real learning can take place. Understanding and grace and patience are going to be really important qualities for all of us to bring to the table this semester."
___________________________________________
Follow the Graphic on Twitter: @PeppGraphic
Contact Christin Karr via email: christin.karr@pepperdine.edu