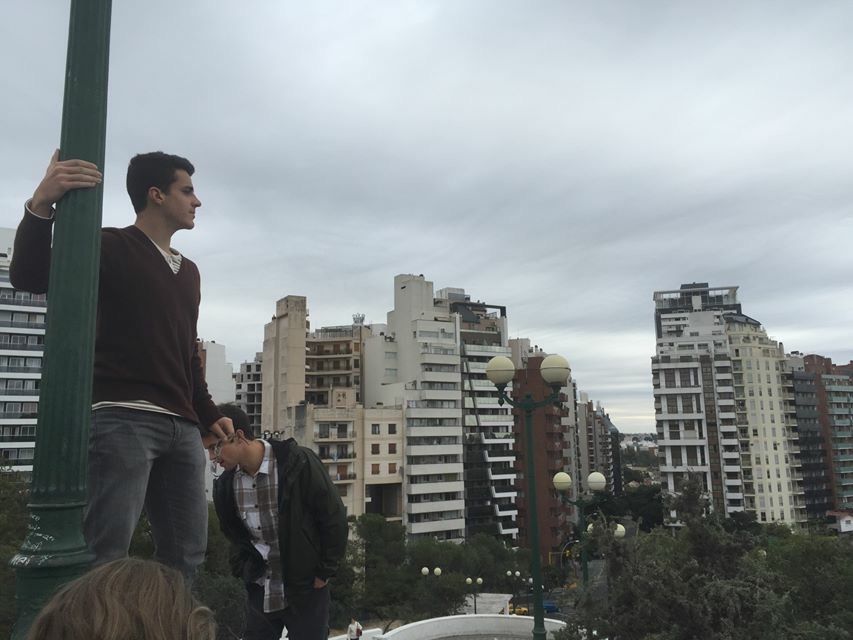 Photo courtesy of Anthony Wells
The Buenos Aires program proves Jewish culture can be found in even the most tropical of locations.
This past May and June, the Diane and Guilford Glazer Institute for Jewish Studies funded a month-long human rights program in Buenos Aires in collaboration with multiple parties. A group of 12 students spent the month living with Jewish families, visiting important Jewish sites in Argentina and participating in internships focused on helping others.
Buenos Aires was selected as the destination because of the large population of Jews in the country estimated at 197,000 to 250,000. According to the students who participated, they gained a greater level of awareness for Judaism.
"I think everyone in my program came back knowing much more about the world," said sophomore Jeremiah Anthony.
According to Anthony, his discovery of Jewish history began with his homestay family. Anthony stayed with a Jewish woman whose family escaped several events that would end up claiming millions of lives. These included the Holocaust, the rule of Augusto Pinochet and Argentina's Dirty War.
"She's had an interesting life," Anthony said.
According to the institute director, Ed Larson, there was student demand for a human rights program, something he observed as a professor for Pepperdine. Because one of the purposes of the Institute was to enhance undergraduate education, he searched for a way to begin a human rights program.
"Students seemed concerned about the issues of human rights," Larson said. "It's one of the great issues of the day of your generation and my generation."
Larson said he also noticed that Buenos Aires did not have a summer program. According to Larson, Buenos Aires was ideal for teaching human rights due to its history of human rights problems.
According to Drew Billings, the institute's program coordinator, Buenos Aires also had a history with Jewish immigrants, which fit with the intentions of the Institute.
"It seemed like a great place to start a program like this," Billings said.
Larson said that Pepperdine's Social Action and Justice program provided the internship opportunities. According to Billings, the institute convinced Jeff Banks, the director of the SAAJ program, to help gather many of the participating students.
"He said 'yes,' he was excited about [the program] and he helped us recruit a bunch of his students last year," Billings said.
Carlos Siderman, a long-time supporter of Pepperdine, funded the program as part of his support for general human rights, Larson said. According to Larson, Siderman's family faced persecution in Argentina for being Jewish, so he was personally aware of human rights violations.
The result of all of this collaboration was a program Billings promoted as an educational experience that would immerse students in Jewish culture and human rights education.
According to a survey done in the Buenos Aires Program Report, 50 percent of the participating students agreed they had become more respectful towards Jewish and Israeli people and more comfortable discussing faith and politics with Jewish people.
Anthony said he learned a lot about Jewish culture when he took a bus tour of Jewish sights. One of the stops in Argentina was the small Jewish town Moises Ville. Anthony said the town showcased its Jewish heritage. It had cinema that showed Jewish movies and a Jewish library. He even attended a Sabbath service there, he said.
Pepperdine junior Margaret Clipperton had a similar experience to Anthony's. She had a Jewish homestay family and visited Moises Ville. According to Clipperton, she even joined her homestay family's synagogue.
"I learned more about Jewish culture there than in the U.S.," Clipperton said.
Clipperton said she also partook in an internship that reinforced the human rights aspects of the program. Clipperton interned at Fleni Hospital, which diagnoses, treats and researches neurological diseases. According to Clipperton, what she learned from the internship will help her become a doctor.
Annie Sides, another Pepperdine sophomore, interned for The Innocence Project. The Innocence Project is an organization with the goal of preventing individuals from being falsely imprisoned. According to Sides, Argentina in particular has an issue with false imprisonment due to government corruption and many lawyers being inexperienced.
According to Billings, the Jewish diaspora, the mass migration of Jews to Argentina during World War II, was a human rights movement that fit the theme the institute had in mind for the program. Billings said that Larson and John Fishel, the director of the Glazer Foundation, discussed the program three years ago with a focus on Jewish diaspora locations.
"Argentina holds the highest concentration of Jews, at least in South America," Billings said, "and is full of a long, interesting, complex history of both cultural acceptance and antagonism."
This discussion would form the basis for the program, Billings said. He also said this discussion would slowly develop over the following two years into the current program.
"Drew Billings and Ed Larson were phenomenal in what they were integrating into the program and what they wanted us to learn," Clipperton said.
Sides said the program was overall very impactful and should continue. However, she also said the program rushed through much of the planned activities over the course of a month.
Larson said he was aware of the issues with the first program. Believing the internships were too short, he said they will now run two months during subsequent programs to make them more meaningful.
Despite the growing pains of the first human rights program, Larson said the program is off to a great start.
__________

Follow the Graphic on Twitter: @PeppGraphic