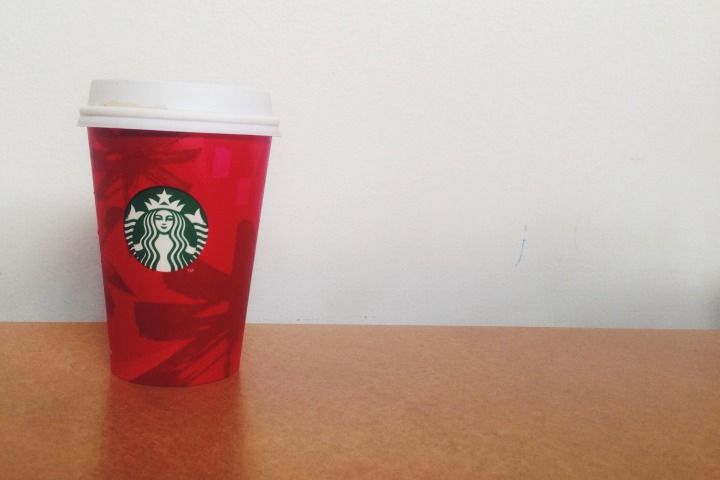 Photo by Annie Jeong
With the holiday season comes the return of the red cup. The red cup that you can shamelessly post on social media or even share with an employer – the trademark Starbucks holiday cup.
The holiday cup countdown began as early as October, with websites like countdowntoredcups.com keeping customers up to date on the Christmas drinks return.
One red cup fan and self-described Starbucks enthusiast, Allison Slattery, says she looks forward to the red cups annually.
"I think I'm more apt to buy a holiday beverage if I know it's coming in a holiday cup," Slattery said. "I'm more likely to purchase the 'Caramel Brulee Latte' for example, because it comes in a fun little cup."
Starbucks customer Ramine Ameli says even though he doesn't mark his calendar he still enjoys the holiday treat.
"It's just a pleasant surprise," he said. "I walked into Starbucks this morning and thought 'Oh the red cups are back.'"
With the return of the holiday cups also comes a more expansive holiday menu, including the much anticipated Gingerbread Latte, Peppermint Mocha and Eggnog Latte just to name a few. For the first time ever, Starbucks will be adding a Chestnut Praline Latte to the menu. Plus, classic holiday treats like the Cranberry Bliss Bar and Peppermint Cake Pop have returned to the menu.
The 'red cup reveal' first started in 1997 and has since become a celebrated tradition. This year's theme, 'Let there be bright," came from Starbuck's creative team member Stephanie Vandenack, according to a Starbucks news release.
Now that the red cups are finally here you can see them dotting city streets and shopping malls as the holidays approach.
The holiday cups hit stores Nov. 1 and will be available through January.
__________
Follow Shayla Girardin on Twitter: @Shaylagthatsme