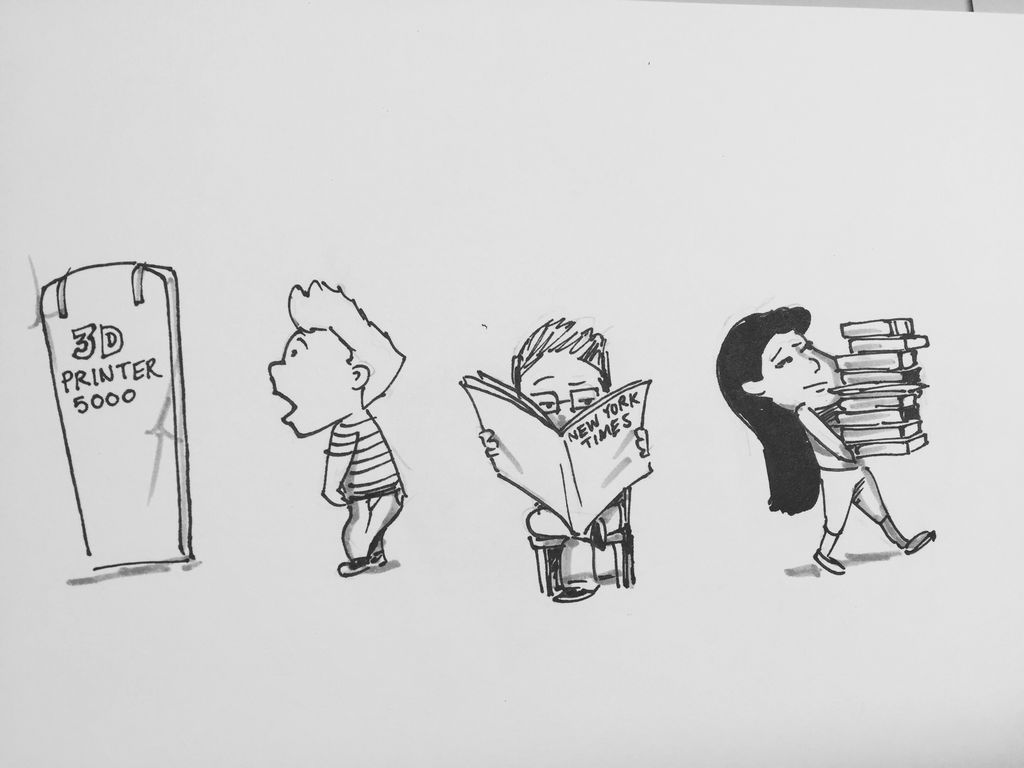 Art by Peau Porotesano
The ongoing construction of Payson Library has had an enormous impact on student life in the 2016-17 school year. Students no longer have immediate access to the thousands of books, DVDs and CDs they had in previous years, and for many, a primary place of study is gone. There are still pockets of quiet on campus, a designated library hub in the TAC and the off-campus Calabasas extension of the library, but even with these remedies, the library's absence has a palpable effect.
While it is impossible to completely make up for the resources and services from Payson Library that are currently unavailable, it is important for students to know about the free and discounted services Pepperdine continues to provide in its absence. Many of these don't receive wide publicity and as a result remain under-utilized by students. It's vital, especially this year, for students to take full advantage of the free resources at their disposal to get the most out of their tuition payments.
Payson's collection of physical books is currently inaccessible except through specific individual requests, but the Library's website contains an enormous amount of free digital content available to students at any time. Visiting the "Databases and E-Journals" tab on their website will bring up hundreds of scholarly and scientific journals. Separated by category, the content covers a range of subjects, such as Art History, Chemistry and Political Science, with academic resources provided for each. Almost all academic disciplines available at Seaver are represented, with additional cross-divisional resources available as well. All Pepperdine students are provided with free access to the research database JSTOR, for example.
A newer resource available through the Library website is Swank Digital Campus. The free service "allows students to legally view course-assigned films inside or outside the classroom for the purpose of research, teaching and private study," according to the Library News website's press release. Swank Digital Campus serves in many ways as a stand-in for Payson's collection of DVDs this year, while also introducing a more convenient way of streaming films. Swank films range from the classic "All the President's Men" to the more recent "Hunger Games."
Although we appreciate our die-hards who look only to the Graphic for perspectives and news reporting, The New York Times is also a great resource for national and international news coverage. As of this year, thanks to the SGA, a subscription to The New York Times online is provided by Pepperdine. All you need to do is create an account using your Pepperdine email. (Pro-tip: when you create your account, use your studentusername@pepperdine.edu and not your regular email account.)
If you are looking for something to add a bit of a surprising edge to a project or learning assignment, you're in luck. It's not a well-known fact, but Pepperdine actually has a 3-D printer. The actual use of the machine costs more than the standard 7 cents per sheet, as you can imagine, but, students are given 15 percent off. The price is determined by the print desired. You can upload a design and Pepperdine will print it.
Though Pepperdine doesn't provide programs like Microsoft Office for free, being a student does give you a worthwhile discount. Microsoft, Apple, Best Buy and more all give discounts to university students. Amazon Prime is as low as 39 dollars per year if you sign up using a ".edu" email.
Pepperdine may have its quirks, but it really does a good job of providing resources to its community even while its primary place of study, Payson, is inaccessible. These resources should not be taken for granted, but instead, should be used to better the students' learning experience.
___________________
Follow the Pepperdine Graphic on Twitter: @PeppGraphic