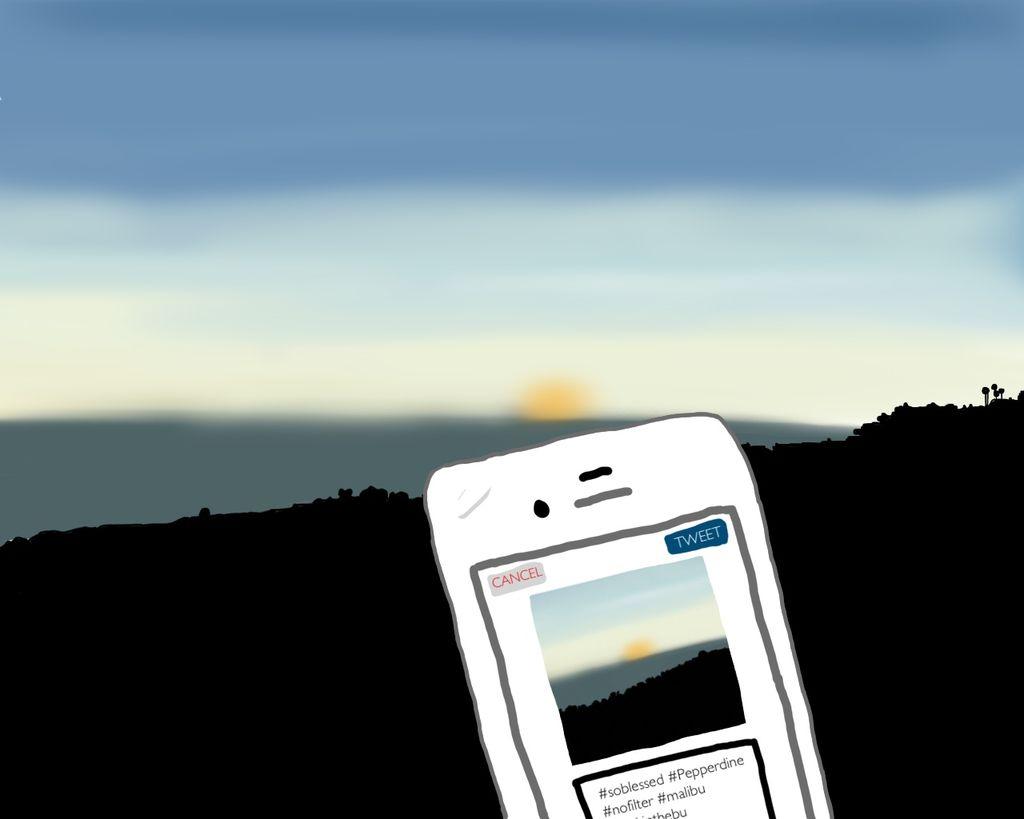 Art by Brooke Muschott
Rewind to 1, 2, 3, 4 or even 5 years ago when you were sitting in front of a computer screen on a Saturday night, one desk lamp illuminating the corner of your room. You were writing your college apps. You were applying to Pepperdine.
You were writing your typical supplement essays, and Pepperdine asked you what you would bring to the diversity in a college community — what made you so special in the first place to grant you admission? Try and remember what you wrote.
Maybe you came to college in Malibu with the intention of starting a clean slate. Or perhaps you wanted to stay close to home to maintain a sense of identity. Or maybe that identity was waiting to form once you got here. That was probably it.
Fast-forward to the present. You've Instagrammed the sunsets, the textbook at the beach, the acai bowl. You've taken the pre-formal pictures at the Malibu Pier. You got that Longchamp tote you've seen all around campus. You've done everything you thought you were supposed to do.
You've humblebragged on Facebook about our "Zoey 101" campus or which celebrity was just at the Country Mart. The social media humblebrag has at this point moved away from irony and self-deprecation and become increasingly eye-rolling. Posts or tweets about "accidentally running into *insert B-list celebrity* at Starbs" or the weather or the ocean or the *insert cliche* only feed the annoying stereotypes of a Pepperdine student. It has us wondering: if you didn't Instagram or Tweet it, did it really happen?
Californians and out-of-staters alike are equally culpable for perpetuating the Pepperdine or Malibu stereotypes. No, students don't ride their surfboards into class. Nor do most of them do their homework at the beach next to Leo. But these posts and tweets and hashtags (Oh, my!) might have people outside the DPS gates believing otherwise. It's high time that we associate Pepperdine with loftier endeavors and different representations. The recent Waves of Innovation round of presentations is a prime example of how we can promote this.
If you subscribe to the idea that social media is just a synonym for advertising, or self-advertising, then you can continue treating your followers like fans, not friends. But if you idealize social media and use it for emotional, artistic, intellectual reasons, then lose the humblebrag and break the cycle of banality. Create something new and share it.
The Graphic is often guilty of printing such cliches when we show Instagrams-of-the-week and tweets "overheard." It makes sense to promote Pepperdine students in a newspaper made for and by Pepperdine students. But any writer will extol the virtues of banishing cliche phrases and idioms. The Graphic newsroom has a "word jail" fixed to the whiteboard, locking up horrible offenders like "#soblessed" and "Malibubble." What once were pithy hashtags have become overused and lost their meaning. We recognize the cliches and every week try to explain the elusive Pepperdine culture in new words, images and media.
A new semester brings a new opportunity for monotony, and monotony breeds cliche. At the risk of sounding like a Jack Kerouac diatribe against conformity, we encourage an occasional indulgence in the beautiful cliches of Pepperdine (like that sunset pic). If you're not quite ready for a sudden switch in social media persona, and you must humblebrag, please do so in moderation.
But like the application essay prompt challenged you to explore, we also challenge you to coin new hashtags and to champion and display your individuality. For the most of us, Malibu won't and shouldn't define our new identities.
Pepperdine, Malibu, Los Angeles and California are your canvases for social media, not the other way around.
If the quarter-life crisis has taught us anything it's that maybe college isn't where your identity has to take shape. Maybe it's still part of the journey. Or maybe it's not ­— everyone's different. Let's try to keep it that way.
_____________________________________________________________________________
Follow the Graphic on Twitter: @PeppGraphic