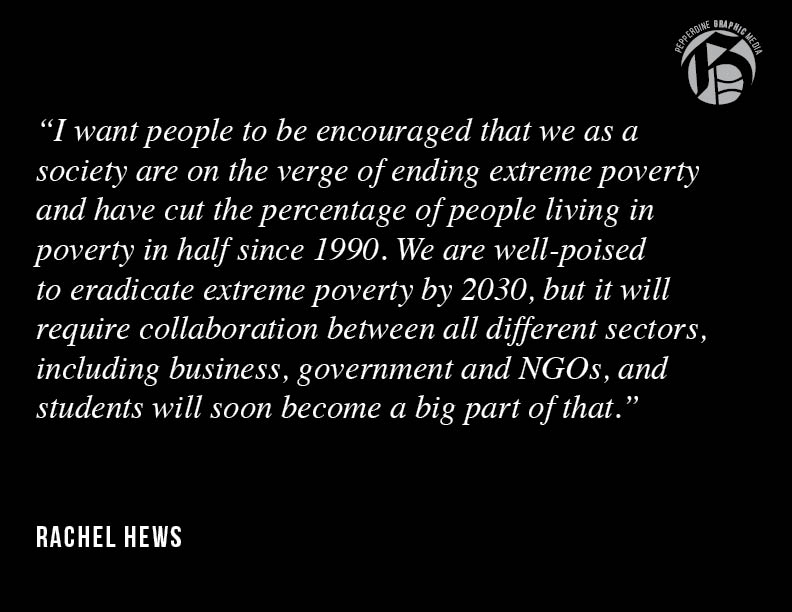 Graphic by Nate Barton
The Poverty Awareness Campaign began with a documentary screening of "Poverty, Inc." followed by a student and faculty panel Nov. 2.
Senior Rachel Hews, founder of the Poverty Awareness Campaign, shared how the idea of this campaign began and the goals she hopes to reach.
"My ultimate goal is to see people utilize that information to become social change makers and impact their sphere of influence, which will lead to better development collaboration in the future," Hews said.
Hews interned at the World Bank where her team prepared an annual awareness campaign on the International Day to end poverty. The goal was to end extreme poverty by 2030 through corporations adopting social corporate responsibility and leveraging their contacts, Hews said.
Though the company the World Bank did not talk about the future generation that will carry on their goal, Hews said the impact college students could make by raising awareness and contributing to the larger picture.
"I want people to be encouraged that we as a society are on the verge of ending extreme poverty and have cut the percentage of people living in poverty in half since 1990," Hews said. "We are well-poised to eradicate extreme poverty by 2030, but it will require collaboration between all different sectors, including business, government and NGOs, and students will soon become a big part of that."
Hews said college students can collectively use social media to keep the government responsible. World Bank has their own team that keeps track of hashtags, using them to influence policy.
While participating in both the East Africa and Argentina program through Pepperdine, Hews said she witnessed the extent of socioeconomic inequalities and injustice present and how they are inadequately addressed.
During Hews' trip to Uganda, she said she witnessed villages that were not willing to repair broken wells and corrupt governments that gave more money to parents who signed their children off as orphans.
Becoming more aware of the poverty evident in the world around us, Hews said she developed a goal to begin a conversation on poverty, getting people to think critically about poverty. Hews said she wants to guide people to learn how to use their own talents and abilities to contribute to ending poverty.
Hews plans on pursuing this goal with an awareness campaign led by Waves Effect and supported by Student Government Assocation. The campaign has a Facebook page called "Poverty Redefined" that has updates about events. The awareness campaign is partnering with existing groups on campus such as Pepperdine Volunteer Center and University Ministry working towards similar goals.
"I hope to direct people to those groups so they can further explore their personal role in a life of purpose, service, and leadership," Hews said.
Freshman Bethany Wilson sponsors two children in Nicaragua and Dominican Republic, supporting the child's education and health. With an awareness of how big poverty is, Wilson said she believes it will take much more than band-aid solutions to fix.
"I think it's good to encourage students to do what they can to end poverty but this plan seems oversimplified and it will not solve a problem as complex as poverty in 14 years," Wilson said.
Junior Lucile Man showed interest in this campaign and said she would like to be a part of the fight against poverty.
"Too often university students will view themselves as too financially unstable or too busy to contribute to the campaign to end world poverty," Man said. "In reality, however, there are plenty of steps to take that don't require the average student to take on as much responsibility as they might think."
Earlier in the semester, Pepperdine students were encouraged to join an international movement of #endpoverty on Oct. 17, keeping the government on their adopted policies to end poverty and reduce inequality.
The co-producer of Poverty, Inc. Mark Weber has agreed to come speak at Pepperdine. Hews and her committee are looking for a donor to bring Weber to Pepperdine next semester.
__________
Follow the Graphic on Twitter: @PeppGraphic