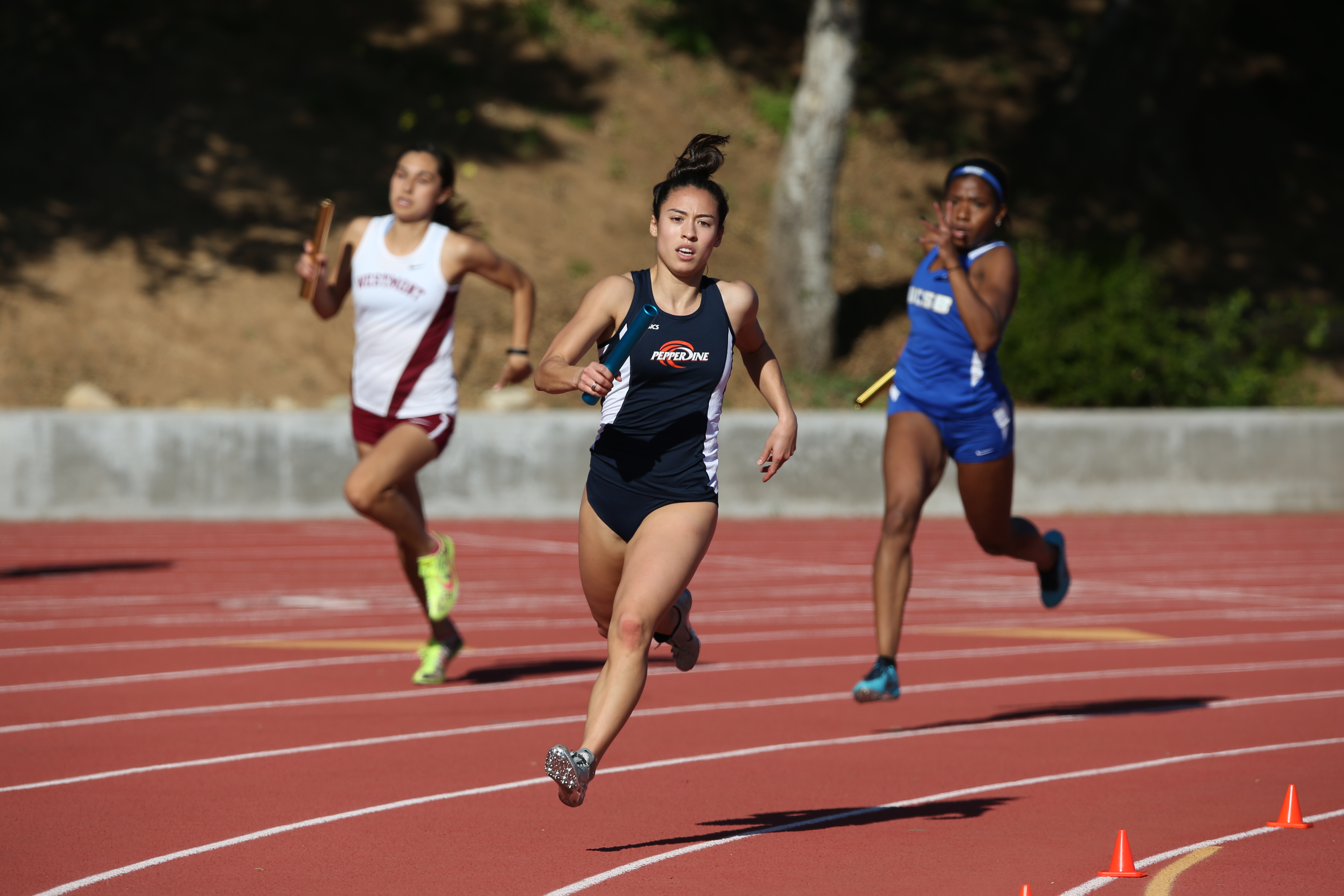 Photos Courtesy of Jeff Golden
One look at the Pepperdine Track record book and Izzy Connell becomes a familiar name. The senior from San Jose has made her mark on the program as a star sprinter in just two seasons and heads into her third and final with high expectations.
Connell started off her indoor season strong at NAU, but was unable to compete at her final meet and University of Washington due to sickness. Despite not being able to compete, she enjoyed getting to support her team in another way.
"It was really cool to watch people and cheer for them," Connell said, "I was really proud of our team because, considering we were competing with some of the best people in the country, we were keeping up with them. Some people were beating them."
During the indoor season, which only consisted of these two meets, Connell broke two records. She broke her own school record in the 60 meters, running 7.72, and broke the record in the 400, running 56.59, finishing her indoor career with the record in the 4×400, 60, 200 and 400.
"I'm definitely not focusing on the records, just focusing on trying to better my times and better my form," Connell says, "Track is a lot of mental over physical, so I just try to stay positive when it gets tough."
Although the records aren't her focus, she's reached a point where running a best time is also breaking her own school record. She recently did this in her final indoor meet.
"My NAU meet went really well," Connell said, "In the 60, I ran faster than I ever have before which was awesome. My main focus was the 400 because they were trying to get some endurance out of me. That was a time I was really proud of because I have never ever run that fast and it was in elevation and indoor is actually a lot slower than outdoor because the curves are really tight so that was really exciting."
She was especially excited about the 4×400, which she competed on with Freshman Talya Holenstein, Senior Gabrielle Ellis and Senior Kendall Dunn.
"You're just putting in the work because you want to make your team proud," Connell said.
Listening to Connell speak about her team, it's evident that they make her proud as well.
"This group of girls, we just click so well," Connell said, "I love my entire team, I look forward to going to practice everyday because this group of girls is just so positive, they work so hard. If anyone has had a down day or if the workout is really challenging, there is always somebody in the crowd who steps up and gets everyone back into the mentality of we can do this."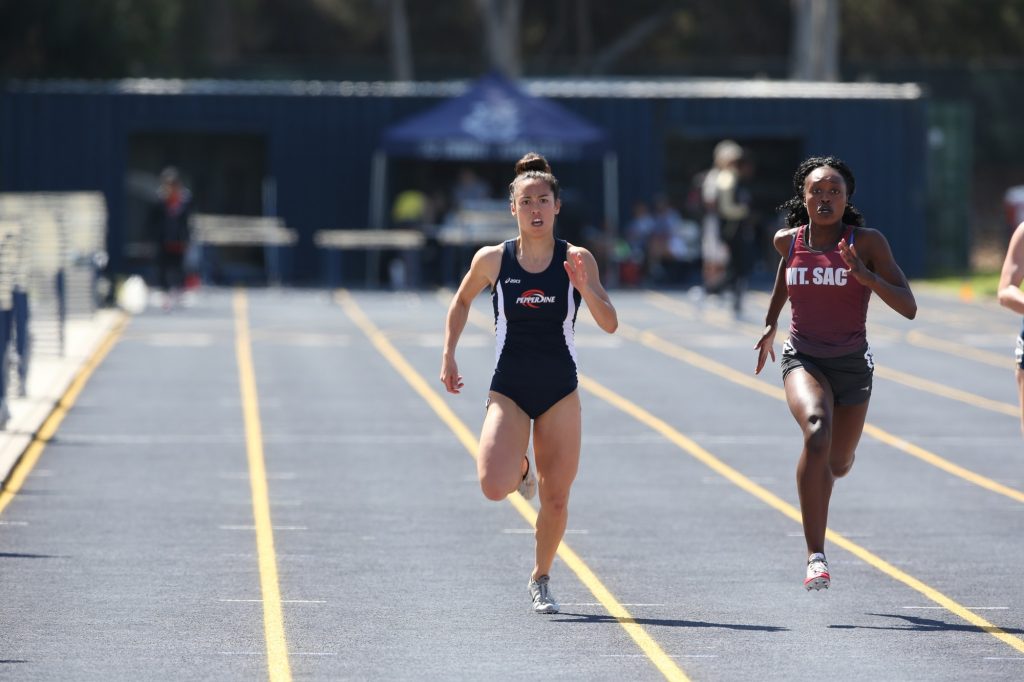 Ellis, her teammate and also a senior sprinter, says that Connell brings this same attitude to the team herself.
"I couldn't have asked for a better training partner and friend," Ellis said, "She truly is dedicated to the sport and putting in the time and effort to get better everyday. She pushes me to challenge myself and is always encouraging on and off the track. Not to mention she is also an excellent student. The prime example of what you would want in a student, an athlete, and a friend."
Sophomore Carie Barilla commented on Connell's leadership abilities, as well.
"Izzy is the fastest on the team so a lot of us look up to her for advice on how to perform both at practice and track meets. She is an admirable leader that cares for her teammates and expects nothing but the best from everyone."
As a senior, Connell has competed as a Wave for just two outdoor seasons prior to this spring, as she chose to spend her sophomore year abroad in Florence, Italy. In 2015, she broke the school record in the 100, 200, 400 and 4×400 relay. This year, she plans to accomplish even more, and speaks openly about her goals.
"For the 100 I want to break 12 seconds," Connell said, "For the 200 I want to break 24 seconds and for the 400 I want to run a 53 or a 54. For the 4×100, we really really want to break the record. We've been trying to break this record for four years and this year is the year, we are going to break it. For the 4×400, we have some really strong girls in the 400 and I think we're going to break that record as well."
Ellis, also a member of the 4×100 relay, echoed this sentiment.
"We have been trying to break the 4×100 relay school record for years now. My biggest hope is that we can do so during this final season. It'll be so special for us to walk away with that accomplishment together."
When asked how she feels about finishing her track career, Connell has mixed emotions.
"This is going to be my last season ever so that's definitely bittersweet," Connell said, "I'm really excited to see how all the hard work translates on the track. I'm definitely a little sad because this is it for my college career."
Connell's said her expectations for her team are just as high as her own, but she speaks confidently of what the team can handle.
"The indoor season definitely showed how strong our team is going to be in the outdoor season," Connell said, "We have a large freshman class and these girls have put in so much time and effort. I'm really excited for the season because our girls are stronger than they ever have been and we're gonna kill it."
The Waves start outdoor season on Feb. 18 against Westmont and Santa Barbara.
____________________________
Follow Erin Himes on Twitter: @enhimes