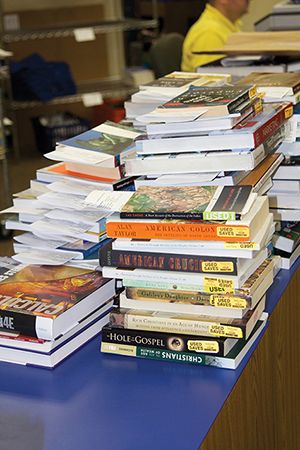 Photo by Sylvia Hartley
Avoid hefty markups on textbooks through alternatives to the bookstore
Buying textbooks doesn't have to bust your pockets open or max out your credit card. Learn how to get what you need affordably.
Amazon — Used books on Amazon can be vastly cheaper than their bookstore counterparts. Some run as low as $10, and digital rentals through the Kindle store are sometimes the cheapest option. Be sure to sign up for Amazon Student, which as a bonus provides free Amazon Prime shipping.
Chegg — Chegg is perhaps the most obvious online rental source. Prices are comparable to Amazon rentals, and they provide the box and instructions for easy returns. You can also purchase books, but they are best known for their rental service.
Half.com — Known for its easy returns and accessibility, Half.com provides some of the cheapest textbooks available with stellar customer service. It is a product of eBay, and sometimes includes deals as low as $1.
Cheaptextbooks.com — Like the hotel and airline sites Kayak or Expedia, cheaptextbooks.com compares prices of books from across the web in search for the best and cheapest options.
The manufacturer —Textbook manufacturers like Cengage also rent their texts. Sometimes they are cheaper than Amazon or Chegg, so always check their prices. You can of course buy new books from them and sometimes used as well.
Buy or rent with a classmate — If you like to study with classmates why not purchase the textbook together and split the cost? It will save you both money. Also check the class Facebook pages for postings, but remember that asking outright for textbooks makes the page cluttered and congested. In addition, there is a page called Textbook Exchange for that very purpose. Simply type in the search bar to see what is available.
Even if you rent a text you can write in it and highlight in it just as if you owned the book and were planning on selling it back used. Just don't damage the book (water damage, missing pages) or you'll be charged the full price for it.
If you know you'll need a particular class in the very near future (not too far otherwise the edition of the textbook may become outdated), find students in the class who are willing to sell their book to you before they sell it on buyback to the bookstore.
__________
Follow Nate Barton on Twitter: @TheNateBarton