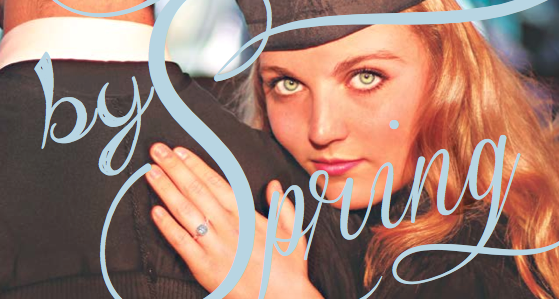 Most Pepperdine freshmen hear the phrase "ring by spring" casually mentioned in passing during their first few weeks on campus among a host of other uniquely Pepperdine terminology, such as "DTR-ing" and "so blessed." As students approach their junior and senior years, however, it seems that more and more of their peers are seriously dating or engaged — and ring by spring starts to become a reality.
This phenomenon of ring by spring is not mutually exclusive to Pepperdine. Many other small, Christian colleges experience the same spike in seriously dating and engaged couples during students' last two years of attendance. With this very real phenomenon occurring on campus, Relationship IQ is a program at Pepperdine's Boone Center for the Family that aims to provide students with the skills, attitudes and character to foster healthy and successful relationships, as stated on their website.
Hannah Parmelee, Relationship IQ's program director, remarks on the rate of Pepperdine students getting married before or right after graduation. "I actually think it is less common than at some other places," Parmelee said. "It's a lot less common at Pepperdine than some other smaller liberal arts Christian schools. It is also a lot less common today than it previously was in Pepperdine's history."
The rate of early engagement or marriage at Pepperdine does seem to be higher than at secular or state universities, according to Parmelee. "I think compared to state schools, there is a higher rate of students who meet, date and marry their spouse while at Pepperdine, or meet and get married while at Pepperdine," Parmelee said. Pepperdine's religious affiliation is seen as a factor in the ring by spring trend. According to experts such as Parmalee, the strong Christian community and the values associated with it, to an extent, influence the students who tend to get engaged or married while at Pepperdine or right after graduation.
David Christy (MMFT), a licensed marriage and family therapist at the Pepperdine Student Counseling Center, expressed that the correlation might not be direct, but that religion is definitely a factor. "Of course not all students here are religiously affiliated, and not all the religiously affiliated students need to get married before they graduate," Christy said. "But I do notice that there is a pretty strong correlation in many private schools [with a] degree of religiosity and earlier age of getting married."
The Pepperdine community include "values, education level, family background, ambitions in life [and] intelligence level, which make up a lot of compatibility factors that match up well with fellow students at Pepperdine," Parmelee said.
Whether or not the ring by spring myth has validity at Pepperdine, few contest that it raises a degree of controversy among undergraduates and sheds lights on the spectrum of views on marriage in the community. The ring-by-spring phenomenon is not explicitly encouraged throughout the Pepperdine community as a whole, but rather among individuals and small groups.
"I think that there are the students who are very relationship-focused and feel that that is kind of a natural course of events to date exclusively and get engaged and get married," Christy said. "And then, on the other hand, there are students who are more open-ended in their relationships who may date for a long time or may live together with no intention of getting married or may just kind of put that off for a lot longer."
Emily Schad
Junior | Engaged
Jason Hong
Junior | Engaged
Mahla Hoffleck
Senior | Married
Why did you decide to get married/engaged during college?
E: Reuben and I wanted to start a new chapter of our lives as a unified team. We are looking forward to seeing how God wants to use us in this unique position in this community.
J: I met someone who I really loved and didn't want to wait to get married. I also felt like I was mature enough and financially stable enough to get mar- ried even though I was in college.
M: We just knew we were right for each other. As cliche as that may sound, we "just knew." We had no reason to wait, so for us we decided we would rather get started with life as husband and wife and begin doing life.
Do you believe you were encouraged to get engaged by Pepperdine's faith community?
E: There were several people in our church family who were very encour- aging of our relationship and hoped we would get married, but they didn't have a time frame in mind.
J: It had nothing to do with my deci- sion because I live off campus and do not feel the pressure of Pepperdine's faith community. Also, I am a transfer student, so I never had the on-campus presence.
Do you believe Pepperdine has a ring by spring presence, and what does it mean to you?
E: No, I don't really think that Pep- perdine has a "ring by spring" culture. Most of my friends are not in this stage of life right now.
Why do you think so many couples get engaged during their time at Pepperdine?
E: I think that Pepperdine students get engaged because they love each other and want to begin their lives together.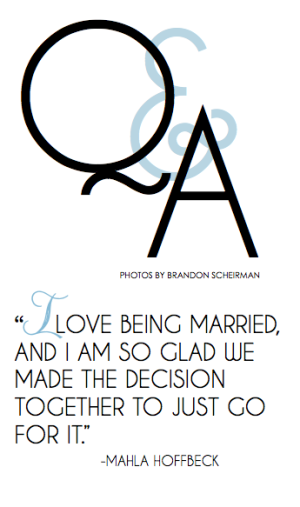 How did your faith play a role in your decision to get engaged?
E: We prayed about getting married and when to get married A LOT. We felt that we were ready for this next step and are excited to see what God has in store for us.
J: My faith did not really play a role in my decision because my choice was based on my wanting to be with my fiance forever and not really on religious pressure.
M: We knew we were going to marry each other, but we also wanted to honor God by entering into a marriage covenant together.
How did your family react to your engagement/marriage?
E: They were really excited for us. They kind of knew it was coming, especially since Reuben called my dad to ask permission before he proposed.
J: My family was very supportive. They threw us a big engagement din- ner with friends and family. They also helped us with our wedding monetarily.
M: Both of our families were and have been very supportive — in and through our engagement as well as our marriage.
How did your friends react?
E: Our friends were also excited and happy for us. Half the people replied to our good news with "you're getting married this summer, right?" and the other half with "so you're waiting to get married until you graduate, right?"
J: My friends were surprised. They thought I would never get married. They were also very supportive.
M: Mostly my friends were very supportive, excited for me and encouraging. Sometimes it was difficult for my friends to understand why I would want to get married so young, and it was often hard for them to relate to me, especially if they were single and far from where I was at in my life.
What has been challenging about being an engaged/married student?
E: Trying to plan a wedding amidst school and work.
M: One of the most difficult things for me is and has been finding balance between school, work and home. It's the daily wear and tear of busyness and working to find balance between everything that I have found most difficult.
Is there anything you wish you had done differently?
E: No.
M: In regards to getting engaged and married in college, not at all. Does that mean it's been easy? Not at all. It's actually been very hard at times, but I know I am stronger and have grown tremendously.
Is there anything you wish you had done differently?
E: We were ready to begin our lives together as a team that would be fulfilling for us while honoring God.
J: Marriage was the right choice for me, because I feel like I found the right person who I wanted to spend the rest of my life with and didn't want to wait. It also was a sign of commitment to my fiance, and she knows that I will always be here for her. I also feel the same way about her.
M: I love being married, and I am so glad we made the decision together to just go for it. I am confident that marriage was the right decision for Lane and I because I've seen beautiful and amazing parts of our lives bloom that would have never blossomed for years, if ever, had we not gotten married. It was the right decision because I felt it in my heart, a confidence that can only come from God and the direction of the Holy Spirit.