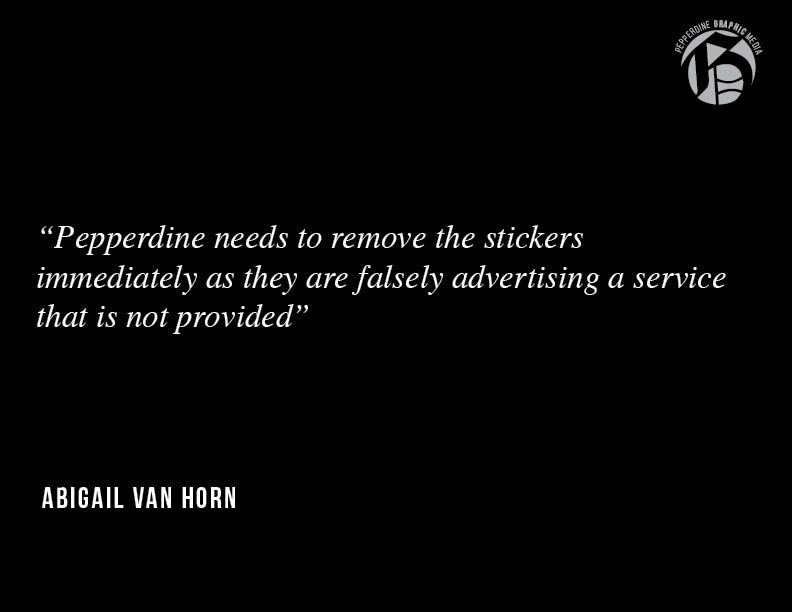 Graphic by Nate Barton
This year, unlike those previous, Pepperdine made the announcement that they would no longer be sorting the recycling but will instead be relying on the good-will of campus members to put the recyclable materials in their own respective bin. However, they have not removed the labels from any of the outdoor trash cans that advertise they still sort recycling. Pepperdine's trash cans are falsely promising a service that, while they did use in years past, they haven't provided all year.
The announcement on the Pepperdine Recycling page reads "In August 2016, Pepperdine transitioned to a new waste and recycling system on the Malibu campus. Since 2000 we have utilized a recycling program where all materials are disposed of in one bin and sorted and separated off-site. Our vendor is no longer willing to service the Malibu region, so we are moving to a new vendor and a new type of recycling program."
The Graphic took the switch as an opportunity to issue a staff editorial calling for the Pepperdine community to practice responsibility in an earlier edition this year titled "Pepperdine can't teach responsibility." After all, Pepperdine can't coddle us forever.
That's all fine and well. A person should have the knowledge and ability to self-recycle by the time they reach higher education as it is relatively easy.
However, there is a concerning problem. Pepperdine still has stickers on its trash receptacles throughout campus advertising that Pepperdine does, indeed, sort its waste for you.
Emily Heard, coordinator for Sustainability on campus, confirmed via email her awareness that the stickers are still on the trash cans, and assured me that she was aware the stickers were no longer correct and that Pepperdine is considering removing them. She also informed me via email that "there is some level of sorting that happens when the materials deposited in the bins are largely recyclable. They get treated at a recycling processing facility. This is a model used by many cities." So, the bins are sorted by the city only when some critical mass of the materials in them is recyclable and not all of the time.
Pepperdine needs to remove the stickers immediately as they are falsely advertising a service that is not provided.
________________________
Follow Abigail on twitter: @profvanhorn