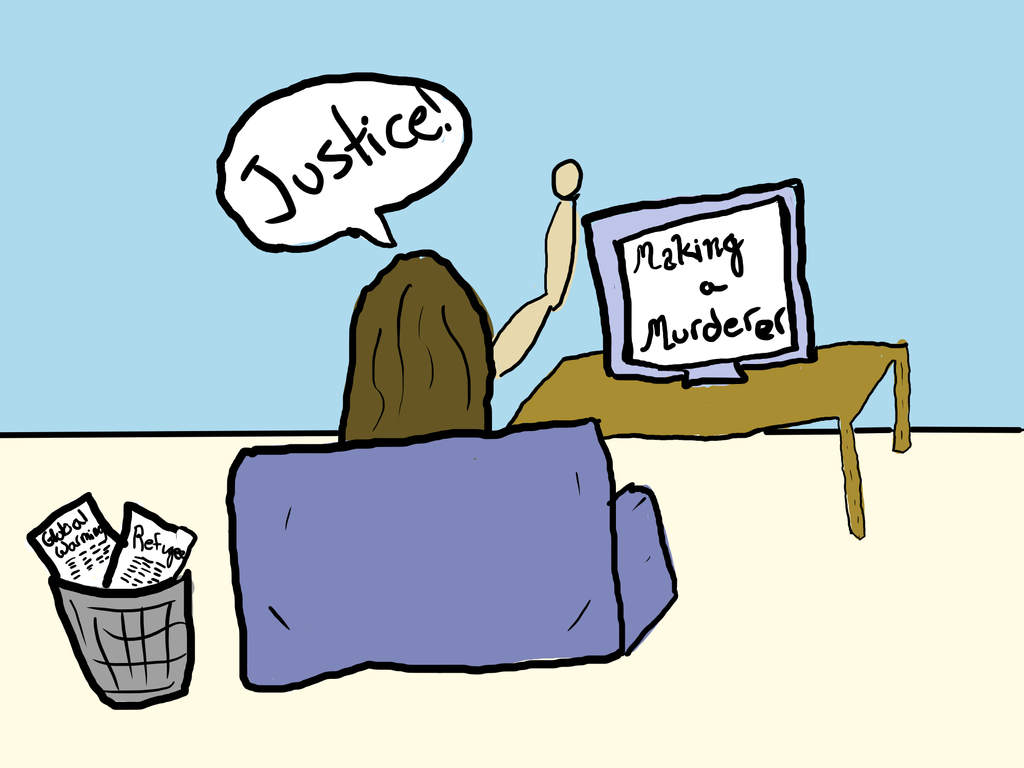 Art by Brooke Muschott
If you've been on the Internet in the past year, you've noticed the hype around true-crime stories like those featured on "Serial" and "Making a Murderer." Season one of "Serial" was downloaded more than 100 million times, according to the New York Times Nov. 2, 2015 article "Pandora to Stream 'Serial' Podcast", and "Making a Murderer" has quickly risen to the top tier of Netflix's programming. People have become personally involved with the cases of Adnan Syed and Steven Avery, and as such, the otherwise stagnant cases are being given new life. The extreme popularity of "Serial," for instance, helped secure a new hearing for Syed ("Adnan Syed, Subject of 'Serial' Podcast, Gets Hearing on New Evidence," Nov. 7, 2015, NPR).
Ordinary citizens are becoming increasingly aware of just how badly the law can harm innocent people. Audiences feel a moral obligation to right the wrongs that have been committed, and the reconsideration of these cases is a result of vocal indignation.
However, not every wrongfully accused felon has been able to capture the interest of an NPR journalist or a team of filmmakers. Avery and Syed both had complex, compelling narratives that made them marketable to the public. Most criminal cases lack that excitement, and therefore lack media coverage.
But we can't ignore the boring stories. Many cases of misapplied justice are never corrected, either because the accused lacks the resources to prove his or her innocence or because the courts and police are unwilling to assist. We can't just wait for these stories to be publicized before we get involved.
We as a country need to acknowledge the problems in our criminal justice system. The United States houses a quarter of the world's prisoners, and the Innocence Project estimates that between 2.3 and 5 percent of them are innocent. Blacks are incarcerated at six times the rate of whites, according to the NAACP, and routinely receive harsher sentences for the same crimes. Anything from police incompetence to racism has the potential to put an innocent person in prison, and many people can't afford good enough lawyers to protect them.
We also need to prompt action. The individual voice has more power than ever before. Even if Pepperdine students can't personally change a law, they have almost unbridled access to those who can. They can call attention to injustice through Facebook and Twitter, and they can unite with others to put pressure on lawmakers through petitions and awareness campaigns. Anyone has the power to incite change. It happened with Avery and Syed. Now it needs to happen with everyone else.
_____
Follow Jessica Kerner on Twitter: @The_Kernster