The lights were on, the ice sculptures were melting, students were excited and films were ready to be screened. Reelstories Film Festival No. 9 came back and with it some student films that brought the student body together on the night of Friday Feb. 2.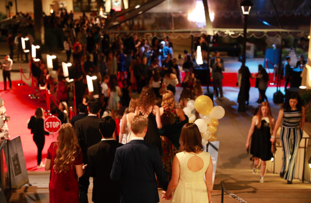 Like every year, the festival was held in Mullin Town Square, and the films screened in Elkins Auditorium and Smothers Theatre. The winner of Best Overall Picture was "Courage" by Senior Mallory Erwin.
"I can't feel my arms," Erwin said. "Or legs, my head is buzzing, I can't think very straight. But I'm just so glad that a story I told that mattered to me and the people I worked with could matter for so many."
Erwin also won Best Director, Best Original Screenplay and Best Editing. She said if there's one thing she learned from RSFF9 it is never to be discouraged and always keep submitting new material.
"I submitted last year as well, and my film didn't win anything at all," Erwin said. "So it just goes to show you that you just have to persist and keep putting your material out there, and someday someone's going to think that it's really good."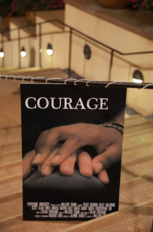 Other award-winners were Best Cinematography to "The Wounded Healer" directed by Sophomore Gabrielle Norte, Best Original Score to "Premonition," directed by Senior Jazmine Burkett, and the Audience Choice award to "Mi Soledad," directed by Senior Moises Barba Jr.
Norte, who grew up on a small reservation just like the characters in her film, said winning Best Cinematography for "The Wounded Healer" felt amazing.
"I really have a love for the camera so this award means a lot," Norte said. "I found the process of filming "The Wounded Healer" to really teach me a lot about the choices that I make as a cinematographer and how it tells the story that I need to tell."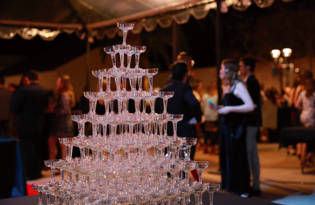 Burkett said the creative process was a very long road full of ups and downs, and her inspiration was spending a lot of time reading the script.
"As soon as I read it I had this mental image," Burkett said of her Best Original Score-winning "Premonition." "And then my team was amazing and helped me get these locations and these actors that were amazing. So it was a really fun process but definitely a lot of work."
Burkett said she thinks aspiring filmmakers shouldn't be afraid to put their work out there.
"Just keep creating," Burkett said. "If you don't start then you're never going to get anywhere."
After winning Audience Choice for "Mi Soledad," Barba said he was happy to have the privilege to be in the company of his family and said his main intention with the film was to paint an honest and straightforward picture of his grandmother.
"I think it's very easy to overlook the very simple necessities," Barba said. "My grandmother was a woman who was able to use the very basics of life and build a life out of that and strive."
Barba also said his film made him reconsider what it meant to be an American and said he wanted to give all the honor to his "abuelita."
"It made me reconsider what I thought it meant to be in this country," Barba said. "Standing here today, being able to go to this school where food's not a problem for me and to even conceive of food being a problem isn't a reality to me."
Student attendees said they were very entertained by the films this year.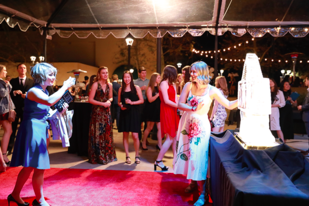 "I thought the films were outstanding," junior Film major Madison Coffey said. "I absolutely loved them. They were so cool; so fun. There was a lot of representation from everybody, all kinds of people, and I think it's super important to be very inclusive in different ways of storytelling."
Coffey said "Mi Soledad" was her favorite film this year.
"The cinematography and the editing were super on point, super nice," Coffey said. "And I liked the infusion of a very naturalistic documentary — I love history a lot so that was just cool to see — and it tied into family so it was very personal. Loved it."
Junior Monica Pereda agreed the films were entertaining.
"Honestly I thought [RSSF9] was really cool," Pereda said. "I think people who created these films … I'm kind of jealous of just because I can't do that. I wish I was in one just because it would be cool to say I was. I think everyone that did one should be proud because they're all really good."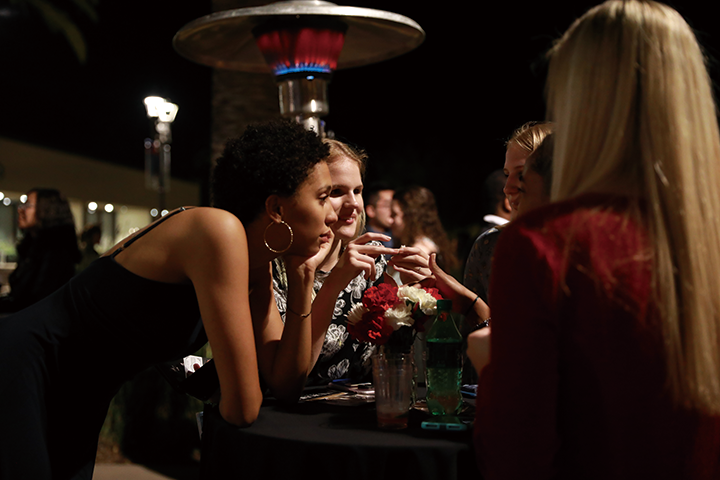 Other featured films were "Why I'm Still Single," directed by junior Shyann Ford, "Memories," directed by senior Lauren Young, and "And To Be Able To Be A Human Being," by senior Jason Garofolo.
"For inspiration, a lot of it was my own life and other girls' experiences," Ford said about "Why I'm Still Single." "And I just wanted to make a film that kind of embraced being awkward and was just honest, which is a thing that I think is pretty rare with our generation right now."
Young said her relationship with her grandmother was her main inspiration for
"Memories," and that it was really fun working with her family.
"I'm very close with my nana," Young said. "We have a lot in common, and she has given me some of her old film cameras and her dad's film cameras. So it was kind of a story that showed the relationship between two family members and how they can bond over something that they both enjoyed."
Garofolo said he and his team worked on "And To Be Able To Be A Human Being" very last minute, and they were happy with the end result. He said he wanted to show the parallels between the stresses the college student in his film goes through and those of the students watching the film. Garofolo also said he wanted to encourage students to keep creating content.
"If it's something that you feel passionate about or compelled to say, then someone will like it," Garofolo said. "So just stay true."
___________
Follow the Pepperdine Graphic on Twitter: @peppgraphic