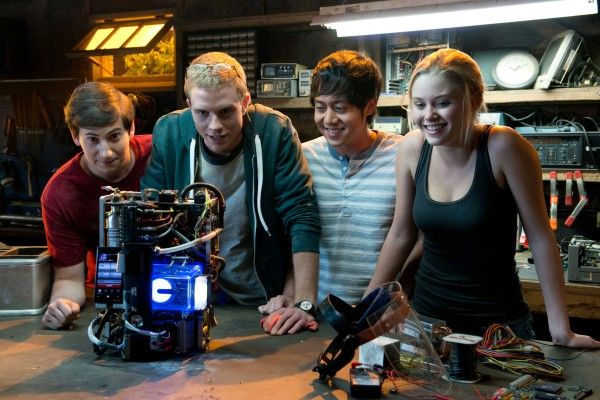 Photo Courtesy of Paramount Pictures
"Project Almanac" is the latest movie by director Dean Israelite ("Acholiland") and produced by Michael Bay ("Transformers," "Armageddon," "Pearl Harbor"), comprised of all-star breakout cast including Jonny Weston (David Raskin), Sofia Black- D'Elia ( Jessie Pierce), Sam Lerner (Quinn Goldberg), Allen Evangelista (Adam Le) and Virginia Gardner (Christina Raskin).
The movie revolves around a group of highschool friends that uncover plans for a time machine, and after many trials they make the machine operational. The friends use it to travel into the past to solve their problems and for their own personal gains, like winning the lottery. But like all things that are too good to be true the gang learns the repercussions of playing around with time and space. Ultimately, they face the possibility of unraveling their lives and the lives of those around them.
The film is presented in a found footage format, which has been used to much acclaim in movies like, "Cloverfield" and "Paranormal Activity." "The found footage format is really different for all of us," Weston said in a phone interview. "We had never done anything like that before. But it's cool as an actor that you kind of break the fourth wall and you hear echo direct from the camera. And it was just a cool learning experience."
Michael Bay the produced the movie, leading to its superior special effects. "A lot of other Paramount films can feel like a baby, you know, learning to crawl or walk or whatever," Black-D'Elia said on working with Bay.
"And it was truly nice to know that there was this guy always kind of there even if we didn't see him on the set or speak to him directly. We knew that he was always going to watch over the film in every way that he could and make sure that we got every chance we could get to make it the best film it could be."
The cast commented on critics comparing "Project Almanac" to other time-travel movies like "Chronicle": "We never tried to pretend like we're the first time travel movie that's ever been made," Black-D'Elia said. "[we've] been [smart] about is to acknowledge the past behind us and embrace it, and use it as a positive in our film because I think it is a great genre." She said she believes it's much darker than "Chronicle."
"Project Almanac" is rated PG-13, and is in theaters as of Jan. 30.
Follow Madison Harwell on Twitter: @mad_har