Photos by Sylvia Hartley
After 30 years of teaching at Pepperdine, Professor of Business Policy Venkatachalam "V" Seshan said he is retiring at the end of the spring semester with the goal of spending more time with his family.
One of Seshan's greatest claims to Pepperdine fame is that he implemented the first capstone class here at Pepperdine, which began in 1986. The capstone class has come to be known simply as "Policy."
A capstone class can be defined as the culminating class of a study, usually taken in a student's senior year. It gives students a chance to exhibit all they've learned, and Seshan's class is no exception to this idea. Seshan's goals are to prepare students for the real world of study.
Senior Kelly Corso has nothing but praise about her time having Seshan as a professor.
"Dr. Seshan is a man of principle and character with high standards, who demands excellence and creates an academic environment that motivates students to achieve their fullest potential," Corso said.
With his retirement quickly approaching at the end of the spring semester, Seshan discussed why he is retiring after his long time at Pepperdine.
"I used to joke with people, 'I retire every night!' when they asked me," Seshan said. "I am retiring because I expect I will be able to spend more time with my family as well as doing other things. I hope with my health as well as my family, we can do lots of things and guide our grandchild … and just really do other things in life, in addition to doing what I love, which is teaching."
Seshan talked a lot about his family, and the journey of he and his wife, Rosalie.
"I came to this country, and my parents were one of 11 and 13 children. My wife and I only have one. I met my wife when I came to this country a long time ago, and we've been married for 52 years," Seshan said. "When you devote as much time to teaching, sometimes you can't do a lot of things, but we were there for our daughter."
Seshan and Rosalie's only daughter, Dr. Sheila Lakshmi Steinberg, has had Seshan's focus all her life. He continued to talk about the uniqueness of his family's religious beliefs.
"I was brought up a Southern Brahman Hindu family, raised Catholic and went to a Catholic school. My wife is a Southern Baptist, and we raised Sheila Christain and Hindu, so when she got married we had a Hindu priest, we had a Jewish rabbi because my son-in-law is Jewish, and we had a Christian minister," Seshan said. "So our grandson is a good Southern Baptist Brahman Jewish boy. Someone at Sheila's wedding said, 'If we had a Muslim we could declare world peace,'" he said.
Seshan said he would mostly miss the people when he retires: "My colleagues and the office staff, especially Rhonda Huddleston. She's the one who runs the department. But, above all, the students because it is their future career," he said.
Seshan said his plans for retirement involve a lot of family and relaxation.
"Ideally, I expect I'll be healthy and also spend quality time with the family, and do a lot of things, including planning new projects and traveling and participating in our grandson's academic life and athletic life," Seshan said.
Seshan talked about how his class is very practical. He said he enjoys teaching all of his students and helping them to succeed and be confident.
"I focused on education — not just the top students, but all of them so they feel somewhat invincible, regardless what their academic scores might be," he said. "That's what I'll miss the most."
He reflected on how he ran his classes.
"In my career, I've taught close to 17,000 to 18,00 students," Seshan said. "My class is challenging, no doubt, but it helps students find their own niche."
Seshan said his class provides students with three skills by the time they finish taking it: researching, working in teams and making good presentations. Students can assess real, current problems, as well as apply them and plan for them for the future, according to Seshan. He said he values real-world application in his teachings, which is why his classes are a favorite among students.
"I can do the best of theories, but I think the most elegant theory is the one that works in practice. You learn by doing and practicing," Seshan said. "Do it until you get it right."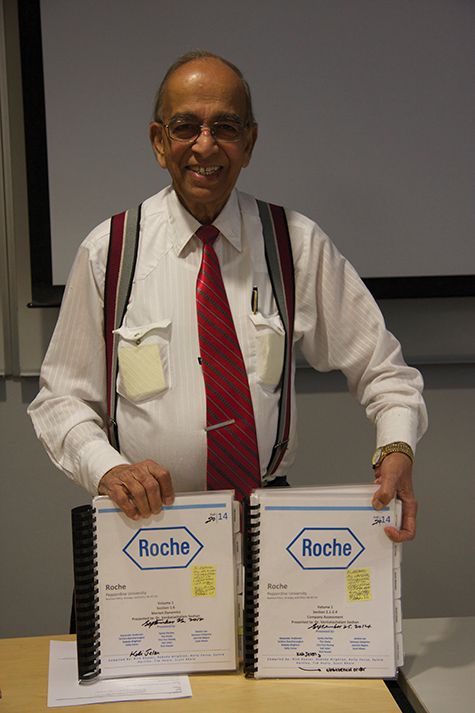 Senior Kali Jelen said she had similar feelings about Seshan and his class.
"Dr. Seshan is the professor that has most inspired me. Despite the challenges of his class, I have learned invaluable lessons that will stick with me through my career," Jelen said.
She continued to wish Seshan well in the future.
"I admire Dr. Seshan's commitment to excellence and hope someday to have a legacy as impressive as his," she said. "He really cares about his students, and his presence will be deeply missed in the business division. I wish him all the best in his retirement."
Ever since he was young, Seshan said he was taught to value a good education. Coming from a family of university presidents, judges and even professors, Seshan decided to continue in the line of education. He even continued his teaching during his stays in many different places, including Arizona and Bombay.
"Everywhere I've lived, I've always tried to teach," Seshan said. "I'm blessed to have the opportunity to practice teaching and education."
Seshan's reputation and skill will be remembered long after days at Pepperdine, according to his students. He has dozens of letters from former students, thanking him for what he did as well as updating him on their whereabouts.
In light of his last semester approaching quickly, Seshan said he wishes to leave this advice to students:
"Learn to live in the present, and not to worry too much about the past — we all make mistakes, and don't be afraid to make mistakes. The future isn't here, but we can plan for the future by doing our very best in the present."
Correction: November 15, 2014
The version of this article that ran in the Nov. 13, 2014, issue of the Graphic incorrectly identified the number of students Seshan has taught during his 30-year career. The correct estimate is "close to 17,000 to 18,000 students." 
__________
Follow Emily Goldberg on Twitter: @bb__em