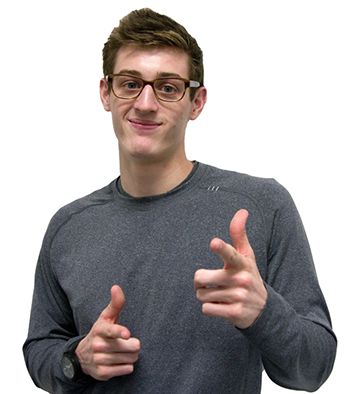 The following is a running thought time line from "Normal Pepperdine Dad" during Waves Weekend:
(Friday Afternoon): Man, how beautiful is this place? Are you goofing me!? I hope you know how lucky you are, son. This is fun!
(Friday Night): Let's go surfing as a family tomorrow that would be so classic California! I mean, we have to do it once, right? Oh we're going to the Blue and Orange Madness Carnival? I'll wear my generic Pepperdine polo! Fun!
(Later Friday Night): Man, you'd think for $50,000 a year you could find a parking spot…sheesh!
(Late Friday Night): Man I am wiped! But how about those dunking old guys? They were so money. Gosh I am loving this generic Pepperdine polo. It's perfect because I'm at Pepperdine while I'm wearing it so it just works. Fun!
(Saturday Morning): It's too cold to surf. What am I, a polar bear? Ha! But seriously, your mom and I waited for half an hour at Starbucks for coffee — well she got a chai tea, but you know I had to get my coffee before the day started! Fun!
(Saturday Afternoon): Let's go get the little guys a bunch of random pieces of apparel from the bookstore, that they'll wear three times. We're here, so it's not like we're not gonna get some SWAG. That's what you call it, right, swag? Fun!
(At the Bookstore): Man, for $50,000 a year you'd think I could get a decent shirt for less than $20. It's OK, special occasion. But seriously I am pooped. If I'm gonna rock out at the Devon McGraw concert I have to take a nap. What? What's his name? GAVIN… sorry. Yeah I love him, he's great. Fun!
(Saturday Night): Woooo! Gavin DeGraw! This school is so great…look at the view! That's the ocean! That is the mother-loving ocean! You are so blessed son, I hope you know that. When your mom and I were in school, we were lucky if we saw a swimming pool! Oh no way…no way…Kayleigh Caillet! What? Bubbly, right? Oh her name is Colbie? Whatever, she's great! Fun!
(Later Saturday Night): Are you kidding me, it's 10 p.m.? I'm three hours past my bedtime. Let's sleep in tomorrow and go to church at 8 a.m. Gotta praise the Lord for this school and weekend.
(Sunday Morning): Man, praise the Lord for this weather, this school, and this generic polo shirt of mine. Also, praise this crazy luxurious rental car…are you kidding me, a Chevy Camaro? Oops, wait, the cell phone attached to my pants belt is buzzing…fun!
(Sunday Afternoon): Man, you think for $50,000 a year I wouldn't have to walk up a hill. I'm not complaining honey, just saying moving sidewalks don't seem impractical.
(Sunday Night): Goodbye son, thanks for an amazing weekend. Remember — college and generic polo shirts are fun — but focus on what's important in life. No matter what, family is always family. Thanks for an amazing weekend. We love you and can't wait to see you soon. Ayo Waves! Hahahaha fun!
As published in the Oct. 24, 2013 issue of the Pepperdine Graphic.
_____________________________________________________________________________
Follow Ben Holcomb on Twitter: @BenjaminHolcomb