Photos courtesy of Christopher Jerabek
Pepperdine Theatre Company's "Falling" opens next week at the Lindhurst Theatre and will run from Tuesday, Sept. 25 through Saturday, Sept. 29.
Written by Deanna Jent and directed by Theatre Professor Hollace Starr, the story of "Falling" shows the reality of a family in a difficult time of their lives. The story focuses on the family's older son Josh, who struggles with severe autism, after a relative comes to visit and the family is faced with a new set of challenges for the family.
"This is on one level a story of autism, and the impacts that it can have, but there is also another layer which is something we can all relate to, which is how difficult it can be to be in a family and work through obstacles and through tough moments," Starr said.
All five characters in the show auditioned for the play at the end of the spring semester and started rehearsals during New Student Orientation week.
Starr explained how students auditioned for the role of Josh.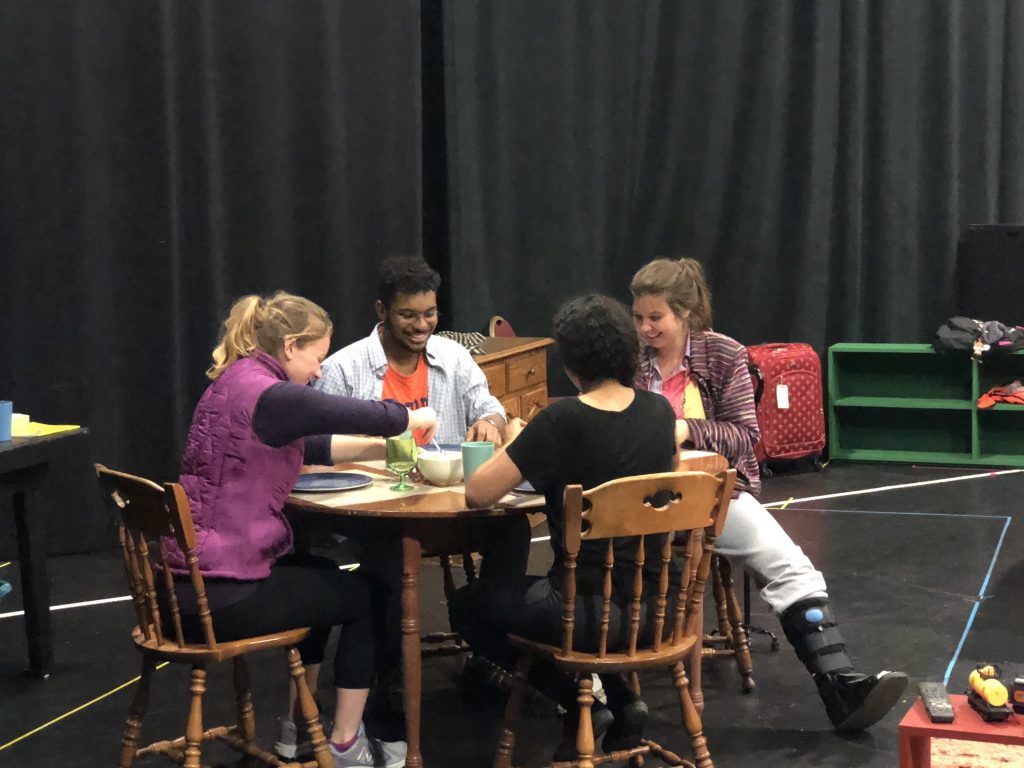 "[Students] made various choices about what it means to be someone with autism, and that was definitely a challenging role to audition for, I would imagine, because it could go different directions and the approach to playing Josh is maybe not as obvious as the approach to playing other characters," Starr said.
The list of characters include the mom, played by junior Gabrielle Meacham, the dad, played by sophomore George Preston, Josh, who is played by junior Nate Bartoshuk, the younger sister, played by sophomore Leyla Dillig, and the relative is played by junior Sara Eakman.
All the characters deal with their own struggles in doing what is best for the family as a whole. As a result, this causes stress for everyone in the family.
Starr said the main takeaway from the play is "loving someone who is hard to love."
The five students in the play are Theatre and Theatre-Music majors. The students interviewed had nothing but positive things to say about being involved in this play.
"I love working with Hollace," Preston said. "She lets me explore like no other. I also love the cast, because we all get along and there are no egos."
The cast and crew got the opportunity to experience a day in the life of a family with an autistic child. They went to Hand in Hand in Malibu, an organization presented by the Malibu Jewish Center & Synagogue. Students got to spend the day with young adults with different disabilities. Meanwhile, some of the families from Hand in Hand came to Pepperdine to eat dinner in the cafeteria with the cast and crew.
"This experience was helpful for me to be able to see," Dillig said. "That day they gave us so much insight on what life is really like, and I think if we wouldn't have had that day, we would not be in the process where we are right now."
All of the cast members said this experience helped them to have a better understanding of their characters.
"I spent some time with the fathers there, so I was able to have a better understanding of what it is like to be a father to a kid with autism," Preston said. "It gave me a whole different perspective. These people are warriors in my eyes, and it's definitely a humbling experience."
The families from Hand in Hand also got to watch a run-through of the show and gave the cast some positive feedback regarding what parts of the play moved them and what parts they felt they could relate to the most.
"I can't wait for them to see the final product," Dillig said. "I hope it honors them."
Tickets cost $15 and can be purchased at the Center for the Arts website.
_______________
Follow the Pepperdine Graphic on Twitter: @PeppGraphic