Photos Courtesy of Jeffrey Schultz
Pepperdine Professor Jeffrey Schultz prefaced his first poem with a warning about its length and an epigraph from George W. Bush.
Schultz read from his National Poetry Series winning poetry collection, Civil Twilight, in the Surfboard Room in Payson Library on Oct. 3.
Schultz, a professor of Creative Writing, English and Great Books, was previously selected for the National Poetry Series in 2013 for his manuscript "What Ridiculous Things We Could Ask of Each Other." The University of Georgia Press published the book in September 2014.
Schultz read several works from his collection, which was written over the span of five years. Schultz wrote the majority of the works during summer and winter breaks. He gathered ideas that inspired his poetry over the course of the school year.
"Most of the year, I'm just collecting little ideas and stringing them together and seeing where they might go," Schultz said. "I don't have enough time to do long, concentrated work during the school year, so I collect all this material while I'm working."
Schultz said his teaching schedule strongly influenced the poems he composed.
"It's interesting, I think my teaching schedule has really shaped my writing schedule," Schultz said. "And so the more I teach, the denser the poems are, in some strange way."
The poems in Civil Twilight address contemporary political and social issues such as state violence, police brutality and the corrosive effect of digital media on human relationships. Some of the poems that Schultz read on Tuesday began with epigraphs from past US presidents like George W. Bush and Ronald Reagan.
Schultz said he is hopeful that art, especially poetry, can provide a response to what he said is a grim social reality.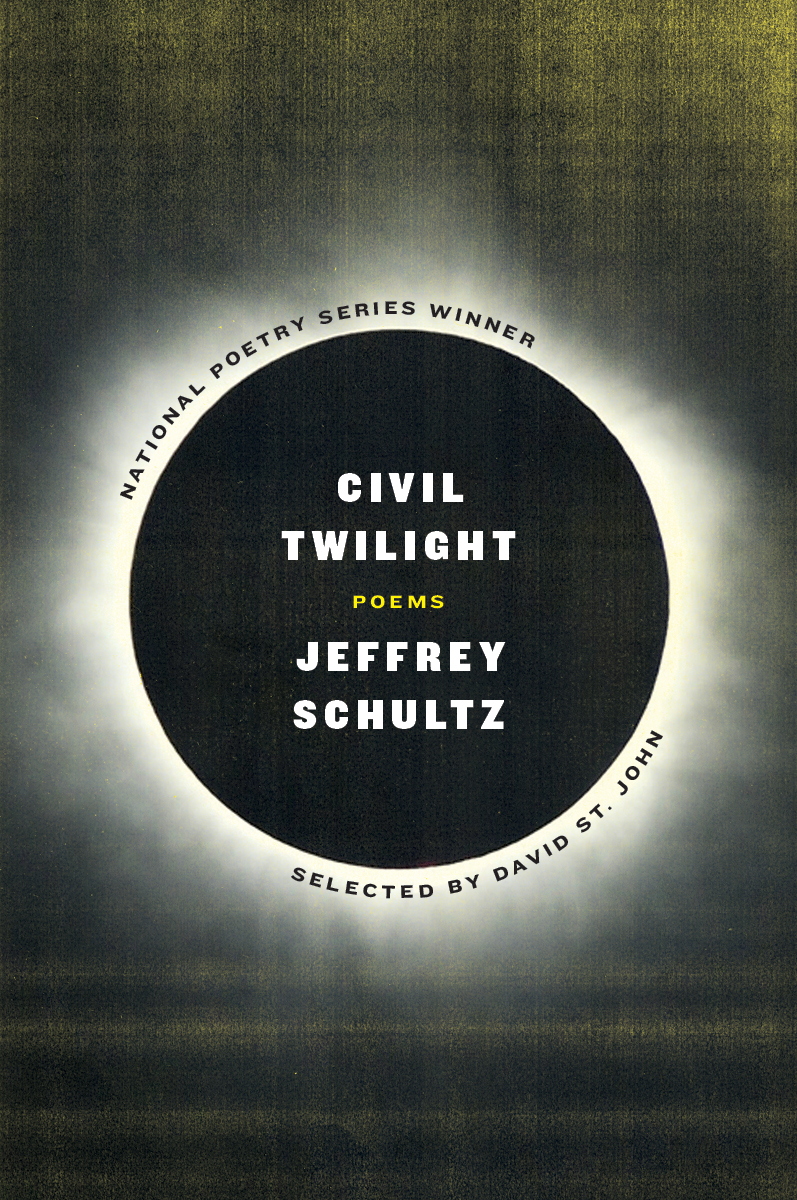 "Art in general can bring people together in a way that models different types of communities that aren't necessarily built around the idea of competitiveness" Schultz said. "And I think anything we can do to encourage such communities, or preserve the memory of them, or anything like that, is really important."
Schultz said he also saw challenges for artists who operate in largely commercialized fields.
"Art's also so tied into mass culture and money making that I think a lot of times it doesn't [encourage these communities]. I feel like maybe what's possible is a message in a bottle," Schultz said. "But even that, I think, is enough warrant for art. Even if it's only preserving a memory of how something could have been, I think that's still worth it."
Schultz said he is looking ahead to a third manuscript of poems, which is about half-way finished.
"I've probably got half a manuscript's worth of new poems, and sort of an idea of how they fit together, and an idea of what I need to write," he said. "But that, again, can take some more years, which is fine by me. I mean, why rush?"
Civil Twilight is published by Ecco Press. It is available on Amazon for $10.87.
_______________
Follow the Pepperdine Graphic on Twitter @PeppGraphic