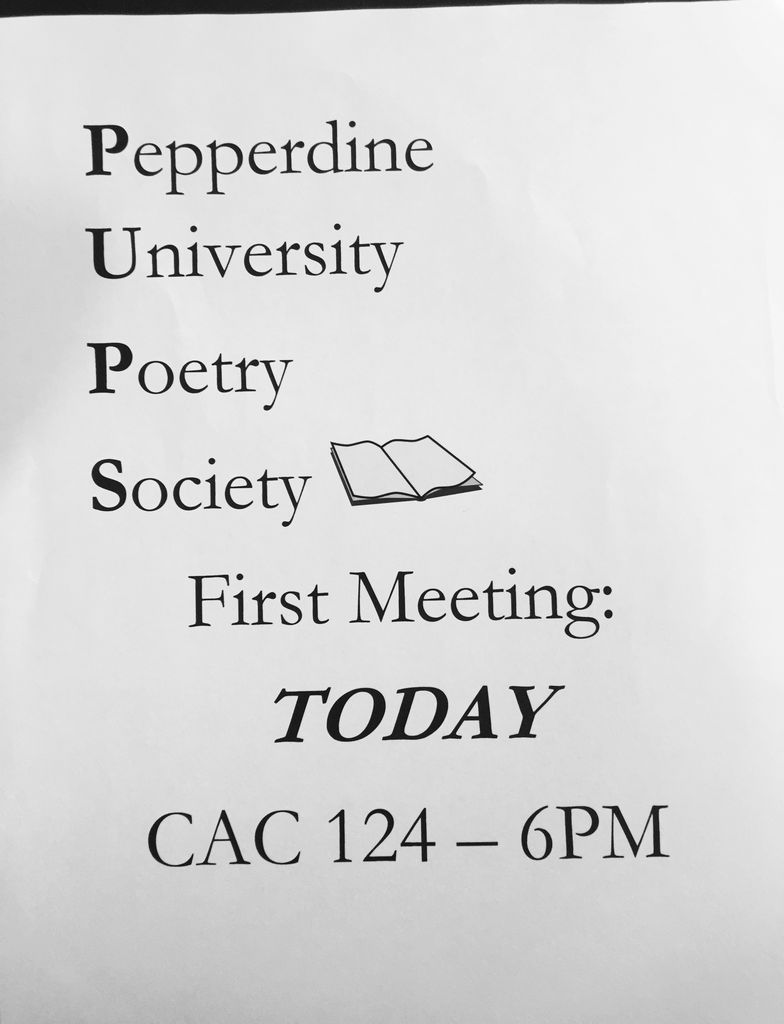 Photo by Berkley Mason
Pepperdine University Poetry Society is now officially a university club and is available for all students, offering them "a place for free expression," President and creator of the Poetry Society Jacob Wolfe said in the club's first meeting.
Wolfe, a Freshman, wrote in an email that he came up with the idea to make the Poetry Society during New Student Orientation when he realized there wasn't a "poetry-based group or community" that "caters" to creative writers on campus.
"I felt immediate inspiration to start the process of creating my own poetry society," Wolfe wrote. "Building this poetry society within our community is essential to nurturing our creative writers in particular, one that provides them with a safe place for expression."
However, Director of Creative Writing and Faculty Adviser for the Society John Struloeff said there have been a lot of activities on campus for Creative Writing majors. Though they weren't formally recognized as a club, they exist and compensated for the lack of a poetry club.
"These [activities] include our creative writing classes (many of which have poetry writing in them), our visiting authors (many of whom are poets, including Pulitzer Prize winners and a U.S. Poets Laureate), our annual publication of Expressionists Magazine (which is predominantly poetry), and our Expressionists Coffeehouse readings (where our students read their own poetry and prose)," Struloeff wrote in an email.
Wolfe explained how he went about creating this society through Pepperdine's Inter-Club Council.
"Getting acclimated with the ICC's process of induction was rather lengthy, but rightfully so," Wolfe wrote. "In all aspects of the process, the ICC has to be meticulous to be certain they are not potentially funding clubs that do not line up with the mission and vision of the university."
Wolfe wrote that he anticipates that students will "learn from each other" by sharing their own poetry while also sharing their personal favorite poems that they wish to discuss.
"During our meetings, we will be talking about how to make our poetry better," Wolfe said during the meeting. "We will be nurturing each other to help build confidence in the way we express ourselves through poetry. There's no top dog."
A total of seven people attended the society's first meeting, which was a "fantastic" turnout Wolfe wrote.
"It doesn't matter how small we are — there is no weakness in being a small group," Wolfe said.
Junior Jonathan Boeri was one of the seven attendees at the group's first meeting, and he is now officially a member of the Poetry Society.
"I went to the meeting in the first place simply because I really enjoy reading poetry and had been trying to do some creative writing of my own lately," Boeri said. "Being surrounded by people with similar attitudes is quite helpful in furthering my interest in the subject."
During the meeting, Wolfe asked each student to briefly introduce themselves and explain what they hope to gain from being a part of the society.
"I do read quite a bit of poetry on the daily in some form," Boeri said in the meeting. "I would also really like to help people when they're having writers' block."
To conclude the first meeting, Struloeff brought one of his favorite poems, "Dedication" by Czeslaw Milosz, which was written in 1945.
The Poetry Society has yet to established an official time and day for meeting; there will be a "flexible agenda," Wolfe said. Furthermore, the society will be "sticking to the Facebook page" for communication between group members.
"Workshops and group meetings will include analyzing poetry, comparing our own works with each other, bouncing ideas off of each other and working toward the poetry we have read or find admirable," Wolfe wrote. "I will always listen to my members' suggestions and preferences on what this society should encapsulate, and cater to their needs accordingly."
_________
Follow Berkley Mason on Twitter: @youcberkley