Photo courtesy of Ron Hall
Students, faculty, family and friends mourn the loss of Michael Zakian, who served the Pepperdine community for over 25 years as director of the Weisman Museum and Art History professor.
Zakian, 62, died of pancreatic cancer Tuesday, Jan. 14. Members of the Pepperdine community and others celebrated his life at his funeral service Monday, Jan. 19.
Rebecca Carson, managing director of the Lisa Smith Wengler Center for the Arts, attended Zakian's funeral after working with him for over 15 years.
"I was so touched at how many people were [at the funeral], including lots of members of the Pepperdine community, and many of his current and former students," Carson said. "It was a very sad day to say goodbye to him but also just so exciting to see people from throughout various years of his time here at Pepperdine being able to be together and celebrate him."
Bryan Keene, adjunct professor of Art History and former student of Zakian, said he was especially impacted by Zakian's presence in his life as a professor and friend.
"Michael [was] the most incredible kind of person because he was, of course, a consummate professional, brilliant art historian, remarkable writer, but above all, he loved people and wanted to know about you, how you're doing and what your outlooks are, thoughts of the day are, and that's what I will really miss," Keene said.
Keene took over his art class in the fall of 2019 as Zakian's conditions worsened. When the two discussed the intentions for the class in an email conversation, Keene said he was struck by a statement Zakian made about the importance of teaching art to the next generation.
"He was so legacy-driven," Keene said. "The way he thought about teaching, the way he thought about people. He had this way about him that could instill a kind of fear, not out of terror, but out of real reverence and awe, but he was so equally driven by generosity and compassion."
Marnie Mitze, former director for the Center for the Arts, vice president, and chief of staff, said Zakian's work elevated the museum to a world-class standard.
Mitze said during Zakian's 25 years as director of the Weisman Museum, he ran all of the museum's operations almost single-handedly, researching, collecting and curating art exhibitions that put Pepperdine on the map.
"I think the most important thing about Michael, from my viewpoint, is his vision for artistic excellence that was greater than anything we could have imagined," Mitze said.
Robert Williams, professor and divisional dean of Social Science also spoke of Zakian's success as museum director and art curator.
"I think he was imaginative in the way he put exhibitions together; he came up with some really interesting themes," Williams said. "He also did more than most people, more than most museum curators even think to [do] to sort of discover, or bring to the fore, relatively unknown artists."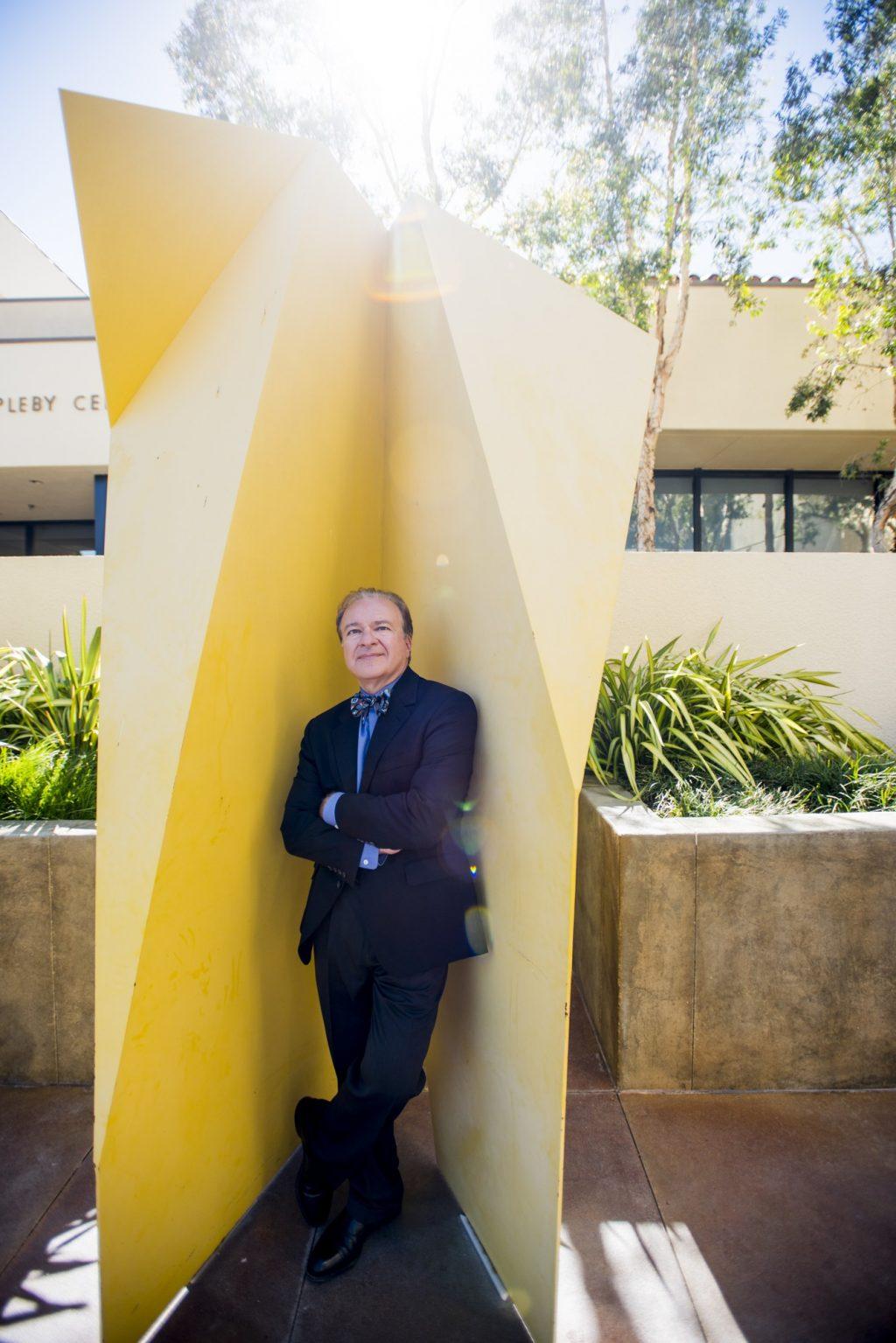 Zakian's smile illuminates the outside of the Weisman museum | Photo courtesy of Ron Hall
Mitze said Zakian's brilliance was rooted in his ability to excite anyone about art and art history.
"I think that was part of his magic, is that everything seemed simple when Michael explained it," Mitze said. "And that was only because he knew his subject matter so thoroughly."
In addition to his success as a museum director and professor, many people mentioned how Zakian impacted the lives of community members on a personal level.
Junior Emily Knight worked with Zakian during his last months at the museum and said he became a kind of mentor in her life for art and inspiration.
"He was just this person that gave out this energy and gave out these ideas," Knight said. "He always wanted to talk about it intellectually. I would show him my paintings, and he would be like, 'Oh, you do realism! What does this mean?' he really pushed me. He was an amazing person, so willing and wanting to talk to people."
Zakian's art is currently on display at the Skidmore Contemporary Art gallery in Santa Monica, owned by his wife, Lia Skidmore.
"I think it's just worth noting what a beautiful relationship [Zakian] had with Lia," Williams said. "They were a great pair."
Zakian's final curated exhibition, featuring the work of Rodin, is currently on display in the Weisman and will be until the end of March. Knight worked during the opening night of the exhibit and said many people came to observe and honor Zakian's life and work.
"It was nice to see so many people that would come up to me and say 'I was a friend of Michael's.' They all came to see his work because he was just a light that people were drawn to."
_____________
Email Lindsey Sullivan: lindsey.sullivan@pepperdine.edu